The  Hanoi Police, in co-operation with Traffic Police Department and the Mobile Police High Command, have discovered and seized 13 illegal sand exploitation vessels in the Red River's border area between Hanoi and Phu Tho Province.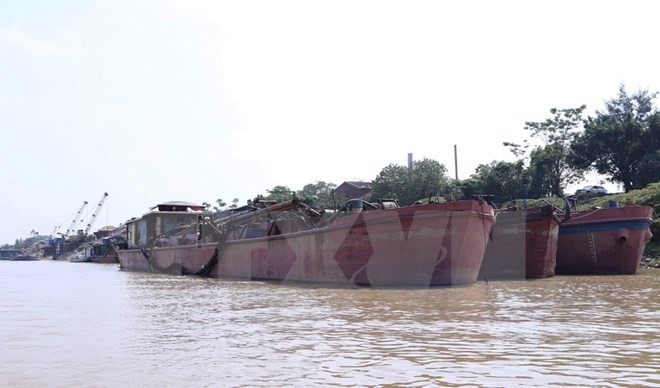 Illegal sand exploitation vessels in the Red River. 
Senior Lieutenant Colonel Nguyen Van Cuong, deputy head of Hanoi Police's Waterways Police Division, said on Thursday the city police had also worked with local police in Ba Vi District to clarify violations flouted by these vessels.
Among the vehicles seized on Thursday morning, four were exploiting vessels, two were sand suckers and the remaining were sand transporters. All had capacity of some 500 tonnes each.
Initial investigation revealed that four of the vessels were from Quang Tay JSC and others private business households.
Quang Tay JSC was licensed to exploit sand by the city's People's Committee in 2015 over an area of 20ha or equal to a volume of 1.03 million cubic metres in 10 years.
However, the company had moved vessels out of the licensed area and exploited sand to increase profit.
The case is under further investigation. 
VNS