VietNamNet Bridge – An excess of toll collection stations and high fees on BOT (Build-Operation-Transfer) highways have angered local people and commuters, online newspaper Vietnamplus.vn reports.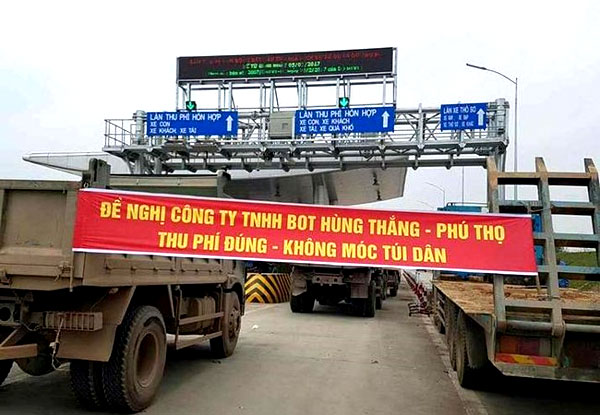 Last week, the toll collection station on Highway 32 in Tam Nong District of Phu Tho Province was temporarily stopped after locals protested high tolls and the station's location. — Photo viettimes.vn
Last week, the toll collection station on Highway 32 in Tam Nong District of Phu Tho Province was temporarily stopped after locals protested high tolls and the station's location, the paper reported.
The locals and commuters said that the tolls ranged from VND35,000 to VND180,000 (US$1.4 to 8) were too high for a 35km-road section.
The protesters argued that only 12km of the 35km of road section was upgraded under the BOT, and it is thus unfair to pay toll for the whole 35km.
The toll collection station in Tu Nghia District of central province of Quang Ngai--which was put into operation from August last year--has faced objection of locals people and drivers.
Since August, locals have blocked the station many times to protest the toll collection.
A station on highway 91 from Can Tho Province to Kien Giang in the southern region has also caused problems for commuters.
The station is located on the road section from Lo Te junction to Vam Cong ferry Station in Kien Giang Province. The road section is 2km long.
But all vehicles used the road must pay tolls as much as the one driving from Can Tho to Kien Giang.
Unfair tolls cause financial burdens for people, especially for transport businesses, the paper said.
Similarly, the stations on old Highway No.3 liking Ha Noi, Thai Nguyen, and Tuyen Quang provinces, and new highway No.3 connecting Thai Nguyen Province and Bac Kan have faced severe local protests in spite of not being put into operation.
After completing the new highway No.3, investors calculated that they would lack about VND1.4 trillion ($63 million) for project refunds if they just depended on just one station.
The Ministry of Transport therefore asked Thai Nguyen People's Committee to place one more station on old highway No.3. But, the old highway was built by the State fund and the investors had just invested into upgrading 25km of road section for placing the BOT toll collection station.
The two stations were placed in Phu Luong District with the lowest fare of VND35,000 ($1.4).
Master plan?
Locals and commuters using BOT projects have asked the Government to publish nationwide station location master plans. However, the Government has recently asked the Ministry of Transport to halt drawing out a masterplan of toll collection stations on highways by 2020, and vision to 2030.
Le Do Muoi, vice director of Transport Development and Strategies Department (under the Ministry of Transport), said: "No country in the world had a masterplan for toll stations on highways."
"At present, only some nations regulate toll station placement," Muoi said.
Meanwhile, Nguyen Viet Huy, an official of the ministry, said that so far there have not been legal documents on setting up master plan for toll collection stations.
"Moreover, plans of stations had a meaning of forecast. Placing stations depended on specific projects with calculation of numbers of vehicles using roads, exception of markets.
"Therefore, the master plan was not feasible," he said.
Previously, the ministry said that placing BOT toll collection stations on upgraded roads must get opinions from the National Assembly, provincial people's councils, Viet Nam's and local transport associations.
Right now, there are total 88 stations nationwide, 74 of which are under management by the transport ministry, and the rest are controlled by the local governments. 
VNS