VietNamNet Bridge – The slow growth of the agricultural sector starting in 2015, shortcomings of small-scale production, poor quality and productivity amid fiercer global competition are threatening the sustainability of farming in Viet Nam and demanding institutional and mechanism changes.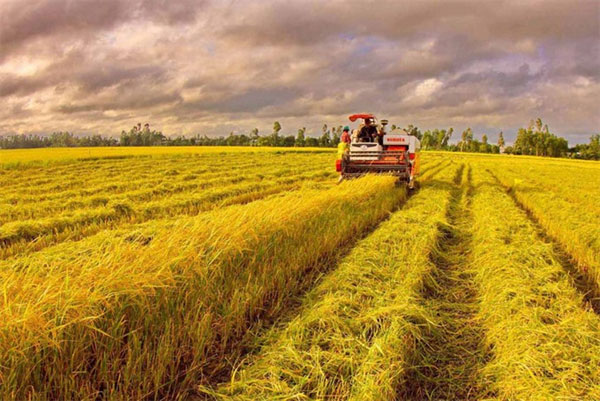 Harvesting rice in Vi Thuy District's Thanh Thuy Commune in the southern province of Hau Giang.  Viet Nam's agriculture has experienced slower growth in recent years, necessitating institutional changes to ensure a sustainable growth in the future. — Photo: VNA/VNS 
These concerns were shared among participants of the Viet Nam Spring Agriculture Forum held yesterday in Ha Noi by the Viet Nam Agriculture Coalition and Viet Nam Agricultural Policy Forum (VAPF), with support from Oxfam.
Participants delivered lively, sometimes contradicting, arguments, but all with the goal of helping to fully realise the country's agriculture potentials by removing institutional barriers, either formal ones like policies and laws, or informal ones like practices and habits.
Andrew Wells-Dang, senior governance advisor at Oxfam in Viet Nam, lauded the change in Government thinking that shifted from regarding agriculture as "backwards" or providing jobs for "the poor who have no other way of earning a livelihood", to currently positing agriculture as a "strategic priority" and a competitive advantage for the country.
However, he also expressed concern over the excessive industrialisation of agriculture, which was typified by thinking that "bigger is better" and everything can be solved by more chemicals and machinery. This thinking, popular amongst multinationals and their supporters, might deprive smallholders of the rights to their own land, in addition to creating long-lasting environmental problems, Wells-Dang worried.
Le Duc Thinh, deputy director of the Economic Co-operation and Rural Development, under the Ministry of Agriculture and Rural Development (MARD), gave an overview of the Vietnamese Government's efforts to improve agriculture. In contrast to the pre-80s collective production model, the Government shifted its focus to individual farming households, rearranging agricultural management authorities by sector and regions, and attempted to deepen international integration. One of the most positive changes, he said, was that the Government started prioritising quality of produce over maximising output, which was evident by the development of quality standards and sets of good practices.
Nevertheless, Thinh also pointed out numerous institutional flaws that hindered the development of agriculture, the most offensive being what he called "a wrong attitude" towards agricultural land. Currently, "agricultural land is priced at just one-tenth of market price, and farmer owners of these lands are unable to capitalise on their sole property, "losing" hundreds of billion dong", he claimed. He also lamented the State's deep intervention in the sector, via administrative orders, instead of playing the role of a supporter.
Other participants at the forum spoke of a lack of proper agriculture associations, as well as lackadaisical performance by local governments that fail to make their people's voices heard at central and policy-making levels and instead just follow orders from the higher-ups.
Dr Nguyen Thi Hong Minh, former chairwoman of the Viet Nam Association of Seafood Exporters and Producers (VASEP), questioned whether lifting land ownership would miraculously boost agriculture. Minh also holds the position that when consumption of produce is ensured, farmers will follow set guidelines, citing the production of clean vegetables in Soc Son District of Ha Noi, where farmers don't use chemical fertiliser and pesticides.
Aside from institutional issues, Dr Vo Tong Xuan, Rector of Can Tho University in southern Viet Nam, also known in the country as Dr Rice, said "farmers themselves are to blame for their poverty with their unreconstructed small-scale agriculture mind-set".
"They are generally not well-educated, and resistant to change. I've heard cases where young scientists came to the countryside to offer training, but farmers displayed a dismissive attitude towards them, doubting that these youngsters could teach them work that they had been doing for generations," Xuan said.
Dr Le Xuan Nghia maintains an opposite perspective, saying Vietnamese agriculture can remain in the hands of small holders. He argued that the countryside has "everything", from rich tradition, culinary delights and heritage that can be turned into good sustainable tourism products.
Dr Le Dang Doanh, an economic expert, contended that land accumulation must take people's rights to properties into account. According to him, in Taiwan, farmers – contributors of land towards mass production – can become stakeholders in the business and Viet Nam could offer the same incentive. 
VNS