The central city of Da Nang plans to petition the Prime Minister for adjustments to the Son Tra Master Plan in order to better protect the eponymous nature reserve.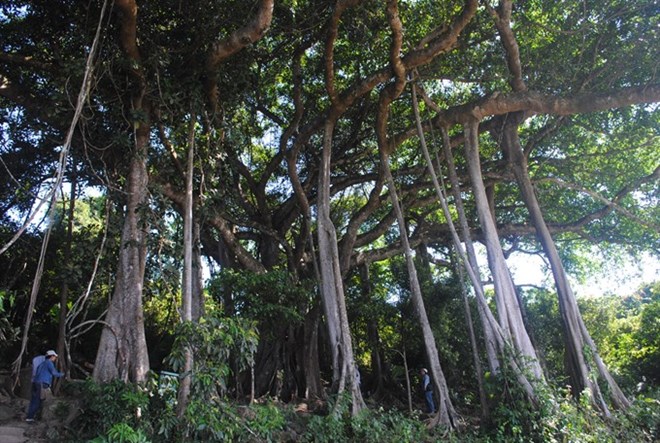 A 1,000-year banyan tree at the Son Tra Nature Reserve, 10km away from Da Nang city centre 
Vice Chairman of the municipal People's Committee Nguyen Ngoc Tuan also said at a press conference on March 27 that the city will strictly punish all violations including illegal project constructions on Son Tra Mountain.
Some projects related to illegal logging in the area would be stopped.
The vice chairman's statement comes as illegal logging, hunting and construction of houses, restaurants, villas and hotels have wreaked major destruction in the Son Tra Nature Reserve for several years now.
Last week, the city suspended illegal construction of an ecotourism project in the reserve, but a year after it had begun.
Local authorities have said that there are 68 houses, villas and restaurants illegally built in the Son Tra Nature Reserve.
The reserve, which covers 4,300ha, is home to 300 red-shanked douc langurs (Pygathryx nemaeus), which are critically endangered and found only in east-central Laos and Vietnam.
Two major illegal hunting cases were documented in the reserve in 2015, with three red-shanked doucs killed. More than 2,000 traps were dismantled by rangers and volunteers.
At least 50ha of forest in northwest Son Tra peninsula near the Intercontinental Da Nang Sun Peninsula Resort was cleared of trees and bushes for an "ecotour" project in 2016.
At this rate, biologists and biodiversity researchers have warned, the Son Tra Nature Reserve, Da Nang's green lung, will turn into a desert, and the world's biggest population of red-shanked douc langurs (Pygathrix nemaeus) will become extinct.
They have said the rapid development of hotels and resorts have to be stopped.
The reserve, which is 600m above sea level, is known for its rich biodiversity, with 287 animal species and 985 plant species. It supplies oxygen for 4.3 million people each day.
Earlier, Huynh Tan Vinh, chairman of the city's tourism association, had also sent a petition to the Prime Minister, asking for changes to the Son Tra Master Plan.
Under the current master plan, the Son Tra Mountain on the Son Tra Peninsula is to be developed into a national tourism site and an upmarket ecotour resort complex by 2030, accommodating 300,000 tourists staying in 1,600 luxury hotel rooms.
Last year, Huynh Duc Tho, Chairman of the Da Nang People's Committee, had dismissed rumors that a cable car system will be built in the reserve and a vast area of the reserve, including sea areas and forest, will be developed into an entertainment Ocean Park. He said that's just the idea of a property developer.
VNA