VietNamNet Bridge – For many people, a loaf of bread costing VND1,300 (US$0.06) may not be worth much,  but for poor patients at Kon Tum General Hospital, the free breakfast is much dearer than its cost. No price can be put on the kindheartedness of its donor.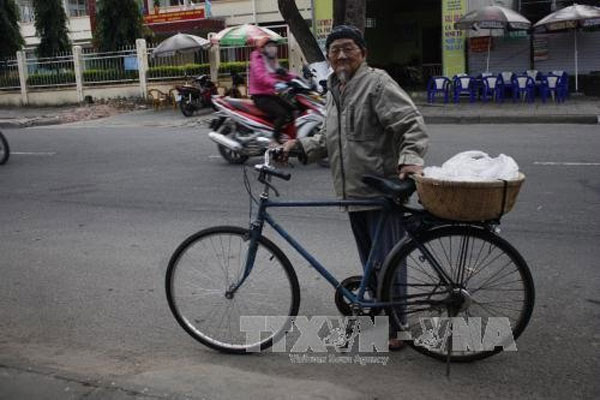 With about VND130,000 profit from selling steamed peanuts, Luu Binh, 87, is donating at least 100 loaves of bread every day to poor patients at Kon Tum General Hospital. 
At 5:30 each morning, patients line up quietly in front of the hospital gate to get the free bread donated by an old man, Luu Binh, from the Quyet Thang Ward of Kon Tum City in Viet Nam's Tay Nguyen (Central Highlands).
Binh, 87, has been carrying out his charity work for at least three years to help impoverished residents in poor health who are hospitalised for long periods.
Binh said he came up with the idea while he was selling steamed peanuts around the hospital, and was himself eating bread for his breakfast everyday.
To have money to buy bread for donation, Binh mobilised all of his family members to steam at least 10kg of peanuts to sell every day. He himself also drove his bicycle around the city to sell the peanuts.
The image of the man sporting a beard and glasses, wearing a small hat and old clothes, riding an old bicycle to all corners of the city to sell peanuts, then coming back to the front gate of the hospital with a basket full of breads, became a familiar one.
A Luan, a man whose wife was a long-time patient at the hospital, said to have bread donated by Binh had made him happier and encouraged him to take care of his wife.
"My family is really suffering from hardship but with Binh's breads, I feel like I am more energetic and more hopeful that she (his wife) will survive," said Luan.
"Helping people is in his blood. He always helps not only people but also all of family members. We support him all the time too," said Nguyen Thi Mung, Binh's daughter-in-law.
Recalling the start of the donations, Binh said he could only collect a few dozen loaves because he could only earn a small sum of money from selling peanuts. With just a small number of loaves, he would come directly to certain patients and hand them out.
But as time went by the number of loaves grew. He, on the other hand, was not strong enough any more to walk around the hospital. He therefore decided to leave a basket with a note saying "free breads" at the hospital's gate for the patients to take.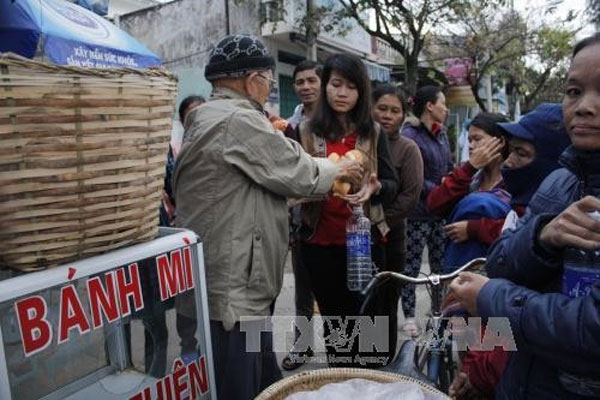 Luu Binh, 87, delivers bread to poor patients at Kon Tum Hospital. -- Photos: Hong Diep/VNA
Word of his activity spread and attracted the support of everyone who knew him. Binh could thus sell more peanuts and have more money to buy the bread. At the beginning of this year the number of loaves reached 100 a day, bought with a profit of about VND130,000 ($5.7) from selling peanuts.
As the basket has to be filled early in the morning, a couple named Chi who live near the hospital have taken on the task of bringing the bread to the gate.
Binh said he was excited to see the basket full of bread. But he also praised others who jumped in to help by buying his peanuts or donating money to buy the bread. He said many others donate water and other food, putting it in the basket, too.
Tran Anh Dung, Chairman of the Quyet Thang Commune's People Committee in Kon Tum Province said the provincial authority respected Binh and praised him as a symbol of kindness and generosity. Dung said the province would soon award him a commendation for his charity work in the commune.
Responding to the official's praise, Binh said he would never stop his charity work as he knew there were still so many poor people to help. 
Hong Diep
VNS