The Government is considering relaxing limits on individual farmland holdings, a move largely welcomed by experts despite misgivings about some negative social impacts.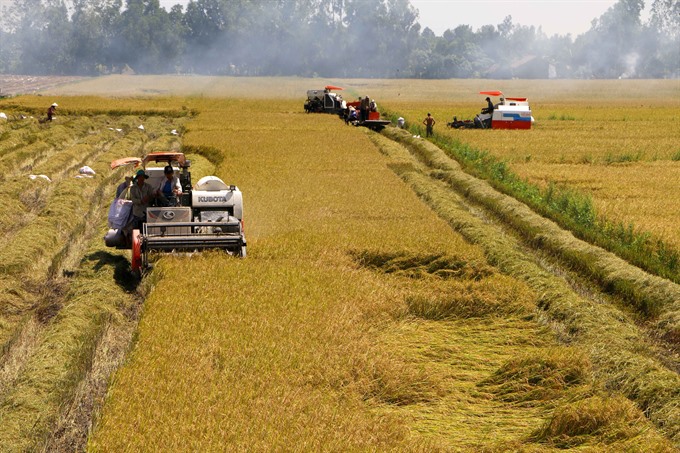 Machines harvesting rice in Vi Thuy District, Hau Giang Province. 

Allowing larger land holdings will greatly facilitate modernisation of the country's agriculture sector, many experts say.

Currently, the allocation quota of farmland for annual crops for each household or individual must not exceed 2-3 hectares. Many people have been arguing for sometime that this limit runs counter to the needs of co-operatives and businesses engaging in industrialised, large-scale agricultural production.

The national average land allocation for each household is extremely small at around 0.5-0.7ha. The Ministry of Agriculture and Rural Development (MARD) reckons that in order to overcome poverty, on average, each rice cultivating household must own at least 2ha.

In a recent resolution, the government tasked the MARD, the Ministry of Natural Resource and Environment, and the Ministry of Justice, to prepare amendments to the existing Law on Land by the end of this year, with the focus on rectifying farmland quotas.

Vũ Trọng Khải, former rector of the School for Training Rural and Agriculture Development Management Experts, said the government should have done this long ago.

"The existing allocation quota that has been in place for years has actually hindered agricultural production," he said.

Khải pointed out the fact that the Law on Land also contains contradictory clauses, in that it stipulates a ceiling on how much land a farmer can own, but imposes no such limit on businesses.

"That's why some people still can work around this limit. Sáu Đức, a farmer I know in An Giang Province, had accumulated some 70 hectares of farmland years ago, despite the restriction. However, the 'excessive' land parcels are all registered under his relatives' names. When he was able to open a company, he used the company's legal entity to gather back all the parcels, and now he owns some 150 hectares," Khải said

Nguyễn Xuân Cường, Minister of MARD, also a proponent of lifting land restrictions, said at a National Assembly meeting that the worry about "over-hoarding of land," is overblown. He claimed that inspections show both businesses and farmers are aware that land areas beyond their capacity can lead to spreading themselves too thin.

"Also, in reality, under the land accumulation model, four to six farmers can [be hired to] work on a 1ha land lot, earning a stable average income of VNĐ3-5 million ($132-219) a month, depending on the region," Cường said, attempting to assuage concerns that farmers who give up their land lots may end up losing their means of livelihood.

Works better

Võ Văn Chánh, Vice Chairman of Đồng Nai, said the prevalent forms of land accumulation in his province are co-operatives and large-scale farms. The southern province currently boasts some 3,000 farms and 104 co-operatives with total area of over 10,000ha and 3,100ha, respectively, translating to 3.2ha a farm and 11ha per co-operative. And these models enjoy better output, and hence, higher income, compared to earlier times, Chánh claimed.

In Thái Bình Province, one of the largest rice granaries in the North, just a year ago, 11ha of farmland in Thanh Tân Commune was still divided between hundreds of households. Tiny parcels allow only a meagre output, however, and things changed completely when they agreed to lease their land to the Hưng Cúc Company for the price of 70kg of rice per sào per year, for 20 years.

Bùi Mạnh Hà, chairman of Thanh Tân Commune, said that besides the lease money, the company also hires farmers to work on their own respective parcels, ensuring a better income for them.

Investor anxiety

As previously mentioned, some farmers have found ways to go around current landholding limits, but they fret that their acquisition is not actually legal.

In the northern region, a prime example of land accumulation is by Mai Thị Nhung in Xuân Trường District, Nam Định Province, who received the 'Outstanding Vietnamese Farmer' honorific last year.

By 2014, Đình Mộc Co Ltd, co-managed by Nhung and her husband, had rented a total of 120 mẫu of land (1 mẫu = 3,600sq.m) from over 1,700 households in two communes.

On this aggregated land, she can deploy agriculture machinery and reap economies of scale while producing high-quality rice.

Administrations of the two communes acted as the go-between in this deal, under which the lands are leased for 10 years for a price equivalent to 50kg of rice per sào (360 sq.m) per crop.

"After two years, by my own calculation, I have invested dozens of billions of đồng into the aggregated land. The original price was agreed upon, but let's say, in another 10 years, when all of the support infrastructure [like embankments and irrigation] has been completed, what if farmers demand more, what am I going to do then?," Nhung wondered.

"So I really wish that the government will soon introduce changes to current quota regulations, making it easier for us," she said.

The split ownership of land area exceeding current quotas between relatives, as in the case of Sáu Đức cited by the MARD Minister, is fraught with legal risks down the road. Also, banks require signatures from land-use certificate owners to provide loans, making the lending process frustratingly complicated and time-consuming, said a farmer in Kiên Giang said.

Market observers say a  recent positive sign is that many high-profile corporations and businesses have ventured into agriculture, but the first challenge they need to overcome is acquiring vast land areas that will allow the deployment of modern agricultural production techniques.

Bold claim

Thái Hương, chairwoman of the TH Group, recently made a bold claim: "If I have enough land, the Central Highlands will witness tremendous change in three years' time."

This might not be an idle claim given her efforts in the central province of Nghệ An with a successful large-scale dairy farm.

She said it was not all smooth sailing. Unlike industrial projects, in order to carry out agricultural projects, businesses and local governments have to work very hard to convince farmers and households to lease their lands. It was a tiring, time-consuming, expensive process, and required the business to be "really persuasive," Hương said.

One of Việt Nam's largest conglomerates, VinGroup, had to negotiate with over 3,000 households to get hold of just 140ha of alluvial land in Nam Định Province to establish a farm producing clean vegetables. Not all of them said yes, so the local government had to do a lot of "rearranging" to meet the company's demand for large, connected, uninterrupted land areas.

Caveats galore

Many farmers and experts have demanded very strict monitoring of land accumulation, saying this is needed to prevent misuse of farmland, for instance, for residential, industrial or commercial purposes.

"Businesses have considerable capital at their disposal, with farmland ownership limits relaxed, it will be easier for them to rent land from farmers. But we can't rule out the possibility that these businesses, after some time of working on rented land, may ask to convert the agricultural land into golf courses, hotels, or resorts," said Nguyễn Ngọc Đệ, deputy head of the Cần Thơ University's Rural Development Faculty.

"Should that happen, it will be very difficult to recover those land areas," Đê added.

One measure Đê proposed to mitigate such risks was to require businesses to sign 'no conversion' commitments as well as to make it a legal obligation that they provide jobs for farmers whose lands they rent.
According to the Agriculture Ministry, as of September 2016, 4,080 businesses were operating in the agriculture sector, nearly double that of the 2,397 nine years ago, but still accounting for a mere one per cent of the total number of businesses in the country. Most agriculture businesses are of small scale, with 55 per cent having a net worth of under VNĐ5 billion (US$219,450).
Việt Nam is seeing three trends of land accumulation: between farmers, either by land consolidation or land-use rights transactions; via co-operatives, either by contributing their field to the co-operative or following a mutually agreed-upon production plan; and transfer of land-use rights from farmers to agriculture businesses.
VNS