The Mekong Delta province of Ben Tre, the country's largest coconut producer, is struggling to increase the income of coconut growers.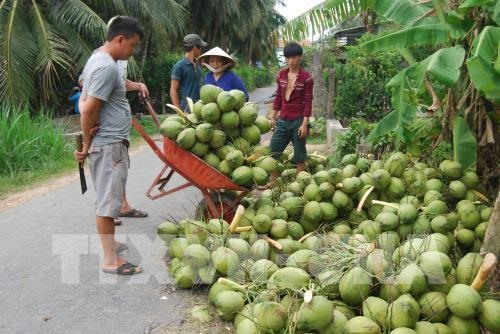 Farmers harvest coconuts in Ben Tre Province, the country's largest producer of coconuts.
Low profitability has caused coconut growers to switch to more economically attractive fruit or to leave farming altogether.
"Bến Tre coconut growers have to earn most of their income by working outside the province," said Truong Minh Nhut, director of the province's Department of Trade and Industry. "Around 5,000 sq metres of coconut trees generate less income than money earned working in an industrial zone."
Nhựt spoke earlier this week at a meeting held in Ben Tre about its coconut development programme through 2020.
"Coconuts are less profitable than other types of fruits," he said, adding that 1ha of coconut trees produced only VNĐ59 million (US$2,584) per year.
However, 1ha of green-skin and pink-flesh pomelos could add VNĐ600 million to farmers' incomes every year. Cultivation of rambutan, mango and longan fruits can also generate five to six times the income from coconut growing.
Nguyen Quoc Bao, former deputy secretary of the province's Party Committee, who switched to growing pomelo, said he was worried that more coconut farmers would abandon coconut trees and grow pomelo because of the price volatility of coconuts.
According to the province's Department of Trade and Industry, as of last week, the price of coconut fruit sold at orchards was VNĐ50,000-60,000 ($2.2-2.6) per dozen. One dozen green Xiêm coconuts were priced about VNĐ20,000 higher.
However, prices are unstable since they depend on market demand, seasonal consumption and traders' offering prices.
Growers sometimes have to sell coconuts at low prices to individual traders who visit their fields because they cannot find companies to buy their output under contract.
Bến Tre has around 70,000ha of coconut trees, but the two major coconut producers in the area, Ben Tre Import-Export Joint-Stock Company and Luong Quoi Company, only guarantee to buy the output of 500ha of coconut trees.
However, farmers and firms cannot always agree on terms of contracts, including production techniques or the price of coconuts.
As a result, farmers often struggle to produce enough fruit and coconut processors cannot find enough raw materials.
Last year, local coconut producers processed around 500 million dry coconuts, accounting for 98 per cent of the province's total.
As farmers could not keep up with the demand from local coconut producers, they had no choice but to buy raw coconuts from neighbouring provinces.
Solutions
Huỳnh Quang Đức, director of the province's Agricultural Extension Centre, said with climate change and saline intrusion affecting Bến Tre, coconut trees should be farmers' top crop because they can survive salty soil, while other fruit trees cannot.
To ensure their livelihood, coconut farmers should adopt new cultivation models such as inter-cropping cacao trees or other plants with coconut trees. Breeding blue-legged prawns or raising poultry in coconut orchards are other options, he said.
Vo Thanh Hao, secretary of the Ben Tre Province's Party Committee, said that locals whose livelihood did not depend solely on coconuts had allowed their fields to go to waste.
Hạo said relevant authorities should help local coconut growers adopt new cultivation techniques to increase productivity or lease land to big household growers for mass cultivation.
Hao called on coconut processors to cooperate with local growers to stop them from turning their back on Ben Tre's traditional crop.
Last year, the province helped link up coconut growers with coconut firms in an aim to increase the quality and value of the products. Though the effort has been effective, only 30 teams of farmers and firms have been set up so far.
To achieve long-term growth, Ben Tre's coconut industry needs leading coconut firms to work closely with farmers by investing in technological innovation to set up high-quality raw material areas, experts have said.
This would help prevent a raw material shortage and thus increase yields.   
VNS