A majority of people in Hanoi's inner-city districts have pledged not to encroach on pavements since Hanoi started its fight against the violators.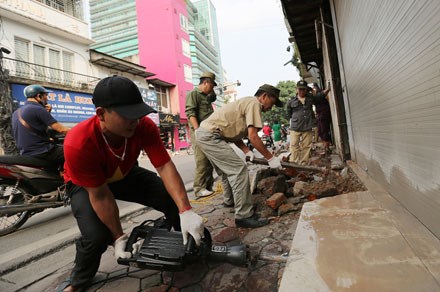 A step which is built on the pavement is removed at a street in Hanoi.
The information was given by Major-General Dinh Van Toan, Deputy Director of the Hanoi Department of Police at a meeting of the city on March 15.
According to Major-General Toan, the crackdown on the pavement encroachment in Hanoi's 12 inner-city districts has proved good results with a sharp fall in the detected violations. In many streets, vehicles are being parked correctly. 
However, he noted that, there were many people, including vendors and food service owners, still did not conform to the pavement regulation and had confronted police.
At a meeting with authorities of Bac Tu Liem District on March 14, Hanoi Party Secretary Hoang Trung Hai requested the withdrawal of business licences from pavement violators. 
Hai also said that any business households which discharge waste into the environment will have so the business license revoked.
The party secretary urged districts to exchange pavement monitoring with one another to track violations.
Hanoi started a crackdown on pavement encroachment in many local areas on March 10.
This is the latest attempt to deal with pervasive pavement encroachment in the city, and is being viewed as a more drastic campaign.
Dtinews