VietNamNet Bridge – If one was to visit the commune of Dan Luc, in the central province of Thanh Hoa, and ask about Pham Ngoc Chieng, every local would have something to say about the 65-year-old veteran who drives around on his motorbike playing his own radio news.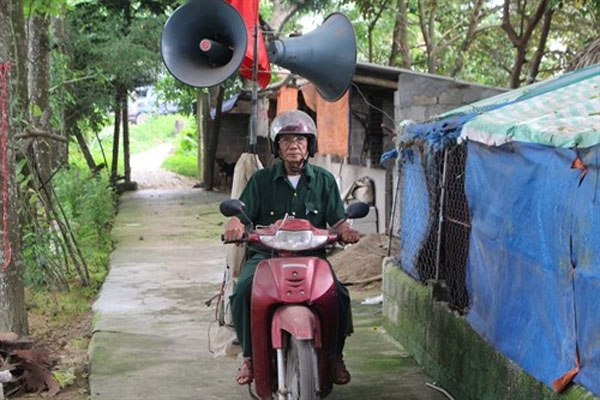 News on wheels: Pham Ngoc Chieng, a 65-year-old veteran from the central province of Thanh Hoa broadcasts news and information from his motorbike. — Photos: Hoa Mai/VNA/VNS
Almost every day for more than ten years, Chieng works as an unpaid 'communication officer', disseminating information about current events, government plans and decisions, and even laws to local villagers.
Locals even have their own name for him – the 'knight of information'.
Chieng drives his old motorbike, equipped with two big loudspeakers, a battery and a fluttering Vietnamese flag, to all corners of the district. He allows himself a break only when he feels too unwell to drive or when the weather becomes treacherous.
Chieng had previously served in the army where he was in charge of cultural and artistic programmes. In 1977, he returned home, having sustained some injuries during his service. He was offered a job in the province's Department of Culture, Sports and Tourism, but turned it down and chose to spend his time in the native village.
"Until 2002, when my kids grew up, I agreed to work as Dan Luc commune's broadcaster. While I was working there, I saw that many programmes failed to reach those living in remote areas."
"I hoped that with my motorbike, I could reach the remote areas and bring information to them," said Chieng.
Everyday, Chieng drives about 10 to 15 kilometres broacasting news on national socio-economic issues, as well as policies and official decisions that will impact local people. Normally, Chieng would drive around the communes of Trieu Son, but sometimes his journey could stretch for 100 kilometres.
On the event of the National Assembly elections held in June last year, Chieng was on the move from 5am to 10pm, continuously for a month. Initially his wife and children were against the hard work, but his passion and responsibility won out.
"I receive information materials from the government, province, district and commune everyday, edit them into concise and easy to understand pieces of news, and then record them and ask my children and grandchildren to add some music to make them more lively and interesting. The recording will then be played through the loudspeaker," said Chuong.
The highlight of the 'news' often focusses on traffic laws, food safety, and reminders for locals not to encroach public roads to dry rice during the rice season. As he had witnessed tragic accidents, Chieng felt an urgent need to do something to raise awareness of traffic safety laws.
Materials on traffic laws were once difficult to come by, but on realising the passion shown by Chieng, Dan Luc Commune's and Trieu Son District's police provided him with legal documents on policies and plans of the government so that he could disseminate the information accurately.
To convey the legal documents and raise awareness about traffic law compliance in a simple and easy-to-understand format, he often used short slogans in his traffic reports such as "Being careless while driving is the shortest path to the death", "Driving while being drunk is violating traffic laws", "Please do not leave consequences of your own carelessness to your loved ones".
"To boost effectiveness, I often choose places where people gather, including schools and market entrances," he said.
With a vision to ensure his voluntary job has a long-term impact, Chieng has been broadcasting from his bike for more than a decade. Besides the dissemination of legal documents, Chieng also helps locals find their missing personal papers, as well as missing livestock by including notices in his broadcasts.
Thanks to Chieng's information, especially on traffic, the number of road accidents has decreased dramatically, according to chief of Dan Luc Commune Nguyen Quyet Tinh.
Following his dedication over the last few years, Chieng received awards from the local police. He was also awarded a new motorbike last year by Thanh Hoa Province's police.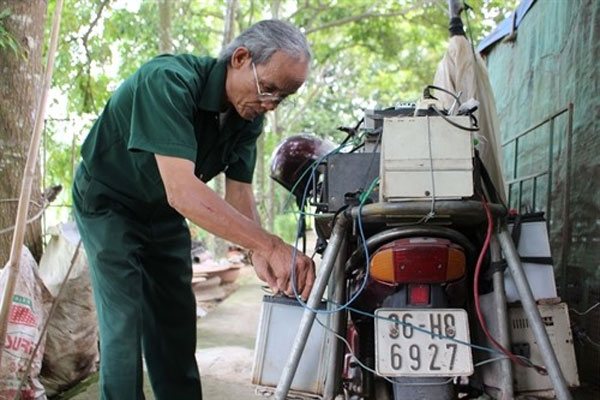 Man on a mission: Chieng prepares his bike before setting off. He drives about 10 to 15 kilometres every day to different communes of Trieu Son District.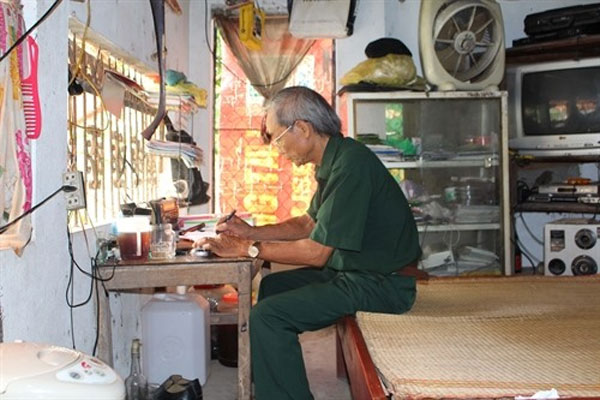 Life's work: Chieng studies, updates and simplifies the legal information as well as decisions and plans of local authorities before playing the report to local people.
VNS