Residents in Tam Nông District on Monday morning used about 20 vehicles to block a Build-Operate-Transfer (BOT) toll station in the area to protest what they call unreasonably high tolls.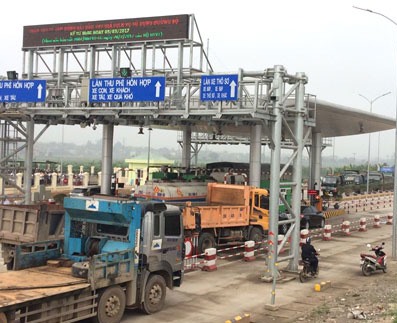 Vehicles obstruct the toll station to protest the toll rates. 
The Tam Nông toll station is located at km67+300 on National Route 32 that passes Tam Nông District in northern Phú Thọ Province. It aims to collect toll fees to pay for the BOT project to build a part of the Hồ Chí Minh Road and upgrade a section of National Route 32.
The roads went into operation in January and toll collections began on March 6.
A representative of the investor, BOT Hùng Thắng Co Ltd, said at about 8.30am, local residents parked vehicles across the road in front of the toll station, causing traffic congestion for about one kilometre.
The protesters claimed that the tolls of VNĐ35,000 – 50,000 (US$1.5 – 2.2) per vehicle are too high as National Route 32 was just upgraded on the foundations of the old route.
The investor's representative told Thanh Niên (Young Peole) newspaper that the company applied a whole-route toll rate as set in the Ministry of Finance regulations. However, local residents want to pay tolls based on the number of kilometres that vehicles travel, similar to on highways.
After the incident, local police intervened and were able to restore traffic order at about 11am.
Earlier, to ease the burden of locals and avoid losses for the investor, Phú Thọ Province's authorities proposed to the Ministry of Transport to cut the toll in half for cars under seven-seats owned by residents living nearby the toll station. However, the proposal was not approved.
A leader of the ministry told Dân Trí online newspaper that toll fees are decided by the Ministry of Finance (MoF). The transport ministry has proposed a toll reduction to the MoF but did not receive approval. 
VNS