VietNamNet Bridge – An increase in the number of serious methanol poisoning cases reported in Ha Noi in the past several days has raised concerns among the city's many drinkers and health authorities.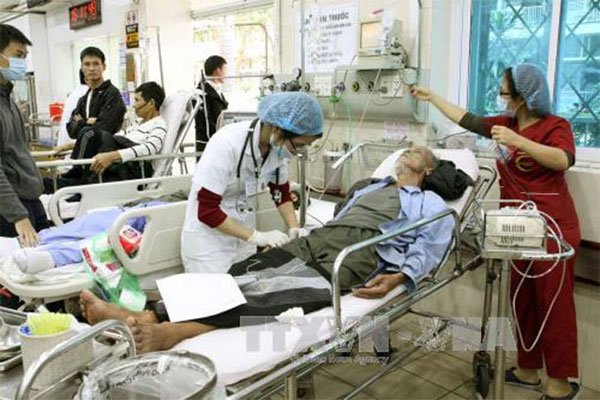 Medical staff at Bach Mai Hospital in Ha Noi examine a patient in a critical condition owing to methanol poisoning. — Photo: VNA/VNS 
An urgent meeting was held late on Tuesday by the National Inter-sector Steering Committee of Food Hygiene and Safety to discuss measures to tackle the situation.
The Viet Nam Food Administration and district authorities together inspected 225 alcohol businesses, collected 25 samples and ran tests on three after several cases of alcohol poisoning in Ha Noi came to light, the city's Health Department said.
The tests showed that the methanol content of two alcohol samples collected in the capital city are 900 to 2,000 times higher than permissible level.
The sample taken from two bottles of violet glutinous rice wine at VT Eatery in Ha Dong District's Mo Lao Ward has methanol level of 202,475 mg per litre, which is 2,000 times higher than the permissible level of 100 mg per litre.
The sample from a bottle of homemade alcohol at Nguyen Dinh Ch's house in Thanh Xuan District's Khuong Dinh Ward showed a methanol level of 89,680 mg per litre, 900 times higher than what is permitted.
Officials conducted inspections in Ba Dinh, Ha Dong, Thanh Xuan, Hoang Mai, Phu Xuyen and Thuong Tin districts.
Between February 22 and March 7, Bach Mai Hospital's Poison Control Centre has treated 11 patients from 40 to 54 years of age for alcohol poisoning, all residents of Dong Da, Thanh Xuan, Hoang Mai, Phuc Tho and Ba Dinh districts; one patient from Phuc Tho died.
All patients reported symptoms such as extreme tiredness and headache, with some slipping into coma. Their blood tests showed high blood methanol concentrations of 40 to 318 mg per decilitre.
Nguyen Hung Long, vice director of VFA, said the administration would be requesting police cooperation to investigate alcohol businesses and take steps against those found violating regulations on methanol content in alcohol.
The city's health department said it is considering banning private eateries from selling alcohol of unclear origin. It also plans to conduct an awareness drive for alcohol business owners on the possible consequences of consuming alcohol of unclear origin.
In February, seven people died of alcohol poisoning in northern Lai Chau Province's Ta Chai Village. The methanol content in the alcohol they consumed was found to be 4,750 to 5,560 times above the permissible limit.
Around 2,000 people suffered from alcohol poisoning across the country between January 28 and 30, the first three days of Tet (Lunar New Year) celebrations, the health ministry said.
VNS