The Vietnamese Ministry of Transport and Laotian Ministry of Public Works and Transport agreed to carry out the next step of the project to build a highway connecting two countries' capitals this year.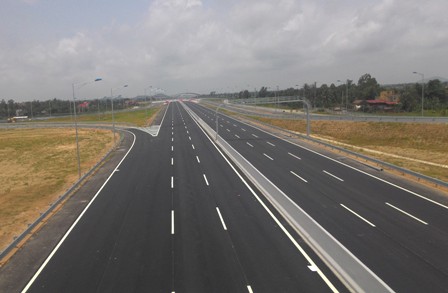 Vietnam and Laos will set up a research team, work with the sponsors and call for more investment. Ha Tinh's provincial authorities, the Vietnam-Laos Vung Ang Port JSC and the ministries will set up a detailed plan so that Laos can be more active in facilitating the transit of goods to and from Laos.
In 2015, the Korea International Co-operation Agency (KOICA) agreed to study the feasibility of a 500 km-long railway that links Vientiane to Vung Ang Industrial Zone in Ha Tinh Province. 
The Laotian and Vietnamese ministries of transport will collaborate with KOICA to finish the study this year and submit reports to the governments.
Vietnam and Laos signed on the agreement to build the railway to connect Vientiane and Vung Ang Zone, and the highway that connects the two capitals on September 14, 2015. 
It is part of the strategic agreement about co-operation on transport for 2016-2025 period, with a vision towards 2030.
The projects are hoped to boost trade turnover for both Vietnam and Laos, and is the first step to help Laos become a regional freight hub. 
Vietnam's long coast and the central position of Laos in ASEAN will be exploited to boost the economies of both countries.
The countries will take full advantage of the infrastructure. Vietnam will also create favourable conditions for Laos to use Vietnam's ports, especially Vung Ang Port.
dtinews