VietNamNet Bridge – Quite a few Vietnamese companies are taking advantage of sand dredging privileges authorised by the Government to rake in huge illegal profits, according to an expose by the Tuoi Tre (Youth) newspaper.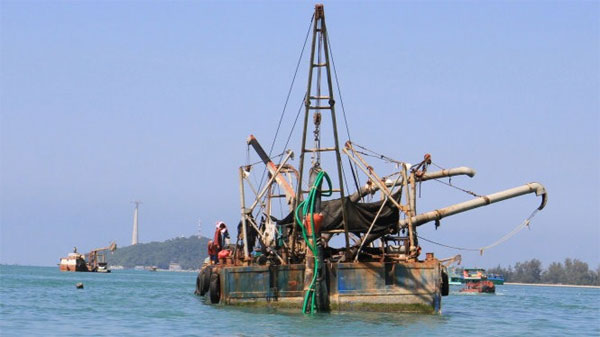 Duc Long Company's dredging ships in Phu Quoc, Kien Giang Province. More than 600,000 cubic metres of sand were exploited by the ships and exported to Singapore in January and February, 2017. – Photo tuoitre.vn
The investigative series, entitled "Tracing Vietnamese sand drain to Singapore", reported that at the end of 2009, the Vietnamese Government banned sand exports but in 2013 the regulation was loosened, allowing a list of enterprises to export saline sand dredged from the river and sea beds of their own projects to recoup their investments.
The decision created favourable conditions for sand to be shipped in large quantities to the city-state of Singapore.
According to the paper, although the companies asked for dredging permission for sand export, they did not dredge the sand themselves, selling the rights to other companies for handsome profits.
On October 1, 2014, the Ha Noi-based Green Environment Development Company signed a contract to sell one million cubic metres of sand to Hai Duong KG, based in the southern province of Kien Giang, for VND31,500 (US$1.4) per cubic metre. The total contract was worth VND31.5 billion ($1.4 million). The sand was dredged during a project to improve the eco-system in Thuy Trieu Lagoon in Cam Ranh City of central Khanh Hoa Province.
At the same time, the Khanh Hoa administration granted the Sai Gon-Ha Noi Investment Construction and Mining Minerals Joint Stock Company permission to export 2.8 million cubic metres of saline sand from a dredging project on the Tac River.
Sai Gon-Ha Noi Company sold 1 million cubic metres of the sand to Hai Duong KG at VND31,500 per cubic metre, and later signed contracts to export another million to Singapore's TNS Resources.
In January 2015, Hai Duong KG also purchased another dredging project with the right to export 1 million cubic metres of sand, from Hai Viet Company located in the northern province of Nam Dinh.
The Kien Giang company paid Hai Viet VND21,000 per cubic metre for the right to export the sand.
Even though Hai Duong KG has bought saline sand from three different projects at prices ranging from VND21,000 to VND31,500, the company declared to customs that the resource was exported at much lower prices.
For instance, in October and November 2015, Hai Duong KG exported 109,000 cu.m of sand to JIA DA Investment & Construction at only $1 per cu.m.
By declaring the export price at only $1, Hai Duong KG paid export duty of only VND6,690  (30 cents) per cubic metre, significantly lower than the VND26,760 ($1.2) that would have been charged for the real contract price of $4 per cu.m.
Land reclamation project
According to data obtained by Tuoi Tre, from January 1 to February 23 this year, 40 ships departed from Viet Nam to Singapore carrying 905,000 cubic metres of sand.
Duc Long Company exported the highest amount, weighing more than 600,000 cubic metres in total. Cai Mep Company ranked second with 369,000 cubic metres of sand.
The majority of sand dredging projects for export to Singapore are in the provinces of central Viet Nam, including Quang Binh, Quang Tri, Ha Tinh, Quang Nam, Binh Dinh, Thua Thien-Hue, Binh Thuan and Ninh Thuan.
Eight projects are being conducted in Khanh Hoa and Phu Yen provinces by the Green Environment Development Company, Sai Gon-Ha Noi Investment Construction and Mining Minerals Joint Stock Company, and Cai Mep Investment Joint Stock Company.
The sand is transported across the sea to Tekong Island to the northeast of Singapore and Changi Villa, close to Changi Airport.
According to a Singaporean enterprise which imports sand, for the past decade the city-state has been working on a $6.5 billion land reclamation project meant to expand the area of Tekong Island from 657 to 3,310 hectares. This company has imported sand from Viet Nam and several other countries to serve the project since 2009.
Losses for residents
In Van Ninh District of central Khanh Hoa Province, where a dredging project of Van Phong Bay was approved and the Phuc Son Company was allowed to export over 7 million cubic metres of exploited sand, all activities have stopped since 2016 due to strong opposition from local residents.
Hundreds of residents in Dong Nam and Dong Bac hamlets earn their living from lobster breeding in the Dai Lanh sea area. "The dredging activity has turned the water muddy and red. Lobsters died or moved to other places," said one resident, Le Minh Thuong.
"The sea lobsters have declined by half since the sand has been exploited. Not only myself but all fishermen lost their living," Ho Tan Phu, another local lobster-catcher, told the paper.
In Phu Yen Province, the Tien Chau port sand dredging project has caused severe erosion. The walls of some houses there reportedly cracked, while whole floors sank by nearly one metre.
"They sent six to seven sand dredging barges in several months, only 150m from my house. Being worried that land and houses would collapse into the sea, local residents were fiercely opposed and the operation stopped. I heard that they were about to start again," said Nguyen Hieu, another area resident.
Binh Thuan cracks down on illegal sand mining
Following the efforts of authorities of Ham Thuan Bac District in Binh Thuan Province, illegal sand mining in Ham Liem Commune has stopped, the Voice of Viet Nam (VOV) reported.
After VOV's report on illegal sand mining, which caused outrage among residents last year, a supervision team was established by the district's People's Committee. The nine supervisors are officers of the district's Department of Natural Resources and Environment, police officers, leaders of the commune's People's Committee and the army.
Nguyen Thanh Giang, commander of the Ham Liem Commune's army, said the supervisors regularly patrolled areas of illegal mineral exploitation in the commune and were often threatened by sand miners covertly driving trucks into the mining area at night.
According to the report, the path leading to the commune centre is now free of sand miners. Sand dredging vehicles have also been moved.
Although sand mining has ended, the supervision team is still patrolling round the clock to ensure it does not resume, Le Thanh Cuong, chairman of Ham Liem Commune's People's Committee, said.
Ham Liem Commune is home to a huge amount of high-quality sand right next to Phan Thiet City. The demand for sand in Ham Thuan Bac District and Phan Thiet City is relatively high, posing a high risk of sand mining resuming in the future. 
 VNS