Health authorities in Hanoi have urged an investigation into a locally-brewed spirit containing high levels of methanol which have caused a rash of poisoning cases.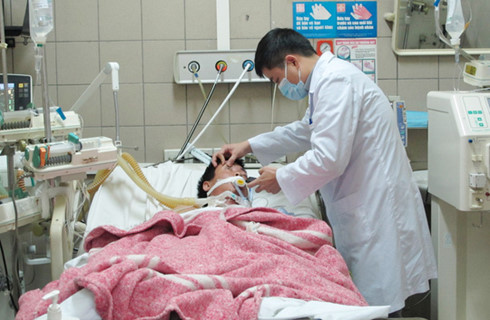 On March 2, the Steering Committee for Food Safety and Hygiene of Hanoi had held an urgent meeting about the rising number of methanol poisoning cases.
Tran Van Chung, vice head of Hanoi Department of Health, said they had received news that many people were being admitted to Bach Mai Hospital's Poison Control Centre because of alcohol poisoning.
From February 22 to 27, the centre received five patients age from 40 to 54. Two of them have mental illnesses and three are alcoholics. Upon being admitted to hospital, they were tired, nauseous, had headaches and were passing into unconsciousness. The blood tests show that their methanol levels are 40.9 to 318 mg/dl, much higher than safe limits.
Chung said the patients didn't buy the spirits from the same place and lived far away from each other. He thought the wine is locally-brewed and sold without labels.
The Department of Health has ordered related agencies to inspect restaurants and shops and take samples for tests at where poisoning cases were found. It also asked the Department of Industry and Trade and district and communal authorities to inspect wineries and street stalls that sell wine and deliver strict punishment to those who sell alcohol of unknown origin. 
According to the department, there are many alcohol poisoning cases in Vietnam. Nine people died and 100 were admitted to hospital after being poisoned at a funeral in the northern province of Lai Chau last month. The methanol level in their blood tests was 5,000 times higher than allowed.
A doctor from the Poison Control Centre of the Bach Mai Hospital, Nguyen Trung Nguyen said that methanol is the simplest form of alcohol and is an important industrial material. However, methanol is used by many spirit traders to make poor quality rice wine in Vietnam.
"Methanol poisoning has a very low rate of recovery," Nguyen said, adding that it usually leaves serious injuries to the eyes, brain, heart, blood circulation and lead to death. Even those saved can still have to bear the consequences such as blindness.
Dtinews