VietNamNet Bridge – Low-quality and fake cosmetics have continued to flood the Vietnamese market, making it hard for consumers to determine the quality of products despite agencies' efforts to tackle the issue.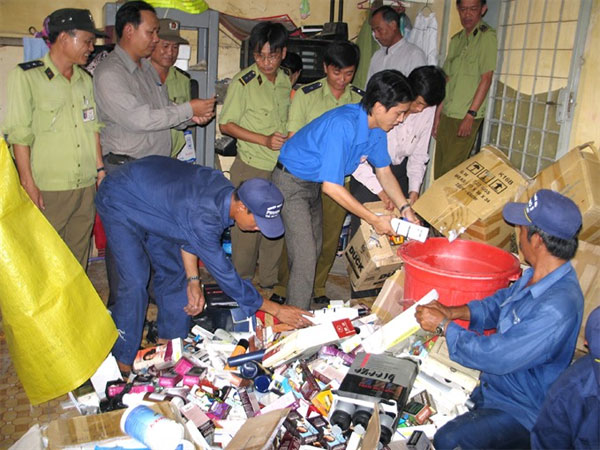 A Market Management team destroys fake cosmetics in Bac Lieu Province. — Photo: VNA/VNS
Tran Minh Trang, in Ha Noi's Kham Thien Street said she bought a hair gel product from a well-known cosmetics brand in a shop on Bach Mai Street. She did not know the product was low-quality until she opened it.
"It looked exactly the same as the one I was presented," Trang said, "it's impossible to tell the difference".
"Only when I sprayed it into my hair and it quickly became oily instead of smooth did I realise it was fake".
Trang's story is common. On social media, many victims of fake cosmetics have shared their stories, listed products that can be imitated, and given warnings of shops that stock the fake products.
Although the Ministry of Health issued Circular 06/2011/TT-BYT regulating that individuals and enterprises trading cosmetics must have a business registration licence and must ensure that goods meet regulations set by the ASEAN Cosmetics Directive, few have followed the regulation, especially online shops.
By simply googling 'my pham xach tay' (imported cosmetics) hundreds of online shops show up with thousands of different beauty products. However, few post evidence to prove that their products are genuine.  
Dao My Nhung, a cosmetics seller said that many beauty goods such as lipstick, eyeliner, face powders and body lotions of well-known brands such as MAC, Lancome, L'Oreal, Givenchy and Dior have been counterfeited with cheaper prices.
Although she has sold cosmetics for five years, Nhung admitted that she sometimes found it hard to tell between fake and the real products, even some barcodes and labeling were made the same as genuine products.
She said she received complaints from consumers about fake products when she gave them tips to distinguish which were low-quality products. She even was accused of selling fake products by some consumers.
"It's easy to understand them. They were cheated many times," she said.
Last week, the Ministry of Health's Department of Medicine Management has decided to suspend the distribution of and revoke 30 kinds of beauty goods nationwide.
Of which, 19 were from Kim Quan Commercial Production Enterprise in southern Hau Giang Province. The enterprise failed to meet requirements set by the ASEAN Cosmetics Directive.
Six other products were from Lulanjina Co.,Ltd in HCM City, three products from Pan Viet Nam Joint Venture in HCM City and two products from Gia Viet Co.,Ltd in Ha Noi. These products had the unregistered ingredients.
The department also revoked five products from Tung Anh Cosmetic Co.,Ltd in Ha Noi for inaccurate labeling.
Dr Nguyen Quoc Hung, director of Ha Noi Dermatology Hospital said that consumers should not put their trust in the labels of products and expensive products with well-known trademarks as they could be faked within one week of the launch of new beauty products.
Hung suggested that consumers purchase beauty products from official agencies with clear origin and consult dermatologists before purchasing products to make sure the products are suited to their skin.
VNS