Ca Mau on alert for dengue fever, hand-foot-mouth disease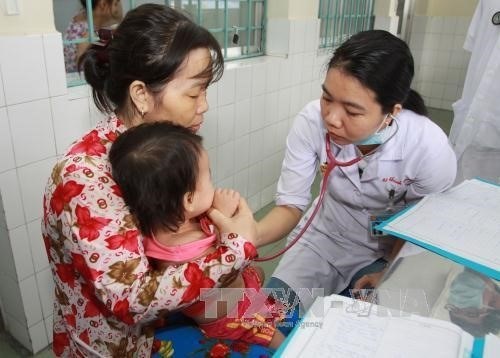 The Preventive Medicine Department in the Mekong Delta province of Ca Mau has established and trained working groups to deal with dengue fever and hand-foot-mouth disease across localities since the beginning of 2017.
Aiming to prevent outbreaks of the two diseases over abrupt weather changes, a set of measures have been put forth. 
They included disinfecting former disease-hit areas, raising public awareness on keeping their home free from mosquitos, as well as training teachers and parents in detecting symptoms of and protecting children from hand, foot and mouth disease.
In 2016, Ca Mau detected nearly 1,400 people having dengue fever, an annual increase of almost 100 percent.   
From the beginning of 2017 to date, the number of dengue fever patients has amounted to 120, most of them reside in Ca Mau city and the districts of Cai Nuoc, Dam Doi and Tran Van Thoi.
PM welcomes scientists' national constructive ideas
The Prime Minister and Deputy Prime Ministers are willing to listen to constructive initiatives from scientists, especially when the Government is striving to build a growth-facilitating and action-oriented government.
Prime Minister Nguyen Xuan Phuc made the remark at a meeting with the Vietnam Union of Science and Technology Associations (VUSTA) in Hanoi on February 17.
He stressed the need to turn the VUSTA into an important factor in developing science-technology as a driving force to build a socialist-oriented market economy and promote deep-and-wide global integration, contributing to the country's sustainable development.
The PM asked the VUSTA to connect more intellectuals, including overseas Vietnamese, to propose important socio-economic development policies and guidelines for the Party and Government.
He suggested mapping out a clear process to collect opinions of scientists and intellectual during the building of major policies and projects.  
It is also important to create favourable conditions for scientists, particularly young researchers, to foster their enthusiasm for scientific research, he said.
The VUSTA has 141 member associations, 430 affiliated scientific and technological organisations, and 101 newspapers, with over 2.8 million members.
The union has provided consultancy for a number of key national strategic projects such as the North-South Railway Project and the planning scheme for Hanoi capital through 2030 with a vision to 2050.
Cần Thơ Police bust football gambling ring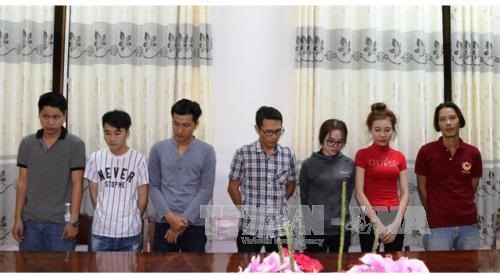 Members of the football gambling ring are seized by the Cần Thơ Police.
Cần Thơ City on Thursday announced it busted a football gambling ring operating on a large scale on the internet.
The ring was led by Nguyễn Hữu Lợi, 36, from Ninh Kiều District.
After more than a year of investigation, on Monday, the city police conducted raids at several places from where the ring was operating in different districts in the city.
The police found Lợi; Huỳnh Bá Đủ, 30; Nguyễn Chí Hóa, 27; and Võ Văn Nhì, 37; in the act of collecting money for gambling purposes.
On the same day, the police caught six other people, aged between 21 and 35, gambling.
Objects of evidence included 22 ATM cards, eight money transferring papers for gambling, 10 laptops and other papers proving that the fund for gambling had reached VNĐ8.2 billion (US$364,400).
The police temporarily detained Lợi, Đủ, Hóa, and Nhì, as well as Phan Trọng Hoàng Ngân, 33, and Lê Hữu Thà, 25, for further investigation.
Five more people prosecuted for petroleum firm scam
The Ministry of Public Security's Investigation Police Agency on February 15 issued a decision to prosecute five people for being found to have involved in asset misappropriation of PetroVietnam Construction Joint Stock Corporation (PVC).
The five are Luong Van Hoa, Le Xuan Khanh and Nguyen Ly Hai who previously held key positions at PVC's Vung Ang-Quang Trach project management board. The two others are Nguyen Thanh Quynh, director of Mien Trung Join Stock Corporation's technical board and Le Thi Anh Hoa, director of Quynh Hoa one-member Ltd. Co. Hoa has been put under house arrest.
September 16, 2016, Vu Duc Thuan, former general director of PVC; Truong Quoc Dung, former deputy director; Pham Tien Dat, former chief accountant and Nguyen Manh Tien, former deputy director were also arrested for violating economic management at PVC, leading to a USD142-million loss in the 2011-13 period.
The Ministry of Public Security prosecuted Trinh Xuan Thanh, who was PVC Chairman from 2007 to 2013. The firm was later found to make a total loss of USD142 million between 2009 and 2013 under Thanh's management. Since September 2016, Thanh has been wanted internationaOplly.
The ministry said that further investigations in the PVC scam is being carried out.
Binh Dinh hands over eight fishing ships to seamen
The People's Committee of Hoai Nhon district, the central province of Binh Dinh on February 14 received eight fishing ships with steel cover at a ceremony which saw the participation of more than 200 local seamen.
The move comes in response to Government's Decree No 67/2014/NĐ-CP on off-shore fishing development policies.
Decree 67, which came into effect in August 2014, stipulates policies on investment, credit, insurance and tax incentives in support of fishermen and ship owners who wish to build new fishing boats, upgrade existing boats and buy fishing and marine equipment, among others.
Under the decree, in case of building steel or new-material ships with total main engine capacity of between 400CV and under 800CV each, ship owners may borrow loans from commercial banks not exceeding 90 percent of total investment in the shipbuilding at the interest rate of 7 percent per year, of which ship owners are required to pay 2 percent per year and the State budget shall subsidise 5 percent per year.
The lending term is 11 years. In the first year, ship owners will be exempt from interest payment and not be required to pay the principle. The State budget will pay commercial banks the loan interest for ship owners eligible for exemption.
The fishing ships were made by Viet Tien Co Ltd in the northern province of Nam Dinh. The ships were handed over to eight local seamen who all hail from Hoai Nhon district.
Each fishing ship has a capacity of 822CV, is 30.8m in length and 7.5m in width.
The ship, worth 17.5 billion VND (777,000 USD), has a fire prevention and control system, radar, global positioning system, digital map and storage system to preserve fish.
Ngo Van Chi, one of the seamen receiving the fishing ship, said local seamen are happy to own a steel covered fishing ship.
"With these fishing ships, the seamen will try to catch more seafood, limit accidents on sea and join hands in protecting the country's sovereignty," he said.
Speaking at the ceremony, Nguyen Chi Cong, Vice Chairman of the Hoai Nhon district People's Committee, reminded local seamen to use the fishing ships effectively.
"The fishing ship has an important meaning. It not only does help seamen do their work, but also enhances their capacity to catch marine animals, improves households' living standards and helps protecting the country's sovereignty," he said.
While implementing Decree 67, the Binh Dinh People's Committee gave its approval for seamen in Hoai Nhon district to make 140 new fishing ships, of which 72 will be steel covered, 12 will be composite covered and 56 will be wood covered.
As many as 17 fishing ships were handed over to the seamen.
Tra Vinh farmers receive assistance to adapt to climate change
The project Adaptation to Climate Change in the Mekong Delta (AMD) plans to spend more than 130 billion VND (over 5.7 million USD) to help local farmers in Tra Vinh province switch to sustainable production models in 2017. 
According to AMD's provincial coordination board, nearly 29 billion VND of the amount comes in the form of non-refundable aid from the International Fund for Agricultural Development (IFAD) and nearly 58 billion VND is sourced by IFAD loans, while the provincial budget pays more than 21 billion VND. 
Head of the provincial project management board Huynh Nghia Tho said the project will focus on developing sustainable livelihoods through vocational training and multiplying sustainable agricultural production models in the context of increasing salt intrusion and drought. 
Last year, the AMD disbursed more than 180 billion VND for its activities in Tra Vinh. As a result, 15 production models were built with the engagement of 113 households. Some models produced high economic value, such as the farming of shrimp and tilapia in Don Chau Commune, Duyen Hai District which brought more than 500 million VND (22,000 USD) in profit per hectare. 
The AMD programme in Tra Vinh is being implemented in 30 communes between 2014 and 2020, benefiting around 15,000 poor and near-poor households.     
The total budget is 521 billion VND (23.1 million USD), with 233.5 billion VND (around 10.3 million USD) sourced by loans from IFAD, 126.5 billion VND (over 5.6 million USD) in IFAD non-refundable grant and 79.5 billion VND (over 3.5 million USD) coming from the State budget. Beneficiaries shoulder around 81.5 billion VND (3.6 million USD).      
Its main objective is to develop sustainable livelihoods for the rural poor in the face of changing climate and to enhance the target communities' capacities to adapt to climate change.
Expert: Zika virus disease still sees complicated developments
Although the number of Zika virus infection cases have dropped, the disease could break out on a large scale if no preventive plan was implemented since the beginning of the year, said a health expert.
Associate Prof. Dr. Phan Trong Lan, Director of the Pasteur Institute in Ho Chi Minh City, gave the warning at a conference held in the city on February 16 to launch this year's disease prevention tasks in the southern region.
Lan said Zika virus spreads rapidly via Aedes aegypti mosquitoes and is difficult to detect due to mild symptoms. Meanwhile the southern region sees strong human flows in both arrivals and departures.
In 2016, Vietnam detected 227 Zika virus infection cases, of which 207 are residents of Ho Chi Minh City.
Therefore, the expert warned that the number of Zika-infected cases across the region would increase, and recommended each province set up at least two Zika monitoring centres.
Deputy Minister of Health Nguyen Thanh Long requested southern provinces and cities to keep a close watch on Zika-related disease and dengue fever and take preventative measures from now on to prevent outbreaks.
He also asked the localities to be vigilant on diseases that are likely to enter Vietnam, such as H7N9, Mers-CoV and Ebola.
Noninfectious diseases, such as cardiovascular diseases, cancers and diabetes, are also big threats, Long said, adding that they are responsible for 60 percent of the disease-related death toll nationwide.
Bac Lieu calls for investment in sea encroachment prevention
The southern coastal province of Bac Lieu needs around 250 billion VND (11 million USD) to upgrade the local sea dikes which were damaged recently, said Le Hoang Tung, Deputy Director of the provincial Department of Agriculture and Rural Development.
The province plans to pour 40 billion VND (1.76 million USD) in repairing Ganh Hao, Nha Mat dikes and Chien Tup 1 bridge to prevent further breakage and depression in the areas.
The locality will need 210 billion VND (9.24 million USD) for long-term measures against sea encroachment, in which 150 billion VND (6.6 million USD) will be used for Ganh Hao dike, and the rests for Chien Tup 1 bridge and Nha Mat dike.
According to the local agricultural sector, sea encroachment, strong waves and high tides have broken three sections of sea dikes the past several days. 
The most serious one is a 24m section of the sea dike in Nha Mat ward, Bac Lieu city, threatening the daily life of local households.
Zika infections reach 233 in Vietnam
Vietnam reported 13 new Zika cases, this year, raising total infections of the mosquito-borne virus to 233 since last summer with nearly 90% of the patients living in Ho Chi Minh City.
Ho Chi Minh City alone reported 207 cases (including the country's first, last April), according to the latest figures from the Ministry of Health.
Vietnam has only reported one baby born with microcephaly linked to the Zika virus in Dak Lak Province.
Zika is transmitted by the Aedes aegypti mosquito, which is also a vector for yellow and dengue fevers.
Vietnam reported 110,876 cases of dengue fever, last year, up 19% from the previous year. Dengue killed 19 patients in the whole of 2016.
During the same time, the country successfully limited the spread of deadly hand-foot-mouth disease, lowering infections by 19.3% to 45,000 and fatalities by 83% to just one death, last year.
Cause of mass poisoning behind 7 deaths in northern Vietnam identified
Methanol-tainted alcohol has been identified as the cause behind mass food poisoning that left seven dead and 31 hospitalized in a northern province earlier this week, Vietnam's food safety watchdog said on February 15.
The methanol levels in several of the alcohol samples topped 5,000 times the allowed concentration, the Vietnam Food Administration, an agency under the Ministry of Health, announced after completing their investigation into the situation in Lai Chau Province.
On February 10, a 60-year-old man in Ma Ly Chai Commune, a remote area bordering China, in the province's Phong Tho District died after drinking home-made alcohol. His funeral was held the following day.
Unaware of the true cause of death, villagers at the funeral were treated to the same alcohol, identified as a home-made product bought from the nearby Si Lo Lau Commune. They too fell severely ill.
By the following day, six of the funeral visitors had died. Thirty-three others were rushed to hospital over the next three days with severe headaches and nausea.
The Vietnam Food Administration took three samples of the alcohol served at the funeral for testing and found that methanol levels in the drinks ranged between 970 mg/l and 556,000 mg/l.
The current legally allowed methanol content in alcohol is only 100 mg/l.
"Those grossly excessive methanol levels are the main cause of the poisoning," the administration concluded.
"Each of the six deceased and 26 of the hospitalized victims drank the toxic alcohol at the funeral," a Vietnam Food Administration official said.
"The remaining five hospitalized victims are women and children who did not drink the alcohol but developed the symptoms as a result of mass hysteria."
By late February 15, 18 of the victims had been discharged from the hospital.
Since the incident, local authorities have banned all home-made alcohol products in communes across Phong Tho from sale for further testing.
"The home-made 'alcohol' is merely 50 percent water mixed with 50 percent methanol," a Vietnam Food Administration official said.
"With such an excessive amount of methanol, one can easily suffer from food poisoning after downing the first glass."
Similar home-made alcohol is popular in remote areas and drinkers are strongly advised to stay cautious when treated to alcoholic beverages of unknown origin.
Vice President attends "Going to the fields" festival in Nam Dinh
On February 16, Vice President Dang Thi Ngoc Thinh attended the "Going to the fields" festival organized by the Vietnam Farmers' Association in northern Nam Dinh province.
The festival created a joyous atmosphere and encouraged farmers in production.  
Pham Thi Dung, chairwoman of Giao Tien commune's Farmers Association said, "Organizing the event is an honor of our commune. 75% of households in Giao Tien commune are farmers. The festival signals a bumper crop. It motivates farmers to work harder and promote farm production."
At the event, Vice President Thinh gave 50 scholarships to poor students. The Vietnam Farmers' Association presented 1 tons of rice seedlings and 50 gifts to poor farmers in Giao Thuy commune.
Vietnam, Laos hold talks on illegal migration prevention
Vietnam and Laos held talks on joint management and protection of the shared border area and preventing illegal migration in the central province of Nghe An on February 16.
The event was chaired by Lieutenant General Hoang Xuan Chien, Commander of the border guard under the Vietnam People's Army and Major General Syphane Phuththavong, director of Laos' border guard force under the General Staff of the Lao People's Army, the Quan doi Nhan dan (People's Army) newspaper reported.
Participants said the two sides have closely worked together in the past to combat crime, especially national security violations, drug trafficking, and smuggling.
Vietnamese and Lao border guards have been implementing an agreement on the border and border gate management while disseminating the outcomes of a project on border marker planting.
The two countries' defence ministries directed border guards to work together and hold regular joint patrols along the shared border area to ensure security and order.
Both nations have also realised an agreement between the two governments on addressing issues related to uncontrolled migrants and non-registered marriages in border areas.
The border guards were urged to further tighten collaboration to protect the shared border line.
48 vehicles fined for using rapid bus lanes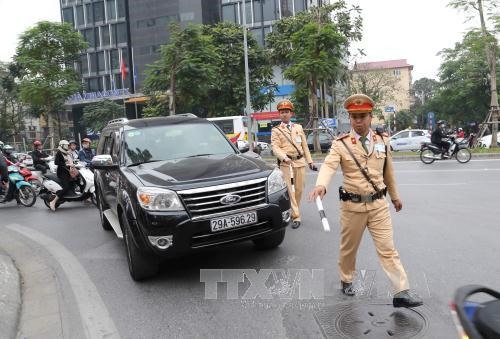 Forty-eight vehicles, including 6 cars and 42 motorbikes, were fined by Hà Nội police on Wednesday, the first day stricter rules were implemented for the dedicated bus rapid transit (BRT) lanes.
Two vehicles and 46 sets of vehicle documents were seized by officers from the city's Road and Railway Traffic Police Division (PC67) between 6am and 3pm.
Most of the violators appeared cooperative and apologetic, agreeing to sign the violation records and pay their fines, according to the police.
The fines ranged from VNĐ300,000-400,000 (US$13 - $17) for motorbikes and VNĐ800,000-1.2 million ($35 - $53) for cars.
Lê Văn Hưng, vice captain of traffic police squad No 7, said that the type of vehicle stopped by police varied, from two-wheeled motorbikes and tricycles, to taxis and trucks.
All offenses were carefully explained to violators to ensure understanding and future compliance, he said. Exceptions were made for emergency vehicles, he added.
Three other traffic police squads were deployed to direct traffic and impose fines on vehicles using the wrong lanes on roads with dedicated BRT lanes during off-peak hours (9am-4pm), Hưng said.
Sergeant Nguyễn Vũ Hoàng, who was on duty at the Lê Văn Lương – Tố Hữu intersection, said that most violators were citizens from outside of the city.
"The main reason for their violations was that they were not informed of the BRT-only lane policy," he told the Tin Tức (News) newspaper. "However, some drivers were aware and ignored the rule."
Bùi Minh Toàn, a taxi driver who was fined for driving in a BRT lane from Kim Mã Coach Station to Yên Nghĩa Coach Station, said he had to drive in the lane in order to reach his quota despite knowing he was violating regulations.
"With the designation of the BRT lane, the remaining road area is too narrow, making it hard for us [taxi drivers] to quickly pick up fares," Toàn told the newspaper.
"I hope city authorities will consider only enforcing BRT-only lanes during specific time slots, and not during peak hours," he said.
Boats carrying coal dust seized in Tiền Giang
Tiền Giang Border Guards on Wednesday said they have seized a tug boat and a barge for transporting around 8,000 tonnes of coal dust without any required documents.
The tug boat, Falcon 17, and barge, Tân Cảng No 3, belong to Falcon Transport Co Ltd, based in HCM City's District 4.
On Tuesday, the border guards had found the tug boat and the barge ferrying coal dust from Hoàng Tấn Port in the southern province of Long An's Bến Lức District to Duyên Hải Thermoelectricity Plant in the southern province of Trà Vinh. However, the captain Vũ Ngọc Thành, 42, did not have any papers to prove that the goods were legal.
None of the seven crew members of the tug boat and the barge had any professional certifications either.
Cool weather in HCM City makes elderly vulnerable to pneumonia
A sudden fall in temperatures in HCM City in the last few weeks have seen an increasing number of older adults diagnosed with acute pneumonia, doctors said.
Around 1,400 people have been admitted to the People 115 Hospital alone in the last three weeks, with the elderly accounting for 10 per cent, Dr Nguyễn Đình Phú, deputy director of the hospital, said.
The University Medical Centre in HCM City admitted more than 500 emergency cases during Tết (Lunar New Year), with the elderly accounting for most of them.
Pneumonia affects people of all ages, and in young children and people aged above 65 it can become severe, Assoc Prof Lê Tiến Dũng, head of the hospital's respiratory department, said.
But in elderly people its symptoms are sometimes not clear, he said.
They may not have a fever, causing them to think they are suffering from a cold or the flu, he said.
But complications caused by pneumonia can be life threatening in the elderly, he said.
It can also be severe in patients with chronic illnesses like diabetes and heart and lung diseases, he said.
A sudden change in temperature from extremely hot to extremely cold and vice versa could increase the incidence of pneumonia, particularly among seniors, he said.
Elderly people and those with chronic diseases or weak immunity should regularly wash their hands, get vaccinated, exercise regularly and eat healthy to ward off pneumonia, he added. 
Preventive measures taken against avian flu outbreak
Provinces and cities in the country are carrying out preventive methods against the spread of avian influenza, including the provision of vaccines.
The People's Committee of the Mekong Delta province of An Giang, for example, on Monday approved more than two million vaccines against the A/H5N1 virus for poultry raised in high-risk areas, including communes near the Cambodian border where an outbreak of avian flu recently occurred.
Teams of inspectors from government agencies are making regular checks of rice paddies, markets, slaughterhouses and vehicles that operate near the Cambodian border.
Agencies in the province have described the signs of avian influenza to farmers, who have been asked to report problems as soon as possible to authorities.
Last week, 538 ducks in Phú Tân District's Vàm Nao hamlet tested positive for A/H5N1, and of these, 238 were killed.
The district's Animal Health and Breeding Centre worked with the People's Committee to destroy the remaining number and sprayed chemicals to disinfect breeding farms.
The province is offering an award of VNĐ500,000 (US$18.5) to anyone who provides information about mass deaths among unvaccinated ducks or chicken, according to the provincial Department of Agriculture and Rural Development.
Hậu Giang Province has also destroyed poultry infected with avian influenza and carried out other preventive methods.
In HCM City, the People's Committee has asked its districts and agencies to continue preventive methods against the disease to avoid reoccurrences in the city.
They have been told to check for new illegal live-poultry trading establishments.
At districts considered hotspots for illegal trading of live poultry, such as Bình Tân District and District 9, more inspections will be conducted and fines handed out.
As of January 17, at least 103 sites for illegal poultry trading had been identified in 14 districts, according to the city's Animal Health Division.
Quảng Ngãi Province has instructed its agencies to closely control breeding and to warn people not to buy breeds without clear origin.
Unvaccinated chicken should be included on a list, while farmers need instruction on how to safely breed fowl, provincial authorities have said.
Avian influenza broke out in the province's Đức Phổ District during the Tết (Lunar New Year) holiday, but it was controlled and has not spread to other areas.
Quang Ninh to collect parking fees on streets
Quang Ninh Province's Cam Pha City will pilot collecting parking fees for vehicles on streets from March 1.
According to the Cam Pha People's Committee, a car will be charged with VND10,000 (USD0.45) each time for being parked on pavement or road and the fees will be VND200,000 per month. 
The policy is aimed to add to the city's budget and also help to ensure better parking.
The city's urban management board is assigned to zone street areas where cars can be allowed to park temporarily, while the local departments and agencies have been told to inform the public of the new policy.
World Water Day to be held in Bac Ninh
Various national activities in response to World Water Day 2017 (March 22) will be held in Bac Ninh, from March 17 to 22, according to the Ministry of Natural Resources and Environment. 
The main activities include a photo exhibition, a scientific conference, art programmes and a meeting celebrating the World Water Day 2017, in addition to other communication activities.
World Water Day is held annually on 22 March as a means of raising awareness to the importance of freshwater and advocating for the sustainable management of freshwater resources.
An international day to celebrate freshwater was recommended at the 1992 United Nations Conference on Environment and Development (UNCED). The United Nations General Assembly responded by designating 22 March 1993 as the first World Water Day.
Each year, World Water Day highlights a specific aspect of freshwater. This year's World Water Day will highlight the theme 'Waste Water'. Waste water is perceived as a valuable resource in the circular economy and its safe management is an efficient investment in the health of humans and ecosystems. Improving waste water management means making an improvement on all 6 targets of the Sustainable Development Goal on Water.
Workshop seeks to help women promote startups
A workshop themed "Build-A-Business" was held in Hanoi on February 16, offering an opportunity for female entrepreneurs to learn how to start business and improve the efficiency of their enterprises. 
As part of activities in the Women's Entrepreneurial Center of Resources, Education, Access, and Training for Economic Empowerment (WECREATE) project in Vietnam initiated by the US Department of State, the event was organised by the Vietnam Women Entrepreneurs Council under the Vietnam Chamber of Commerce and Industry and the International Peace and Development Organization of Spain.
Executive Director of WECREATE Vietnam Nguyen Thi Tuyet Minh said that entrepreneurs at the workshop received advice from more than 50 experts working in various fields.
Participants will present their business models and discuss measures to increase revenue after analysing the strengths and weaknesses in their ideas. 
Businesswomen need support in the form of knowledge and policies from the State to aid their start-up activities, Minh said. 
Sean Griffin,  co-founder of WECREATE centres worldwide, presented a discourse on startup thinking at the event, which underlined the importance of effort, determination and experience sharing in the startup process. 
WECREATE Vietnam is an entrepreneurial community centre for women interested in starting or expanding a business. It works to arrange training courses and business connection events. 
Initiated in October last year, it helped train over 180 entrepreneurs and establish 18 startup groups. It provides tools for women to establish businesses. It plans to train about 1,400 businesswomen, set up 121 new enterprises and create more than 2,200 new jobs.
Enlistment ceremonies held for new military conscripts nationwide
Enlistment ceremonies were held on February 15-16 across the country to bid farewell to young men who will embark on two years of compulsory military service.
On February 16, ceremonies were held around Ho Chi Minh City to send off young people to fulfil their duties as national citizens. Politburo member and Secretary of the Ho Chi Minh City Party Committee Dinh La Thang attended a ceremony in District 9 to comfort new military conscripts.
Addressing the event, he expressed his belief that the new military recruits would uphold the traditions of the armed forces and the City, constantly striving to learn and train to fulfil all assigned tasks.
Among conscripts in the City, 168 are Party members, 43.33% have university, college or vocational training degrees, and thousands volunteered to begin their military service.
On the occasion, the Ho Chi Minh City People's Committee and Military Service Council at all levels held numerous activities implementing army rear policies such as creating savings books and presenting gifts to new conscripts as well as raising funds for recruits living in difficult circumstances.
On the same day, other provinces and cities in the seventh Military Zone (including Ba Ria Vung Tau, Binh Duong, Binh Phuoc, Binh Thuan, Dong Nai, Tay Ninh, Lam Dong and Long An) held enlistment ceremonies for new recruits.
Out of conscripts across the Zone, 634 are Party members and 276 are civil servants, a high rate compared to the previous years.
Ceremonies were also held in other localities across the country to comfort and send off young people to engage in military service.
One more dead in mass poisoning case in Lai Chau
One more victim in the mass poisoning case in District Phong Tho  of the northern mountainous province of Lai Chau was reported dead, said health authority in the province yesterday.
Relatives of the victim discovered the corpse when they came back from the paddy field. Though health authority has advised him to go to the local infirmary for treatment before, he refused.
Accordingly, as of February 16, eight people were killed and 27 others were hospitalized in the poisoning case which is blamed on methanol in alcohol at a funeral ceremony. Some others were discharged from infirmary.
A group of medical workers from Bach Mai Hospital  arrived at the province on February 16 to help their colleagues in treating victims. Through examination, deputy director Dr. Mai Trong Khoa said that most victims have high methanol concentration in blood.
Concerning to poisoning case in the northern mountainous province of Ha Giang's District Hoang SU Phi, the province's General Hospital on February 16 admitted 69 patients while 30 others who suffered slight symptoms of poisoning were hospitalized in commune medical center. They all attended a wedding party in Hoang Van Kim's house.
Until now, they no longer suffered serious condition.
Houses, five ha of vegetables in Ben Tre Province washed away
Two houses and five hectares of vegetables were swept away in the Mekong delta province of Ben Tre because of sea waves and high tide, said Chairman of People's Committee in Bao Thuan Commune in Ba Tri District yesterday.
Two kilometers of dykes were also eroded by the natural diseases causing bad effect on 25 households. Total damage is estimated to reach around VND600 million.
For years, the area has ever been washed by sea wave yet, lately the condition has become worse. 
Local Huynh Van Ngoat in Thanh Hai village said that a few days ago, high tide plus sea wave destroyed his house and washed away all property.  
Local government has given VND1 million to each family in the affected area to evacuate to safer districts.  
VNA/VNS/VOV/SGT/SGGP/TT/TN/Dantri/VNE