VietNamNet Bridge – The Ministry of Agriculture and Rural Development has issued a diktat prohibiting the use of plant protection products containing paraquat and 2,4-Dichlorophenoxyacetic acid (2,4-D) in Viet Nam.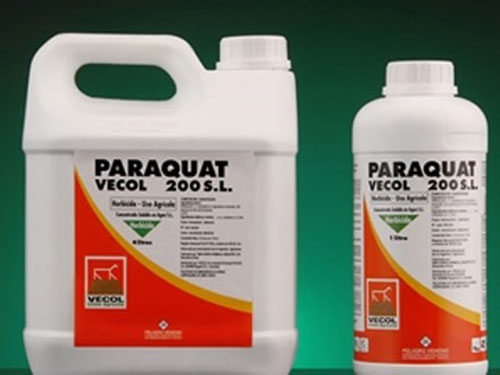 Herbicides 2,4-Dichlorophenoxyacetic acid and paraquat are officially banned in Viet Nam. 
The decision to eliminate the two herbicides from the list of plant protection chemicals was made after scientific evidence showed that the chemicals posed a danger to both humans and the environment, Plant Protection Department said.
Paraquat, a chemical weed killer, and 2,4-D, an organic compound, are used to control a broad range of weeds, but leaves cereals, lawn turf, and grasslands relatively unaffected.
2,4-D can be found in numerous commercial lawn herbicide mixtures, and is widely used as a weed killer for cereal crops, pastures, and orchards. Over 1,500 herbicide products contain 2,4-D as an active ingredient.
According to the department, studies by international organisations have shown that 2,4-D is highly toxic to the eye tissue, causing severe eye irritation and affects the endocrine and immune systems, causing cancer.
2,4-D herbicide is also the main component in Agent Orange.
Paraquat is a herbicide that helps farmers grow crops easily, but it is toxic and has been related to several hundred cases of fatal human poisoning, the studies said.
Paraquat damages the lungs the most, especially for people suffering from asthma or other lung-related conditions.
In many cases, ingestion of the compound goes on to cause lung congestion, leading to convulsions and death because of respiratory failure.
At least 32 countries in the world have banned the use of paraquat due to its impact on human health.
According to the ministry's decision, several products containing 2,4-D and paraquat used in Viet Nam currently would be removed from the list of plant protection drugs.
There are 36 drugs containing 2,4-D ingredient and 46 others with paraquat, the plant production department said.
However, at least 13 of the 74 herbicides which are permitted in Viet Nam now can be used to kill weeds effectively and replace 2,4-D, said Hoang Trung, head of the department.
"The prohibition on the use of paraquat and 2,4-D herbicide will ensure safe agricultural products and human health," Trung said.
The application of advanced technologies for plant protection will be improved to help farmers get higher yields, he added. 
VNS