VietNamNet Bridge – Fourteen people were rescued on Wednesday evening after their speedboat capsized due to high waves on the way from Nam Du Island to the mainland.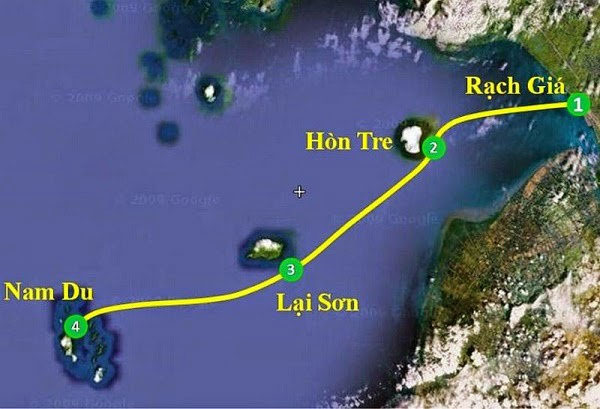 The speedboat capsized some 10km off Lại Son Island. Photo: Dulichkiengiang
The speedboat met with the accident while travelling some 10km off Lại Son Island, which is one-third the distance from Nam Du Island to the mainland.
All 14 people --12 tourists and two boat drivers -- were wearing lifejackets. They were rescued by two fishing vessels while drifting in the sea.
According to the initial investigation, the speedboat has a maximum capacity of 12 people. It is also registered to transport tourists only around Nam Du Island and is not authorised to run from Nam Du to Rach Gia City, both in southern Kien Giang Province.
"Moreover, safety regulations do not allow boats to transport customers on the sea in the evening. We will conduct further investigation into this accident," Colonel Dang Van Thong, political commissar of Kien Giang Province Border Guard Command, told Tuoi tre (Youth) newspaper.
Earlier on Wednesday morning, the group of 12 tourists from Rach Gia City visited Nam Du Island in Nam Du Commune. In the afternoon, a woman in the group broke her arm so they decided to rent the speedboat to return to the city.
VNS