Recent torrential rains in many Cuu Long (Mekong) Delta provinces in what is the dry season have damaged crops, including fruit trees.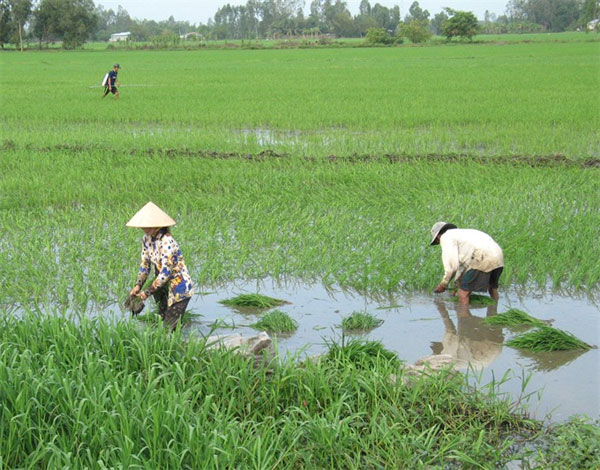 Farmers work at a local field damaged by recent torrential rains in Hau Giang Province's Vi Trung Commune. 
In Hau Giang Province, heavy rains on February 2 inundated a large area of paddy that was close to harvest time in Chau Thanh A and Vi Thuy districts, forcing their owners to spend large sums of money pumping the water out.
More than 2,400ha of ripening winter-spring rice crop in Can Tho City were damaged.
In some areas where farmers had started their harvest, the rains caused difficulties for them in reaping and drying the paddy.
Tran Van An, deputy chairman of Phuoc Long District in Bac Lieu Province, said the rains have damaged 1,000ha out of 9,000ha of rice in his locality, affecting productivity and quality.
The rains also caused heavy losses to salt producers in Bac Lieu, the largest producer in the delta.
Nguyen Hoang Thua, deputy chairman of the Salt Production Co-operative in Doanh Dien Hamlet, said, "We could not harvest our salt because there has been a lot of rain since the beginning of the season."
Usually the salt harvest would have been completed a month ago, but the unseasonable rains have put paid to that this year, he said.
Salt prices are up almost 250 per cent from a year ago, but producers do not have stocks to sell.
Nguyen Van Tranh, deputy director of the Ca Mau Province Department of Agriculture and Rural Development, said nearly 3,400ha of paddy ready for harvest were damaged by the rains.
Green bean growers in the province's Khanh Binh Tay Commune have also suffered heavy losses since the young trees were extremely vulnerable to water, Doan Chi Tam, chairman of the commune People's Committee, said.
Fruit growers in Tien Giang, Vinh Long, Ben Tre, Hau Giang, Can Tho and other localities are also suffering because of the downpours.
Many mango, rambutan and durian gardens are flowering, but the heavy rains have caused the flowers to shed, affecting output, according to fruit growers.
Le Thanh Hai, deputy general director of the National Centre for Hydro-meteorological Forecasting, said the rains were caused by a strong equatorial convergence zone, with the heaviest rainfall occurring on February 2.
Le Thi Xuan Lan, a meteorologist, said unseasonable rains alternating with sunny weather would continue to occur in the south, but this would gradually end by the end of this month.
The dry season would then last from March until the end of April, she said. Last year the dry season had lasted a whole six months.
However, rainfall this year could be lower than the average of the last several years, and the Mekong River is expected to be 15-30 per cent lower than the average flow of several years, equivalent to the dry season of 2014–15 and a bit higher than last year.
Saltwater could intrude into the region earlier and last longer than in previous years, though the severity will not match the drought of 2015–16.
Mekong provinces have begun to take measures to counteract the drought and salinity.
Mekong provinces work on water
Water pumping stations in the Cuu Long (Mekong) Delta provide more than 985,000 cubic metres daily to urban areas, meeting 89 per cent of the need, the Ministry of Construction has said.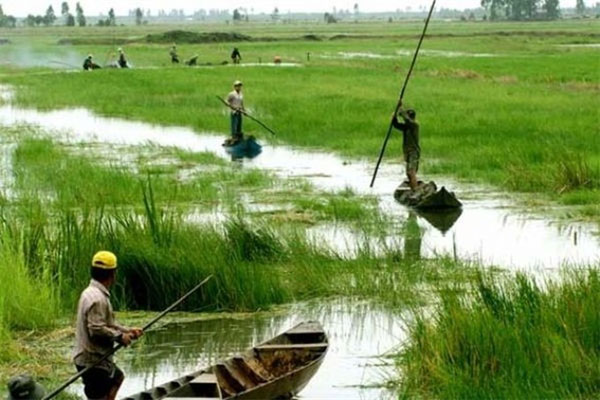 Water pumping stations in the Cuu Long (Mekong) Delta provide more than 985,000 cubic metres daily to urban areas, meeting 89 per cent of the need. 
Of this, around 650,000 cu.m come from the Tien and Hau rivers and the rest from groundwater sources, according to the ministry.
The provinces that depend much on groundwater are Long An, Tra Vinh, Soc Trang, Bac Lieu, and Ca Mau.
The infiltration of seawater into rivers has affected the delta's water supply, resulting in many pumping stations supplying water with salinity levels exceeding the norm by 0.06 – 0.12 per cent.
With the delta expected to require around 1.9 million cu.m daily by 2020, the Ministry of Construction has directed utilities in the delta to take measures to protect water sources.
Following this, Kien Giang Province plans to immediately build nine groundwater extraction facilities that will include 20 wells and enlarge the Rach Gia City reservoir's supply capacity to 1 million cu.m a day.
Ben Tre Province will mobilise vehicles to transport water to homes and public facilities and speed up construction of a pumping station for untreated water with a daily capacity of 47,000 cu.m.
In the long term the ministry will work with relevant agencies to seek foreign investment for the construction of waterworks in the delta which use advanced technologies, adapt to climate change and are environmentally friendly.
Five giant intra-regional water treatment plants - Tien River No 1 in Tien Giang Province, Tien River No2 in Vinh Long Province, Hau River No 1 in Hau Giang Province, Hau River Nos 2 and 3 in An Giang Province - with a combined capacity of 1 million cu.m a day will be built by 2025.
By 2030 their capacity will be increased by 650,000 cu.m a day.
By then the delta, which has a population of more than 17 million, hopes to provide 98-100 per cent of people living in urban with access to clean water.
Last year some 250,000 households suffered from water shortages because of the severe drought and saltwater intrusion.
VNS