VietNamNet Bridge – Authorities have proposed an expansion plan for HCM City's Tan Son Nhat Airport that will enable it to handle 45 million passengers a year.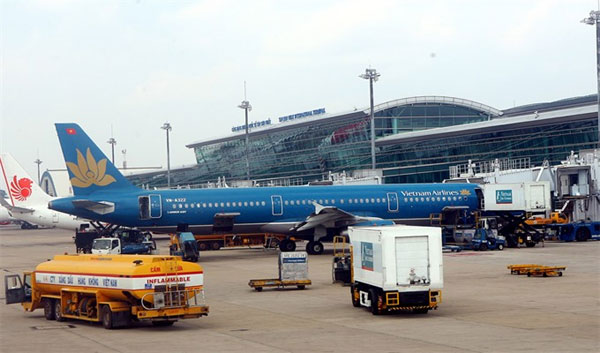 An aircraft of Vietnam Airlines - the flag carrier of Viet Nam - lands at Tan Son Nhat International Airport in HCM City. 
It has a designed capacity of 25 million passengers but handled 32 million last year. The airport has been growing at 30 per cent annually, and this growth is expected to continue for the next three years, meaning it is certain to be even more severely overloaded before things get better.
There will then be a shortage of everything from runway, parking, terminals and even space for transport in its vicinity.
The Ministry of Defence has already pitched in by moving all military training operations from Tan Son Nhat Airport to Bien Hoa Airport in the neighbouring province of Dong Nai.
Two plots of military land measuring 21ha and 7.63ha will be handed over to the Ministry of Transport to expand Tan Son Nhat's parking space to accommodate 96 aircraft at a time.
The ministry has given assent to the Civil Aviation Authority of Viet Nam (CAAV)'s proposal to build a new mixed-use terminal with a capacity of 10 million passengers a year within 12 months. It will be built on a three-hectare former military land.
On its completion, the terminal along with the existing T1 and T2 will take the total capacity to 38 million passengers a year.
A plan is also taking shape to build a fourth terminal also on military land and handle another 10 million passengers a year.
To access the T4 terminal, Cong Hoa Street will be widened using military land, and it will also make access to the other terminals easier.
The director of HCM City's transport department, Bui Xuan Cuong, told the Sai Gon Giai Phong (Liberated Sai Gon) newspaper that in 2017 his department would carry out deploy six different works to ease traffic around the airport at a total cost of nearly VND1.4 trillion, including two flyovers at the intersections of Truong Son – Binh Loi streets in Tan Binh District and Nguyen Thai Son – Nguyen Kiem streets in Go Vap District.
To cope with the traffic congestion around the airport, a consultancy company submitted three different proposal at a recent meeting with Deputy Prime Minister Trinh Dinh Dung.
Under the first, all infrastructure like runways, terminals, parking space will be built on what is now a golf course and a residential area around it.
The airport's capacity will go up to 60 million passengers a year but it will take 10 – 15 years to move 140,000 households and cost around VND200 trillion.
Under the second proposal, one more runway will be built in addition to terminal T4. It will cost VND61 trillion, take eight to 10 years to build and increase the capacity to around 45 million passengers a year.
Under the third plan, most of the new construction will be on military land, it will cost only around VND20 trillion and take three years, but still be large enough to serve around 45 million passengers a year.
Deputy PM Dung and other authorities opted for the third plan and are preparing to submit it to the Government for approval.
It means that Tan Son Nhat Airport can resolve its overloading problem in three years' time. After Long Thanh International Airport opens in neighbouring Dong Nai Province, Tan Son Nhat will only be used for domestic and regional flights.
But it could be overloaded again if Long Thanh Airport is not completed within eight years as planned.
The rapid growth of the aviation market in recent years has overwhelmed airports in major cities and led to frequent flight delays and cancellations. Around 750 flights land in or leave Tan Son Nhat every day.
Figures from the CAAV show that more than 20,000 flights, or 15.8 percent, were delayed, in the first six months last year, up slightly from 15 per cent a year earlier.
Tan Son Nhat has more problems to deal with on top, with flooding affecting even the tarmac and traffic congestion on the streets outside causing chronic delays.
Construction of airport flyovers set to start
On Wednesday, February 8, the construction of two flyovers to ease traffic around HCM City's Tan Son Nhat Airport will start, the city Department of Transport has said.
A Y-shaped concrete flyover costing VND242 billion (US$10.7 million) will be built at the Truong Son Street intersection that links it with the airport.
It will have two branches, one 303 metres long and going into the international terminal. The other, 153 metres long, will link the domestic terminal.
A giant steel flyover will come up above the Nguyen Thai Son-Nguyen Kiem intersection in Go Vap District.
It will be N-shaped with three separate arms and cost around VND504 billion ($22.2 million).
A 362-metre section will connect Hoang Minh Giam and Nguyen Thai Son streets. A second, 367m arm will turn north from Hoang Minh Giam into Nguyen Kiem Street. Another 367m arm will turn south from Nguyen Thai Son Street into Nguyen Kiem.
Besides, the roads around the Nguyen Thai Son-Nguyen Kiem Intersection will be widened to ease the flow of traffic.
More than 30,000 vehicles pass the airport area every day in addition to those of over 10,000 airport staff.
This year many passengers were late for their flights during Tet because of gridlock.
VNS