VietNamNet Bridge – Mekong Delta provinces have taken measures to counteract drought and salinisation as weather forecasts say that the region could face shortages of water due to a serious drought early in 2017.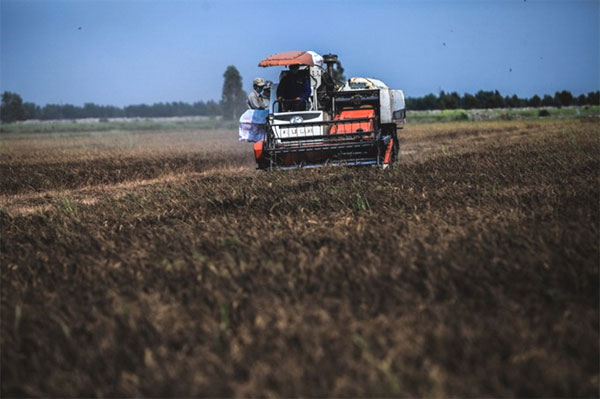 Up to 1,400 ha of rice paddy fields in Kien Binh Commune of Kien Giang Province have 100 per cent saline intrusion. 
According to forecasts from the Central Hydrometeorology Station, rainfall in the southern region from March to July this year could be lower than the average rainfall of the last several years. During the dry season of 2016–17, the Mekong River is expected to be 15 to 30 per cent lower than the average flow of several years, equivalent to the dry season of 2014–15, and a bit higher than 2015–16.
Meanwhile, salinisation could intrude into the region earlier, lasting longer than intrusion in previous years, but not as serious as during the drought of the dry season of 2015–16.
Mekong provinces began taking measures to counteract drought and salinisation before the traditional Tet (at the end of 2016). The agriculture department in Hau Giang Province has recommended that farmers in drought-affected areas sow seeds of the winter-spring rice crop early, and thus be ready to cope with bad weather conditions caused by climate change.
Hau Giang Province People's Committee has also announced a plan to combat drought and salinisation intrusion in the province from late 2016 through 2017. According to forecasts from the provincial authorities, from 28,000ha to 34,000ha of land under the winter-spring and summer-autumn crops in the districts of Chau Thanh, Chau Thanh A, and Phung Hiep, and Nga Bay Town, and parts of Vi Thuy District and Long My Town will be affected by the drought.
In addition, from 12,000ha to 16,000ha of paddy fields are affected by salinisation intrusion. In some areas, local residents could suffer shortages of water for daily activities.
Hau Giang People's Committee has asked district authorities to use all facilities and utensils to store fresh water and thus to ensure enough water for daily activities during the dry season of 2016–17.
The provincial authorities have also checked and mapped out plans to repair facilities to supply fresh water to residents in drought-affected areas, and inspect embankment, dyke and pumping systems. They also mapped out plans to store water in the fields and prevent salt water from intruding into fields to better protect rice crops.
Tran Cong Chanh, secretary of Hau Giang Province Party Committee, said Hau Giang is one of the provinces that has encountered the most serious consequences of the drought and the salinisation intrusion last year.
He said all measures taken by Hau Giang residents were aimed at ensuring rice production and minimising damage that could be caused by the drought and salinisation.
According to figures from Sai Gon Giai Phong (Liberạted Sai Gon) newspaper, the Mekong Delta suffered great losses caused by drought and salinisation in 2016. The region's farming sector faced damages of VND4.67 trillion (nearly US$210 million), including damage to 233ha of paddy fields, vegetables and other crops 6,561ha, and fruit and industrial trees 10,831ha. Nearly 227,000 households in the region faced water shortages.
VNS