VietNamNet Bridge – It was during a trekking trip to the central Quang Binh Province in 2014 that I first spotted wooden houses with tanks under them. This November I realised that these very houses had saved thousands of lives when the region flooded.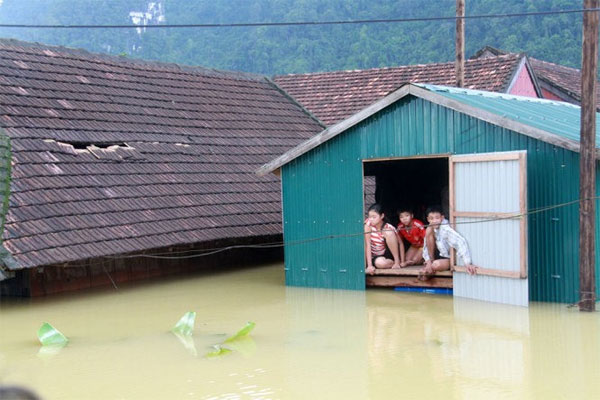 A floating house captured during the October and November floods. Photo tuoitre.vn
I had stopped to rest at Tan Hoa Commune while trekking to Tu Lan, a karst cave close to the commune, in January 2014. As I looked around, I noticed that almost every house had another house in its compound that had large tanks fixed underneath it – some were steel, others were plastic, all were originally used as containers for oil or asphalt. These were the floating houses that I had only heard about till then.
A local porter, Nguyen Van Son, who was accompanying me, explained that the tanks ensured the houses stayed above the floodwater and that these houses served as "lifejackets" for locals. The commune was in a low-lying region, surrounded by mountains and several streams, so it became an umbilicus for floodwater during the monsoon, Son said.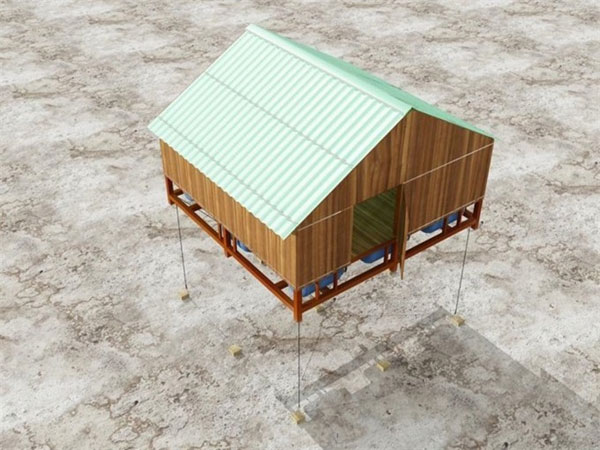 A design of the floating house. Photo kienviet.net
These floating houses were shelters for locals when the region flooded; the rest of the time, people lived in regular houses with concrete foundations built on land, the porter told me.
When it started raining heavily, before rainwater flooded the commune, residents would pack necessities and store them in their floating houses every week. They would shift into these houses once floodwater entered their homes.
This October and November, the region experienced one of the most devastating floods in a decade. The commune flooded three times, but Son and his neighbours stayed safe and dry. "Once again the floating houses protected my community from fierce floods," Son said.
Cao Si Hung, another resident in the commune said six members of his family were saved by a newly-built floating house. "The effectiveness of this type of house was evident, persuasive and my family afforded one earlier this year. Fortunately in the last floods, it worked," he said.
Floating houses made headlines as local newspapers talked about how they have time and again helped residents of Quang Binh and Ha Tinh provinces escape the floods. They are now being applied widely in the central regions where flooding is a regular occurrence.
These houses work on a simple theory: that floating objects will stay up no matter what the water level. The structures are built with light materials, such as wood and thin steel panels, but their frames and floors are solid so that they can bear weight. Six to eight tanks, or sometimes even more, are fixed permanently to the base of a house, but not to the ground. The number of tanks used depends on the size of the house as well as the type and size of the tanks.
When floodwaters rise, instead of going under, these houses begin to float. To prevent the houses from floating away in the current, their frames are anchored with steel ropes to five large concrete blocks built on the ground and placed at the four corners of the rectangle with the bigger one in the centre.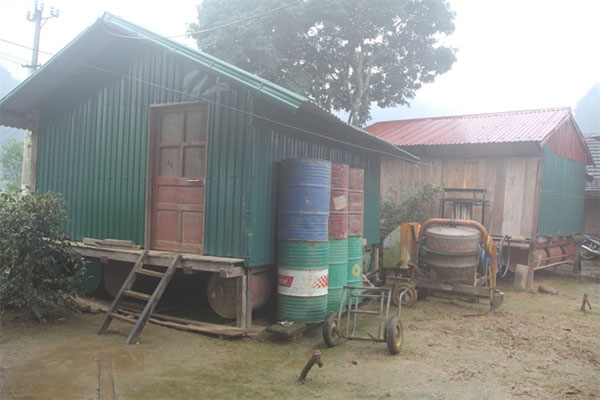 Actual floating house in Quang Binh's Tan Hoa Commune. — VNS Photo Phuoc Buu
Some houses are kept stable by using a tall steel or concrete pole that allows the house to slide up and down depending on the rise and fall of floodwater. The pole is said to be a better design than the five steel ropes as the house does not have to sustain the impact of strong currents.
No one is certain about who came up with this ingenious design. While some say that it was the initiative of a former student of Hong Bang University in HCM City, others claim it was initiated by a social project called Flood-resistance Homes, which kicked off in 2014. Whoever is behind the concept, the design has not been registered under intellectual property rights.
Residents of the commune said they initiated and have spent their own money to build these floating houses. Earlier, these houses were made with local materials such as bamboos and banana trees, but then, residents replaced the materials with wood and tanks as tanks were available in abundance.
Local authorities have no records of how many families own floating houses in the provinces, and there is no policy or subsidy programme in place.
A floating house is not expensive to build, of around VNĐ40 million (US$1,800), but it remains unaffordable for the poor living in these flood-prone regions. Slowly though, sponsors have started stepping in. Nguyen Chau A, host of the annual competition Tu Lan Race, said the event has donated 20 floating houses in Tan Hoa since 2015.
"This type of house serves as a magic buoy to locals. We should try to build more floating houses," said dang Dình Sy, a regular participant in the race.
VNS
Hue Phong