Deputy Minister of Public Security Le Quy Vuong led a Vietnamese delegations comprising of border guards, customs and police officials to join the 16th Tripartite and Bipartite Ministerial Conference of Vietnam, Cambodia and Laos on Drug Prevention and Control that opened in Phnom Penh on December 6.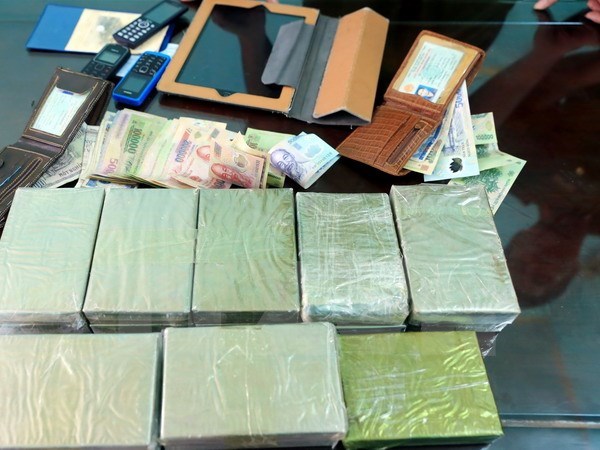 Opening the event, Cambodian Deputy Prime Minister and head of the National Committee on Anti-Drug Ke Kim Yan lauded the close coordination among the three countries in fighting cross-border drug trafficking.

As drug production and trafficking in the region and the globe still remained complicated and showed no signs of decline, he called for stronger cooperation among the three countries for the success of the fight against drugs in each country.

He suggested participants discuss measures to forge stronger partnership in combating cross-border drug-related crimes and strengthen communications among the community, especially in border localities, as well as ways to increase the treatment and rehabilitation services for drug addicts, reinforce drug control mechanisms and improve cooperation with other ASEAN countries in the field.

Speaking at the event, Lieutenant General Dong Dai Loc, deputy head of the Police General Department, said that in the first nine months of this year, a large amount of drugs were trafficked to Vietnam with many new types, including XLR-11 drug, a kind of drug soaked in vegetations.

Vietnamese authorities at central and local levels have worked closely in combating drugs, anti-drug communications, detoxification and the management of legal activities involving drug precursor, he said.

Loc also noted that the anti-drug partnership among Vietnam, Cambodia and Laos has been strengthened with various joint activities, adding that Vietnam has held 15 training courses for 272 officials from Cambodia and Laos.

However, the wide border area shared by the three countries and the limited number of anti-drug officials have affected the efficiency of anti-drug work, he pointed.

He proposed that authorised forces of the three countries should continue maintaining and improving their meetings in order to share information and seek measures for better cooperation in the fields.

More efforts are needed to convince locals not to grow poppies, and trade and use drugs, he said, stressing that it is necessary to support the socio-economic development in border localities, thus improving locals' income and awareness of safeguarding security in border areas.

Reports from the three countries also showed that drug trafficking and use in the region remain complex.

In the first nine months of 2016, Cambodia detected 3,500 drug trafficking cases, 45 percent higher than the same time last year, while Vietnam discovered nearly 11,000 cases, up 28 percent. Laos also reported a rising number of cases.

Following the opening ceremony, Deputy Minister Le Quy Vuong transferred the conference's Chair to head of the Cambodian delegation Kao Khondara.

Along with tripartite meetings, ministerial meetings between Vietnam and Cambodia, Vietnam and Laos, and Cambodia and Laos, will also be organised during the two-day conference.

Earlier, Cambodian Deputy PM Ke Kim Yan also had meetings with heads of the Vietnamese and Lao delegations.

They are also scheduled to adopt a joint statement and sign a number of Memorandum of Understanding on cooperation for the following years.

First held in 2001 in Cambodia, the event is held in turn by Vietnam, Laos and Cambodia.
VNA