Rhino horns, skin, jewellery made from ivory seized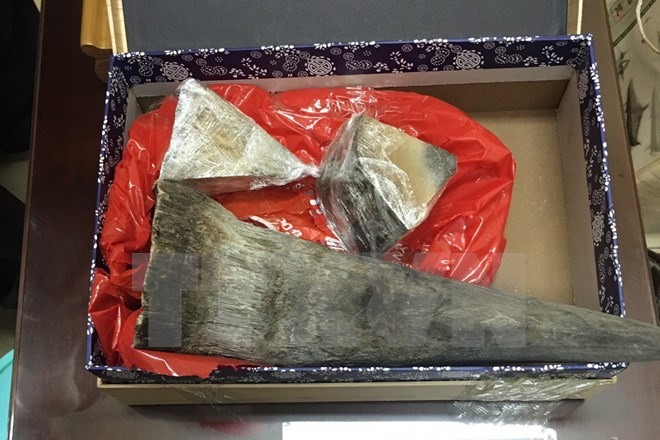 Customs officials in northern Quảng Ninh Province, in cooperation with provincial border soldiers, arrested two persons allegedly transporting more than 3kg of products made from endangered wild animals.
Lê Mạnh Tùng, head of the provincial Customs Department's Customs Inspection Unit No. 1, said the official found more than 2kg of rhino horns and skin and more than 1kg of jewellery made from ivory at Móng Cái Bus Station in Móng Cái City.
The cargo was packed in a carton box and was to be transported from the city to China for consumption.
The two persons failed to show legal papers of origin of the products. All the goods were made from endangered wild animals.
Tùng said the department seized the items and sent the two persons to authorised agencies for further investigation.
Christmas market at Indika Saigon
Indika Saigon will host a Christmas market on December 10-11 that will include 40 vendors selling crafts, artworks, accessories, clothing and food.
Activities include taking photos with Santa Claus and performances of resident magicians and DJs.
The event will take place from 10 am to 4 pm at 43 Nguyễn Văn Giai Street in District 1. Entrance fee is VNĐ30,000. VNS
Poster exhibition celebrates 70 years of national resistance
An exhibition featuring posters to commemorate 70 years of the national resistance (December 19, 1946 – December 19, 2016) and encourage a civilised lifestyle during festivals has recently opened in Đại Đoàn Kết (Great Unity) Square in Pleiku City.
Jointly organised by the Ministry of Sports, Culture and Tourism and Gia Lai Province's People's Committee, the art event displays 190 large paintings by various artists from across the nation, 60 of which are advertising panels promoting local tourism.
Through the exhibited paintings, visitors will be able to understand more about the meaning, the heroic tradition, and strong determination to preserve national independence and unity.
The event also confirms the leadership role of the Party and President Hồ Chí Minh in the cause of national liberation, as well as to honour and pay tribute to the significant contribution of everyone in constructing and protecting the country.
Simultaneously, it reflects the civilised lifestyle in festivals; supports improvements in festival management, the preservation and promotion of traditional cultural values and customs; educates on the tradition of paying tribute to ancestors and creates a joyful atmosphere for local cultural life.
In 2016, Gia Lai Province successfully hosted two poster exhibitions that encourage local people to abide by the Party and State's policies and therefore contribute to the stable construction and development of the nation.
The exhibition will run until December 20.
Top table tennis players to vie for titles
Twenty-four players will participate in the National Best Table Tennis Players Tournament, to be held in Hải Phòng from December 8 to 11.
Twelve male athletes, including top seeds Nguyễn Anh Tú, Đinh Quang Linh and Đoàn Bá Tuấn Anh, and 12 female players, such as Mai Hoàng Mỹ Trang, Nguyễn Thị Nga and Nguyễn Thị Việt Linh, will compete in the event.
The event will be held in the round robin format, and paddlers who grab the most points will win titles and cash prizes. The winners will represent Việt Nam at international tournaments such as the Southeast Asian Games in 2017. 
Fellowships awarded to female scientists     
Five Vietnamese female scientists have won scholarships worth VND150 million (US$6,690 USD) each under the L'Oreal-UNESCO For Women in Science programme which was announced yesterday in Ha Noi.
The winners were Dr Nguyen Thi Lang, head of the Genetics and Plant Breeding Division from An Giang University, and Dr. Nguyen Thi Mua from the Fire Prevention and Fighting Police Department of the Ministry of Public Security. Their research projects focussed on high quality hybrid rice varieties and anti-fire materials, respectively.
Three other young female scientists also received the L'Oreal National Fellowship for Women in Science. They were all Ph.D holders including Do Thi Ha from the National Institute of Medicinal Materials, Do Thi Phuc from Ha Noi National University and Nguyen Thi Hiep from HCM City National University.
All young researchers have made contributions to the health care sector by seeking new medicinal materials for cancer treatments and studying new varieties of plants that are adaptable to climate change and salinity invasion as well as improving materials used for odontology.
The awards were granted by the For Women in Science Programme, launched by the L'Oreal Group and UNESCO in 1998. So far, it has supported more than 1,700 female scientists in many countries around the world. 
Deputy PM prompts to disburse Formosa compensation on schedule
Permanent Deputy Prime Minister Truong Hoa Binh has urged the north central provinces of Ha Tinh, Quang Binh, Quang Tri and Thua Thien-Hue to speed up the disbursement of Formosa compensation so that the first payment phase will have to complete on schedule by the end of this year. 
Taiwanese steel company Formosa has transferred US$500 million to the Government in compensation for the sea environment devastation it caused early this year in the north central region.
According to an announcement sent from the Government Office on November 29, the deputy PM approved to use part of Formosa compensation for paying testing costs of inventory seafood batches carried out by the Ministry of Health.
The people's committees of the four provinces must strictly implement the Prime Minister's instruction to handle inventory seafood volume reported by the Ministry of Agriculture and Rural Development previously.
The agriculture ministry has been asked to work with the Ministry of Health, the Ministry of Industry and Trade to review and clarify the expiry date of seafood batches in stock and propose handling solutions.
In addition, the ministry has been required to make clear that the Government will give interest assistance instead of direct financial support for fishermen to build new fishing boats and give priority to those building steel hull vessels.
Mr. Binh prompted the Ministry of Natural Resources and Environment to hasten the progress of destroying seafood consignments which the Ministry of Health has tested unhygienic.
Ministries, agencies and local authorities should urgently submit total compensation levels in the four provinces to create a basis for the Government to continue paying the indemnity to affected citizens, he asked.
Flyover coming to unclog HCM City roads near airport
A massive flyover will be built early next year at the Nguyễn Thái Sơn-Nguyễn Kiệm Street intersection near HCM City's Tân Sơn Nhất Airport to unclog an area which is choked by traffic, the Department of Transport has said.
The N-shaped flyover, which will comprise three separate arms, will cost around VNĐ504 billion (US$22.16 million), including land cost.
One will go from Hoàng Minh Giám Street above the roundabout and land on Nguyễn Thái Sơn. It will have a second structure that turns left into Nguyễn Kiệm. The third will come from Nguyễn Thái Sơn towards the airport and turn left into Nguyễn Kiệm.
Construction, to be overseen by the department's Urban Transport Management Authority No.3, is scheduled to finish within eight months.
The roads around the intersection will be widened, equipped with LED lighting and greened with trees.
National symposium on sexual health
In contrast to popular opinion that women and girls can protect themselves by avoiding strangers or unsafe places frequented by criminals, statistics show that 73 per cent of assaults on women are committed by acquaintances, and 10 per cent are fathers or stepfathers of victims.
The information was declared in the third national symposium on Sexuality, Health and Society with the theme "Cultural and Institutional Barriers to Addressing Sexual Violence in Việt Nam" which was launched yesterday in Hà Nội.
The two-day symposium attracted nearly 300 participants including legal experts, researchers, programme managers, justice officials, social activists and educators.
Research shows that such criminals are often people considered trustworthy in society such as the elderly, celebrities, teachers and even members of the criminal justice system.
Furthermore, incidents of sexual violence often occur at places which are considered safe such as schools, offices or even the houses of the victims.
Speaking at the symposium, Khuất Thu Hồng, director of the Institute for Social Development Studies (ISDS), said, "Sexual violence is a serious crime against women and children, violating the most basic right of humans which is to live safely and with dignity."
Sexual violence leads to serious consequences for the physical, mental and financial health of the victims. Many victims and their families must strive to earn a living as they had to change accommodation to avoid discrimination. Sexual abuse even led to some victims committing suicide, she said.
Astrid Bant, United Nations Population Fund Representative in Việt Nam, said, "Part of the problem is that men think they have a 'right' to control women's bodies and sexuality."
"Sexual violence against women and girls is not a disease for which we need to find a cure. It stems from the way that men and boys look at and value our women and girls," she said.
During the symposium, representatives discussed victims and sites of sexual violence, sexual education in school, sexual violence and HIV prevention.
Research by the ISDS showed that out of 322 sexual violence cases reported in newspapers during 2011-16, more than 20 per cent of victims were aged below 10, and some were as young as 2. As many as 60 per cent of victims were aged between 11 and 25. About 13 per cent of the cases related to instances of gang rape.
More than 1,000 children are sexually abused per year, equal to about three per day, and the actual number is likely to be much higher, according to the Ministry of Labour, Invalids and Social Affairs.
HCM City fire safety inadequate
HCM City needs to regularly monitor fire safety practices in households and amusement venues to preclude fire accidents, city Party Committee Secretary Đinh La Thăng has said.
At a meeting with fire department officers on Monday to discuss fire safety and prevention, he instructed them to step up inspections of industrial parks, high-rises, traditional markets, supermarkets, and shopping malls ahead of Tết.
With fires breaking out in several places in the last few months, other recreational spots that attract a large number of visitors on a daily basis, like bars and karaoke shops, must also be covered, he said.
Since most fires are caused by short circuits according to the department, it would be important for electrical companies to raise public awareness of electrical safety, he said.
The city should have helicopters for fire fighting and rescue, he said.
Nguyễn Thị Thu Hoa, deputy director of the Department of Planning and Investment, told him the city lacked the financial and human resources for it.
"It costs about VNĐ1 trillion (US$44.1 million) to buy a helicopter and build a helipad," she said.
But he dismissed the argument, saying it is necessary for a commercial hub like HCM City to have a helicopter, especially since international investors are particular about fire safety.
The city could rent helicopters from the Việt Nam Helicopter Corporation, he said.
Toll fares cut at 23 stations: Transport Ministry
Toll fares, so far, have been reduced at 23 Build- Operate -Transfer (BOT) toll stations nationwide, Deputy Minister of Transport Nguyen Hong Truong said.
The move follows a government direction according to which the Transport Ministry must work with the Finance Ministry to reduce BOT toll fees by 10-15 percent at 45 operating booths across the country.
"BOT toll cost reduction this time is mainly at five important highways -- highways No.1, No.5, No.51, No.1 from HCM City to Trung Luong and HCM National Highway through the Central Highland region," Truong said.
"These stations have a high volume of vehicles running through, so the reduction will significantly boost business and production."
Accordingly, the rate for the first group (cars with less than 12 seats and under two tonnes or buses) and the second group (cars with 12-30 seats, weighing 2-4 tonnes), has decreased from 45,000 VND (2 USD) or higher to 35,000-40,000 VND (1.6-1.7 USD).
For the fourth group (10-18 tonne vehicles, 20-feet containers) and the fifth group (more than 18 tonnes, 40-feet containers), the new rate applicable is 20,000 VND (0.9 USD).
There are 86 BOT toll stations nationwide under management of the Transport Ministry. Among these, 45 stations are collecting or are to collect fees. The local media has several times in the past reported that the increased toll fares on BOT national highways have angered commuters. Every day, locals who travel just a few hundred metres are forced to pay the toll, the paper reported.
Prior to the reduction, the toll at the station was fixed, with the lowest rate set at 25,000 VND (1.1 USD) and the highest rate set at 180,000 VND (8.1 USD).
In a related development, Deputy Minister Truong Quang Nghia asked the Vietnam Road Administration to remove the Dai Xuyen toll station on the Cau Gie-Ninh Binh Expressway no later than January 1 next year.
According to Mai Tuan Anh, General Director of the Vietnam Expressway Corporation (VEC), the Dai Xuyen toll station collector, nearly 150 traffic jam cases were recorded from 2011 until now near the toll booth. In 2015 and the first half of 2016 alone, there were 70 cases.
Congestion was seen on both sides of the booth, covering a distance of 0.3km and going up to 3km.
Anh said the two toll stations located on the nearly 100km expressway are not necessary. The elimination of the Dai Xuyen toll station will help vehicles travel faster.
The two tolls on the highway are now under management of VEC and BOT Phap Van -Cau Gie Joint Stock Company.
Nguyen Van Huyen, head of the Vietnam Road Administration, said toll collecting systems of these two units would be given to Software-Design Automation-Control Joint Stock Company (Cadro Company) to set up a shared collecting method on the whole expressway, using electric cards and by removing paper cards.
It also meant that drivers had to pay one time at one station when travelling on the expressway. Profits will be divided between VEC and BOT Phap Van-Cau Gie Company.
He also asked the Cadpro company to make fee collecting technology public to ensure benefits for locals and businesses.
Dai Xuyen toll station is located at km212 315 on the Cau Gie-Ninh Binh Expressway, connecting the capital's city centre with northern Ninh Binh province.-VNA
WHO urges more efforts to combat antimicrobial resistance
World Health Organisation (WHO) Representative to Vietnam Lokky Wai has called on Vietnam to undertake more efforts to combat antimicrobial resistance (AMR).
"The most important factor that contributes to the rise of AMR is the use of antibiotics in humans and animals. Therefore, the most effective measure the government can take is to control the use of antibiotics and ensure they are used appropriately," Wai said at a meeting to mark Vietnam Antibiotic Awareness Week 2016 on November 30 in Hanoi.
Wai said the increase of antibiotic production, supply and use has contributed to the spread of AMR in the environment and food chain due to the increasing pressure to meet the global food demand of people and international trade, along with industrialization, urbanisation and expansion of the health services sector.
"The role of other sectors, such as trade, industry, environment and natural resources, are therefore important to complement regulatory actions and closely monitor the spread of AMR in the food chain and environment," Wai said.
"The inter-sectoral action undertaken in Vietnamis, therefore, a step in the right direction and is an excellent example for other countries in the region. By committing to work together, Vietnam is making a great contribution to the global fight against AMR," the WHO representative added.
"Last year, we had 400,000 individuals pledging to help fight AMR. We will continue to gather more pledges until we reach the one million mark to demonstrate the public's support in building a healthy, safe and progressive Vietnam," Wai said.
Speaking at the meeting, Luong Ngoc Khue, the health ministry's Health Examination and Management Department director, said antimicrobial resistance is a risk to Vietnam's people and economy following the increase in antibiotic use and lax management of antibiotic use in healthcare and animal husbandry.
Vietnam is in the list of countries with a high AMR rate due to insufficient awareness on antibiotic and AMR in community and health workers. Many residents purchase and use antibiotics without a doctor's prescription or overuse the latest antibiotics prescribed by doctors. Excessive use of antibiotics in animal and aquaculture production is also a reason for the increase of AMR in the country, according to Khue.
The annual week, titled "Together and Stronger against AMR," aims to increase awareness of global antibiotic resistance and to encourage best practices among the general public, health workers and policy makers to avoid further emergence and spread of antibiotic resistance.
According to WHO, AMR results in some 700,000 global deaths per year. By 2050, the number of deaths attributed to AMR is estimated to be 10 million per year, more than the estimate for cancer and 10 times more than the estimate for diabetes.
Project hoped to save Hoi An's coast from erosion
The central province of Quang Nam is expected to carry out a project on preventing erosion and sustainably protecting the coast of Hoi An city, which is facing serious beach erosion in recent years.
The project's funding is set to be loaned by the French Development Agency (AFD).
The Prime Minister has permitted the provincial People's Committee to compile a report suggesting an investment policy for the project. This policy must be approved by authorised agencies before it is implemented.
Hoi An is home to 7 kilometres of coastline.
According to the city's latest report, 20 hectares of the city's Cua Dai beach was washed away between 2009 and 2014.
Many experts said sand overexploitation, deforestation and natural disasters have led to increasingly serious erosion in many coastal areas of Vietnam.
Others blamed the erosion on the construction of resorts and the lack of proper environmental assessments before dredging occurred in Cua Dai beach area. 
Chairman of the Hoi An People's Committee Nguyen Van Dung used to say that they spent over 80 billion VND (3.6 million USD) on building sea dykes or temporary embankments with bamboo and sandbags, as well as the Geotube sandbag, but it's still in vain.
Vietnam's 6th Russian-built submarine to arrive in January
The six submarines have been built under a US$2-billion deal aiming to strengthen Vietnam's maritime forces.
The sixth Kilo-class attack submarine built by Russia is scheduled to arrive in Vietnam's Cam Ranh Bay in January.
The submarine, HQ-187 Ba Ria-Vung Tau, is being delivered by the Dutch-registered vessel Rolldock Storm, Thanh Nien newspaper reported.
The submarine was launched on September 28, 2015 at the St. Petersburg-based Admiralty Shipyard, and then began its trial run on December 19.
On November 24, it started the voyage to Vietnam.
Vietnam had inked a deal worth US$2 billion with Russia in 2009 to buy six Kilo-class diesel-electric submarines to strengthen its maritime forces. The contract also includes training programs for Vietnamese crew in Russia.
The fifth submarine arrived in the country in February 21 this year.
The Kilo-class submarines are built with advanced stealth technology, extended combat range and modern navigation systems.
They can operate at a maximum depth of 300 meters and a range of 9,600 kilometers for 45 days.
Swim Việt Nam to teach students in Đà Nẵng
Swim Việt Nam, a charity based in central Việt Nam, will provide free swimming training courses for students and teachers, and swimming facilities in the central city from 2017.
Swim Việt Nam representative Joanne Stewart said at a meeting with the city's leadership last week that her organisation would boost co-operation with Đà Nẵng in building a big swimming pool, and providing swimming education and training for teachers and drowning prevention skills.
According to Swim Việt Nam, over 17,500 children have been taught to swim since its activity started in central Việt Nam in 2008, and over 160 adults have been trained as swimming teachers.
Over 30,000 primary school children have attended Swim Viet Nam's classroom-based water safety education presentations. Swim Việt Nam also operates eight swim schools.
Đà Nẵng is the first local authority to provide swimming training for students at all primary schools.
Some 14,000 have benefited from this project, which includes 50 mobile swimming pools.
Swim Việt Nam also provided free swim training courses for students in Quảng Nam Province between 2012 and 2014.
According to Ministry of Health statistics, drowning is one of the leading causes of death in children over the age of one in Việt Nam, with nearly 10 drowning every day.
Mangrove forests get protection
The second phase of the Mangroves and Markets Project (MAM) 2016 - 2020 has kicked off in the Mekong Delta city of Cần Thơ after receiving more donations from the German Federal Ministry of the Environment, Nature Conservation and Nuclear Safety.
The goal of the project is to help local shrimp farms become more profitable by protecting mangrove forests. This effort has enhanced profitability and sustainability while also increasing coastal resilience to climate change.
For 30 years, shrimp farming has been one of Việt Nam's leading export-related activities, but it has also been the leading cause of mangrove loss. Given the country's long, densely populated coastline, it has rendered the population vulnerable to tropical storms and rising sea levels.
The stage was set for the Mangroves and Markets project after the sustainability of the shrimp business and the conservation of mangroves were identified as national priorities.
"After three years of implementation, the skills of State staff have significantly improved; a supply chain in shrimp production has been set up; and policies have been applied for mangrove forest protection and shrimp production development. Earnings are also higher and farm production is now more effective," Lê Văn Sử, deputy chairman of the Cà Mau People's Committee, said during his speech at the kick-off ceremony for the project on Tuesday.
After the first phase of the project, around 800 households received NaturLand certification. The Cà Mau-based Minh Phú Company, the world's second-largest shrimp exporter in terms of value, started to buy all the certified organic shrimp from farmers at a 5 - 10 per cent premium.
The company paid around VNĐ300 million (US$13,500) for forest environmental services conducted by 200 households and VNĐ600 million ($27, 000) to 500 households who had received NaturLand certificates in 2015.
Around 2,000 households were trained so they could receive certification in three areas: raising shrimp without chemicals or industrial feed; managing household waste; and forest protection.
The project also helped plant 80 ha of mangrove trees on farms that do not meet the 50 per cent criterion, and has organised farmers into groups that work towards achieving the goal jointly rather than individually.
Another 95 hectares of mangrove have been planted by local residents since the project began, while 12,600 hectares of land have been protected.
Shrimp farmers have also become more aware of organic production techniques and the need to preserve mangrove forests in their areas.
"Local farmers in the southernmost province of Cà Mau have been able to significantly increase their income. They receive higher prices for their organic shrimp, and are paid for their environmental services," Nguyễn Thị Bích Thủy, project manager, said.
In the second phase, three more seafood processing or export companies and more than 5,000 households will be invited to take part in the programme.
"The project hopes the government will issue a decision on payments for environmental services related to aquaculture," she added. "This would help ensure that shrimp farming can be a sustainable activity amid climate-change challenges."
Dr Andrew Wyatt, Mekong Delta programme manager, said: "The project will closely connect with others in the three Mekong Delta provinces of Cà Mau, Bến Tre and Trà Vinh, which contains 70 per cent of mangrove area in Việt Nam. It will also work with the $310 million World Bank-funded project, the 'Mekong Delta Integrated Climate Resilience and Sustainable Livelihoods Project'."
In the past, organic certification for shrimp farms in Việt Nam faced issues such as low prices, late payments and a lack of transparency that caused farmers to question the economic value of certification. But with the new model, these issues have all been resolved.
Cà Mau Province accounts for 28 per cent of national aquaculture and 50 per cent (80,000 ha) of national mangrove forests. Both officials and farmers believe the project has the potential to be a model for shrimp feeding and forest protection that others can emulate.
"In the near future, Cà Mau will take advantage of its areas of mangrove forest and shrimp production thanks to its recent decision, which has created a legal framework for shrimp production with international certification," Dr Nguyễn Chí Thành, project advisor, said.
He said that only Cà Mau Province, of the total of 29 coastal provinces, had issued a co-operation policy among farmers, forest owners and enterprises as well as flexible financial systems to invest in the model.
By 2020, the province aims to have 40,000 hectares internationally certified for organic shrimp breeding. It expects that 60 per cent of its mangrove forest would be restored by that time.
The project, funded by the German Federal Ministry of the Environment, Nature Conservation and Nuclear Safety, was carried out by the International Union for Conservation of Nature (IUCN) and the Netherlands Development Organisation.
Flood-prevention projects planned for HCM City
Fifty-one flood-prevention projects worth a total of more than VNĐ2 trillion (US$87.94 million) will be implemented next year in HCM City, the Steering Centre of Urban Flood Control Programme has said.
The city expects to resolve 12 flood-prone spots at Ung Văn Khiêm, Mai Xuân Thưởng, Hậu Giang, Lê Quang Sung, Cao Văn Lầu, Hồng Bàng, Ba Vân, Lâm Thành Phương, Mai Hắc Đế, Lương Văn Can, Gò Dưa and Tân Hương streets.
The city will also spend an additional VNĐ1trillion ($43.97 million) next year to upgrade drainage systems, canals and sluice gates at sites that regularly flood because of rains and high tides.
This year, the centre resolved nine flood-prone spots at Tân Quý, Trương Vĩnh Ký, Gò Dầu, An Dương Vương, Nguyễn Xí, Mễ Cốc 2, Lưu Hữu Phước and Lương Định Của streets and National Highway No 13.
The centre has asked the city People's Committee to assign agencies to punish residents who illegally throw rubbish and waste into the canals.
Farmers need practical training
Local authorities should focus on the quality of vocational training for farmers to make it more practical instead of investing in facilities and studying equipment, which is unnecessary and causes waste, a report has revealed.
The report detailed vocational training for farmers in seven provinces from 2014-16. The report was conducted by Oxfam and the Ministry of Agriculture and Rural Development's Economic Co-operation and Rural Development Department in Lào Cai, Hòa Bình, Nghệ An, Quảng Trị, Đắk Nông, Ninh Thuận and Trà Vinh.
Hoàng Xuân Thanh, representative of Oxfam and member of the research team, said that huge investments in vocational centres were wasteful as many centres could only hold a few classes or even none.
A vocational centre in northern Hòa Bình Province's Đà Bắc District was an example. Built last May with investment of VNĐ12 billion (US$529,440), the centre could not hold any classes due to a shortage of water and electricity. Most of the classes were held in communes.
Ninh Sơn Vocational Centre in southern Ninh Thuận Province and Dakrong District's Vocational Centre in central Quảng Trị Province were in the same situation. As many as VNĐ20 billion ($882,400) and VNĐ16.5 billion ($727,980) was invested in the two centres respectively, but no classes were held due to a shortage of teachers, he said.
In the meantime, co-operation among authorised agencies has remained ineffective, affecting training quality.
Đào Văn Tiến, head of the Directorate of Vocational Training's Regular Vocational Training Department said that many localities did not put their curriculum into practice, making it hard for farmers to understand.
The rate of farmers who managed to get out of poverty after attending vocational courses was only between 4-5 per cent on average in each locality. In some provinces such as Quảng Trị and Trà Vinh, the rate was only 1 and 0.5 per cent, the report revealed.
Tiến said it was necessary to evaluate what kind of vocational courses would be held, who would be eligible for the courses and how they would be applied to their production.
For example, he said, a farmer wanted to learn about raising pigs must have his own farm and capital to develop his business.
Farmers should be taught techniques to raise hundreds or thousands of pigs or plant many hectares of rice fields as they already know about small-scale business, he said.
Ma Quang Trung, head of the ministry's Economic Co-operation and Rural Development Department said that from this year, the ministry was in charge of holding vocational training for farmers under the Government's decision this August.
The ministry tended to reduce the theory and focus on practice, showing how to do the job for farmers, so those who were illiterate could understand.
Trung said the training would be flexible in different localities. In the Mekong Delta region seriously impacted by climate change, farmers would study techniques of raising shrimp instead of planting crops and rice fields. Fishermen in the central region would be trained about farms and cultivation techniques to improve their income.
According to the ministry's programme on vocational training of farmers in 2017-20, more than 913,500 farmers would have access to the courses, 80 per cent of which would have jobs and stable incomes.
The total cost of the programme was VNĐ1.75 trillion ($77.2 billion).
Serious deforestation case investigated in Bình Định Province
Police of Vĩnh Thạnh District in southern Bình Định Province will investigate a deforestation case in the local protective forest, the most serious case ever in the province.
Colonel Châu Trinh, head of the district's police department, said yesterday the deforestation "shows signs of criminal activity as well as violation of forest exploitation and protection regulations."
The provincial police force is working with the district's police to expand the investigation and prosecute suspects.
Earlier, from November 5 to 8, 13 large trees in zone 183 of Vĩnh Hải Commune, Vĩnh Thạnh District, under management of the Vĩnh Thạnh Protective Forest Management Board, were found chopped.
The trees are located 50-100m away from the provincial road and between the two forest protection stations of Hang Hũ and Lò Than.
The trees are all some 30 years old and have trunk diameters of 36 to 76cm.
Several trunks were sawed and removed from the forest. Total destruction was estimated at up to 45 sq.m. of wood, according to the Vĩnh Thạnh forest ranger station.
Vĩnh Thạnh District's Protective Forest Management Board dismissed Huỳnh Ngọc Sơn Hà, head of the Hang Hũ forest protection station, and asked Nguyễn Mạnh Thương, a station employee, to transfer work over the failure to protect trees in the area under the station's management.
Trần Phước Phi and Trần Văn Hóa, deputy directors of Vĩnh Thạnh District's Protective Forest Management Board, were asked to explain and review their responsibility in connection with the case.
Once the investigation concludes, penalties in accordance with the law will be imposed on violators. 
Cross-country run to be held to call for wildlife protection
A cross-country run is scheduled for December 11 in Hanoi to call for action against the extinction of wild animals and to raise public awareness on the issue.
Held jointly by the Red River Runners (RRR) Club and the non-governmental Education for Nature-Vietnam (ENV), the tenth Red River Run aims to respond to the fight against violations of wildlife across Vietnam.
This is the fourth consecutive year the run has been organised to raise funds to address illegal hunting and the illegal wildlife trade.
Last year's event, themed "Run for Rhinos," aimed to raise awareness about the illegal trade in rhino horns in Vietnam and saw the participation of over 500 runners from various age groups. This year, the run will be held at the Ciputra urban area in Hanoi's Bac Tu Liem District.
All Vietnamese citizens and international friends are welcomed to register for the run prior to December 8 at the site of the RRR www.redriverrunners.com or to register directly at Clickspace at No. 15, Lane 76, To Ngoc Van Street, Tay Ho District or at the Hanoi Bicycle Collective at 31 Nhat Chieu Street, Tay Ho District.
In addition to the participation of individuals, the event will bring together representatives from foreign embassies in Hanoi, NGOs and celebrities.
Participants can choose to run in teams to affirm their support for the protection of pangolins, bears, tigers or rhinos with different distances of 5km, 10km and a half-marathon distance of 21km, as well as in a children's category.
Commenting on the annual event, ENV Deputy Director Nguyen Phuong Dung said that time was running out for pangolins, tigers, bears and rhinos. If there was no demand for wildlife products then there would be no market for the poachers who were taking these animals to the brink of extinction.
She expressed her hope that the run would be warmly responded to by locals and show that Vietnam cares about the fate of these endangered species.
Project improves rice growing in mountainous areas in Quang Nam
A project has helped increase the productivity of rice growing in mountainous areas in the central province of Quang Nam by between 200 – 1,500 kg of rice per hectare.
This was heard at a review of the second phase of a project on improving food security for small scale farmers in Quang Nam on November 30.
The event was organised by the Foundation for International Development/Relief and the provincial Department of Agriculture and Rural Development.
In 2016, the project was carried out in six mountainous districts of Quang Nam, namely Dong Giang, Tay Giang, Nam Giang, Nam Tra My, Bac Tra My, and Hiep Duc, spanning over 150,000 square metres.
It aims to promote the use of the System of Rice Intensification, a rice cultivation method achieving high yield without relying on breed improvement or chemical fertilisers.
Under the project, farmers were trained in rice cultivation techniques.
Ho Thanh Tung from Tra Tan commune, northern Tra My district said the technique helped improve the effectiveness of rice growing in the mountainous areas.
Localities will invest more in applying the technique in local rice growing, thus ensuring the continuity of the project's outcomes.
Quang Tri finishes phase one of compensation for environmental victims
The central province of Quang Tri on November 30 finished phase one of distributing Formosa Ha Tinh's compensation to coastal residents for the mass fish deaths the company caused earlier this year.
In phase one, Quang Tri provided more than 202 billion VND (8.9 million USD) for Vinh Linh, Gio Linh, Trieu Phong and Hai Lang districts to distribute compensation.
The money was given to 1,979 boat owners and 1,579 crew members in 14 coastal communes and towns.
Local recipients said they will spend the money to buy fishing tools, upgrade boats, and invest in cultivation and livestock farming.
Quang Tri has more than 8,000 households with nearly 45,000 people and over 2,800 boats from the four districts severely affected by the mass fish deaths. 
In late June, Taiwan-invested Hung Nghiep Formosa Ha Tinh Steel Limited Company admitted responsibility for the incident, which affected the central provinces of Ha Tinh, Quang Binh, Quang Tri and ThuaThien-Hue. It pledged 11.5 trillion VND (500 million USD) in compensation.
The Ministry of Finance transferred 3 trillion VND (134 million USD) to the localities in the initial phase. Of the amount, Quang Binh got 1.1 trillion VND (48.5 million USD); Ha Tinh, one trillion VND (44.1 million USD); Quang Tri, 500 billion VND (22 million USD), and ThuaThien-Hue, 400 billion VND (17.6 million USD).
Project improves rice growing in mountainous areas in Quang Nam
A project has helped increase the productivity of rice growing in mountainous areas in the central province of Quang Nam by between 200 – 1,500 kg of rice per hectare.
This was heard at a review of the second phase of a project on improving food security for small scale farmers in Quang Nam on November 30.
The event was organised by the Foundation for International Development/Relief and the provincial Department of Agriculture and Rural Development.
In 2016, the project was carried out in six mountainous districts of Quang Nam, namely Dong Giang, Tay Giang, Nam Giang, Nam Tra My, Bac Tra My, and Hiep Duc, spanning over 150,000 square metres.
It aims to promote the use of the System of Rice Intensification, a rice cultivation method achieving high yield without relying on breed improvement or chemical fertilisers.
Under the project, farmers were trained in rice cultivation techniques.
Ho Thanh Tung from Tra Tan commune, northern Tra My district said the technique helped improve the effectiveness of rice growing in the mountainous areas.
Localities will invest more in applying the technique in local rice growing, thus ensuring the continuity of the project's outcomes.
Ex-officials sentenced for encroaching locals' land
Vĩnh Phúc Province People's Court yesterday sentenced to prison eight former local officials at the first instance hearing.
The accused, former officials of Vĩnh Yên City, were sentenced for abusing their position and power while doing public duty.
The eight accused officials include Lại Hữu Lân, former Chairman of Vĩnh Yên City's Peoples' Committee, Secretary of Vĩnh Yên City's Party Committee; Nguyễn Ngọc Quyền, former chief of the provincial People's Committee, Chairman of Vĩnh Yên City's Peoples' Committee and Secretary of Vĩnh Yên City's Party Committee; Nguyễn Xuân Trường, former Chairman of Đồng Tâm Ward's People's Committee, Secretary of Đồng Tâm Ward's Party Committee; Nguyễn Xuân Liên, former official of provincial People's Committee office, Deputy Chairman of Tam Đảo District's People's Committee.
The other three officials -- Nguyễn Thị Kim Liên, Nguyễn Thị Ngọc and Vũ Văn Chức -- are all officials of Vĩnh Yên City's departments.
Dương Đình Tâm is a resident running a business in Vĩnh Yên City.
According to the court verdict, since 2006, the eight officials abused power to order the compilation of illegal documents, confiscated 25ha of land from the residents and handed it over to Nguyễn Anh Quân and Dương Đình Tâm. The land then was put under the name "Farming project of Đồng Tâm Ward" invested by Đồng Tâm Ward's People's Committee.
The court concluded that the offenders hold power and have knowledge about the Land Law, land use and planning regulations. 
The illegal action of offenders "causes destruction to the State, triggers public anger and harms the reputation of local state agencies."
Lại Hữu Lân and Nguyễn Ngọc Quyền were sentenced to five years and nine months in prison. Nguyễn Xuân Trường was given three years and nine month imprisonment, while Nguyễn Thị Kim Liên was subjected to a suspended sentence of three years with challenging time of up to five years.
The other offenders were given two years and three months to three years in jail.
Nguyễn Anh Quân who prompted the offence has escaped. The provincial investigative police have issued an arrest warrant against him. 
Yen Tu festival – traditional spiritual tourist destination
Yen Tu Festival, which is held at the Yen Tu historical relic and landscape area, northern Quang Ninh province, from the tenth day of the Lunar New Year through the end of the third lunar month, has become a big spring festival for Buddhists and tourists nationwide. 
Located 1,068 metres above sea levels, Yen Tu Mountain has different names such as Tuong Son (Elephant Mountain), Bach Van (White Cloud), Phu Van Son (Floating Cloud) and Linh Son (Holy Mountain). 
The Yen Tu historical relic and landscape area encompasses Thuong Yen Cong commune and Phuong Dong ward in the north-west of Uong Bi city, Quang Ninh province. 
In the 13th century, King-Monk Tran Nhan Tong (1258-1308), the third king of the Tran dynasty (1225-1400), abdicated the throne when he was 35 and spent the rest of his life on Yen Tu Mountain, practising Buddhism. 
At the end of the Ly dynasty (1009-1225) and the beginning of the Tran dynasty, Yen Tu was a Buddhist worship venue for many monks like Hien Quang, Vien Chung, Dai Dang, Tieu Dao and Hue Tue. 
When Tran Nhan Tong practised Buddhism on the mountain, he founded the first Vietnamese School of Buddhism called "Thien Tong," Vietnam Zen Buddhism, turning the site into the capital of Vietnamese Buddhism. 
During the past nearly 1,000 years, hundreds of pagodas and shrines have been built throughout the Yen Tu complex, including structures which boast thousands of prized statues and artefacts.
Yen Tu is also a museum of architecture and diverse fauna and flora. It has favourable conditions for research in history, spiritual culture, tourism potential, ecological environment, bio diversity and gene protection.
The complex is a demonstration of interactions between human beings and nature, reflecting the uninterrupted residence of people, especially Buddhists, for thousands of years. 
Yen Tu also witnessed Vietnam's struggles against invaders from the north and the west, becoming a symbol of Vietnam's independence and self-mastery.  
With its significant historical, cultural and natural values, Yen Tu was recognised as a Special National Relic Site in September 2012. It was also selected as one of the 10 most popular spiritual destinations in Vietnam by the Vietnam Records Organisation.
The website of the UN Educational, Scientific and Cultural Organisation (UNESCO) included Yen Tu relic in the list of nominated heritages.
Rach Chiec sports complex to be built in 2017
The Rach Chiec Sports Complex following the international modern standard will be built in district 2 of Ho Chi Minh City in the near future, yesterday announced at the launching ceremony of the scale-1/2000 zoning plan for the Rach Chiec sports complex. 
The construction covers over 180 hectares of land with total investment capital of VND 34,000 billion, aiming to serve sport and culture activities of the city and the country, contributing to boost the city's economic, society and culture development. 
According to Vice director of HCMC Culture and Sport Department Nguyen Hung, it can be called the two-decade project because it has been launched since 1994 but just approved until now.  
The complex will be one of the city's upcoming investment projects, creating the best conditions for Ho Chi Minh City in hosting the big regional and international sport events. 
In September, the Ho Chi Minh City People's Committee approved to give the Thai Son Nam Sports Joint Stock Company to be investor of the Rach Chiec Sports Complex.
The Committee asked the departments of Culture and Sport, Architecture and Planning, Finance and Nikkei Sekkei Company continue completing related documents to report the city's leader in June, 2017.
The construction is designed indoor competition houses of futsal, basketball, volleyball, and hostel for athletes and coaches as well.
Nikken Sekkei Company of Japan, who has won a contest for seeking the best designer for the scale-1/2000 zoning plan for the Rach Chiec sports complex, becomes the main constructor of the project
VNA/VNS/VOV/SGT/SGGP/TT/TN/Dantri/VNE