VietNamNet Bridge – Aiming to cut down the number of gridlocks of over 30 minutes long by ten percent in 2012, HCM City will experimentally restrict the circulation of personal vehicles and spend over VND450 billion ($25 million) to restore traffic order.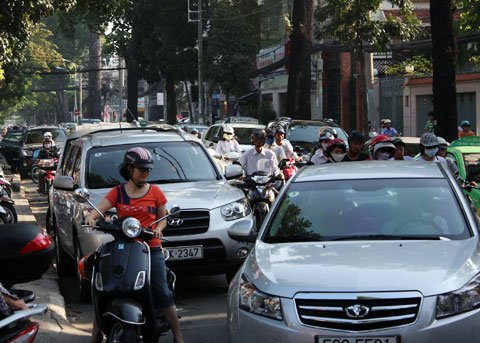 HCM City authorities on December 19 introduced its draft plan on traffic order in 2012, which will be finalized in the coming time.
According to the draft plan, the city will restrict personal vehicles on the trial basis in the first four months of 2012. Specifically, some certain kinds of vehicles, such as cabs, personal cars, cars of over 30 seats, will be banned from circulation on some roads in certain hours.
On crowded roads, the city will implement a pilot project that allows cars with even number plates to run on even days and vice versa.
Registration fees of new vehicles will be raised.
Besides restricting the circulation of personal vehicles, the city will make clear its pavements and roads which are currently occupied by vehicles and small traders, and re-arrange work and study hours to reduce traffic jams.
The draft plan also emphasizes the development of public means of transport. By 2013, the city will have an additional 1,680 buses, to have specialized routes for buses and to gradually reduce other kinds of vehicles.
HCM City will spend $25 million to restore traffic order, including $1.5 million to eliminate 'black spots' on roads, $2.4 million to install separation line on 21 roads, $5.7 million to install traffic lights, etc.
To reduce 10 percent of traffic accidents and the number of victims, HCM City's traffic police forces will strengthen patrol activities and impose highest fines on traffic violations that directly cause traffic accidents.
Traffic police officers will be strictly supervised to prevent corruption.
Mai Chi