VietNamNet Bridge – The HCMC government will spend VND97.3 trillion (US$4.36 billion) on a major program to combat floods in the 2016-2020 period.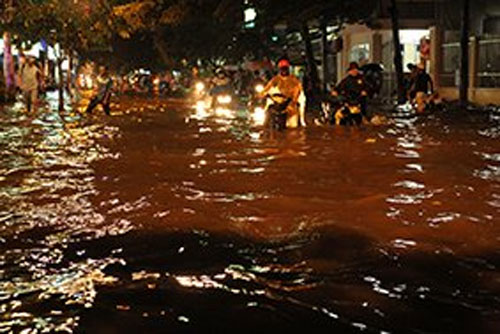 People wade through a flooded street in HCMC's District 2 on Monday, Sept 26. The HCMC government will spend VND97.3 trillion (US$4.36 billion) on a major program to control floods in 2016-2020 – Photo: Thanh Hoa
The city will implement urgent measures to curb flooding in 2016-2018 and 2019-2020, according to the action program for flood control in the 2016-2020 period discussed at the seventh meeting of the 10th HCMC Party Committee's Executive Board last weekend.
In the next two years, the city will revamp drainage systems to deal with floods caused by heavy rain on eight out of 17 flood-prone streets and 60 out of 179 alleys. The city will complete components of the tidal flood control project for a 550-square-kilometer basin to do away with inundation along nine roads.
The roads include Luong Dinh Cua, Huynh Tan Phat, Nguyen Van Huong, Hanoi Highway, National Highway 50, Le Van Luong, Tran Xuan Soan, Provincial Road 10, and Road 26.
In 2019-2020, the city will upgrade the drainage systems to control flooding on five more streets and the remaining 119 alleys, as well as build three more wastewater treatment plants.
Other solutions are to get tough on illegal land reclamation along rivers, canals, and public water reservoirs.
According to the HCMC Steering Center of the Urban Flood Control Program and the city's Department of Planning and Investment, the city will need VND97.3 trillion to tackle flooding in 2016-2020.
Of the total, the city plans to use around VND7 trillion from the city budget, VND10 trillion from State Capital Investment Corporation (SCIC), VND1.8 trillion from the central budget, VND9.8 trillion from official development assistance (ODA) and VND9.9 trillion from other sources.
The city government will apply policy incentives to mobilize capital from society, financial institutions and investors at home and abroad, create a land fund to attract investors, recall and auction State-owned premises and factories of improper and wasteful use to raise funds for flood control projects.
The city is mulling a roadmap to increase environmental protection fees for wastewater and prices of drainage services.
The anti-flood program is one of the seven breakthrough programs the city will execute in 2016-2020. Other programs are to improve the quality of human resources, administrative reform, enhance the quality of growth and the competitiveness of the local economy to meet the requirements of integration, reduce environmental pollution, ease traffic congestion and accidents and embellish the cityscape.
The city has identified growth rate, environmental protection and improvement in the quality of life as the key criteria for growth quality in 2016-2020.
SGT