VietNamNet Bridge – South Korean journalist Koh Kyoung Tae is a familiar figure for many residents of Phong Nhat and Phong Nhi villages in the central province of Quang Nam.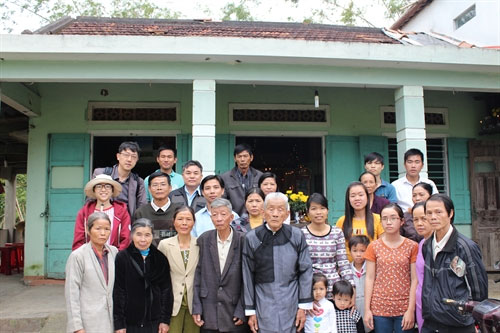 Painful encounters: journalist Koh Kyoung Tae (first from left, back row) poses in February 2014 with the family of Nguyen Thi Thanh, who was killed on February 12, 1968). Courtesy Photo of Koh Kyoung Tae
He has visited the area several times in the past 17 years in an effort to find the truth about the cruel American war in Viet Nam and the facts behind simple captions of shocking photos housed in the National Archives & Records Administration of the United States (NARA) showing a mass 1968 slaughter that South Korean soldiers committed in the area.
Koh is displaying the photos at the Art Link Centre, Jongno District, in Seoul in an attempt to make more people understand the Viet Nam war. The exhibition runs till October 1.
"Many visitors who came to my exhibition yesterday said that it was the first time they had heard about it," he said, "Some Japanese also thought it's quite unusual for me as a Korean to document the case."
Among more than 80 massacres committed by US-allied South Korean soldiers during the war in Viet Nam, the Phong Nhat and Phong Nhi massacre on February 12, 1968, is the most documented in the NARA.
Koh got 20 photos from NARA in November 2000. All had been taken and captioned by Corporal J.Vaughn from the US Marines. According to a 550-page report about the massacre, 74 people were killed and 17 others injured. Many were women and children.
In 2000, Koh's magazine, Hankyoreh 21, published the photos. Koh wrote the cover story for the weekly.
As the cover photo he picked a photo captioned "a young woman who was still alive and had her breast cut off".
"I suggested it to the editor and he approved. The photo reminded me of some images from the mass killing in the May 18 uprising in Gwangju, Korea in 1980. At that time, in Gwangju, there was a rumour that goverment forces had cut off a woman's breast. Some of my colleagues thought it was not proper to use the photo as it's too horible, but it eventually became the cover image."
Yet curiousity about the soldiers' cruelty sent Koh to visit the villages several times since then.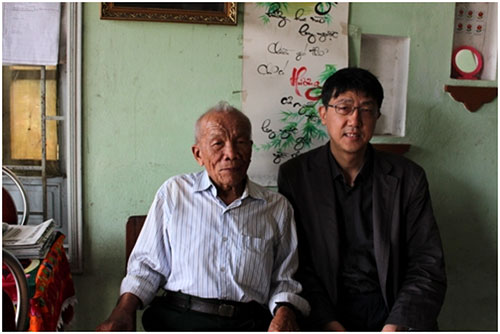 Soldiers' cruelty: Journalist Koh Kyoung Tae with a veteran soldier of North Viet Nam's army in Dien Ban District, Quang Nam Province in February 2014. Courtesy Photo of Koh Kyoung Tae
During his visits to Phong Nhat and Phong Nhi villages, in May 2000, April 2001, January 2013, February 2014 and February 2015, Koh identified the people in the photos that he got from NARA and met their families. These meetings were also reported in Hankyoreh 21.
"In April 2001, I brought my magazine with images of the massacre to the villages," he recalled. "Names of the dead were missing in the printed captions. I could not forget how local Nguyen Thi Hoa screamed when she recognised her elder sister in the cover photo. My heart hurt when some one confirmed the dead in the photos were their family members."
Koh just listened to their stories. Some cried. For some, these photos were the last images they could have of the dead.
 "There was a 12-year gap between 2001 and 2013 because I thought I needed to research more as it was a very important case in the history of both Korea and Viet Nam. With the research, I decided to write a book so I visited the villages again in 2013."
In January 2013 and February 2014, each time for a week, he met survivors and victims' families to ask more about the day February 12, 1968. He got more photos and stories about those killed from around 50 local people.
"There was a girl bandaging her own arm in a photo taken by an American soldier on February 12, 1968. Her name is Tran Thi Duoc," Koh recalled. "She was 16 at that time. She was shot by Korean soldiers even though she begged for her life after being found among the dead. When she recovered consciousness, she found that all her family members were dead and she had lost her fingers."
She died of breast cancer in 1999 at the age of 47. He was told that she had become a soldier of northern Viet Nam's army and been jailed for instaling a booby trap in a South Viet Nam army camp. She got married after being freed in 1975.
"I felt so much sympathy for her. I was sad as I couldn't meet her. I wanted to see her family at least, but I couldn't find any," he said.
His book titled February 12, 1968, was printed by publisher Hankyoreh in 2015.
"I tried to see the massacre in the context of the days around February 12, 1968, also in reference to events at the time in South Korea, North Korea, Viet Nam and the US, Japan and Europe.
Koh said Korean people barely know about the massacre carried out by Korean soldiers in the war in Viet Nam.  
* Koh Kyoung Tae started working at Hankyoreh in 1994. He worked as an editor in the weekly magazine, The Hankyoreh 21, between 2005 and 2006. He is now deputy editor-in-chief of the newspaper.
VNS
Le Huong