The central city of Da Nang has decided to prosecute officials allegedly responsible for illegal logging in a nature reserve on Son Tra Peninsula.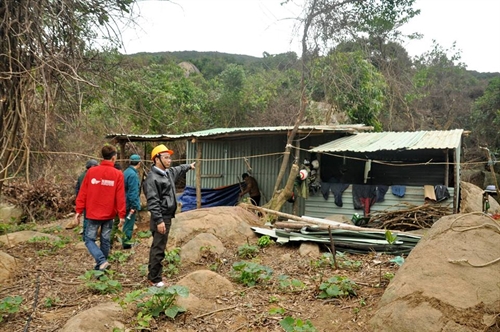 Forest protection force dismantles illegal shelters of loggers in Son Tra Nature Reserve in Da Nang city. 
The head of the forestry department, Tran Viet Phuong, confirmed yesterday that the forest destruction was discovered at an eco-tour site.
In an inspection of the 18-ha Thuy Son Trang Tra site on April 29th, the Son Tra-Ngu Hanh Son Forest Protection sub-department found 16 big trees had been logged. The total volume of the logs was 63.4 cubic metres.
Phuong said the eco-tour site owner had violated regulations on forest protection and logging under the revised 2009 criminal law and his office had sent the case to the city's people's procuracy agency for judgment.
Earlier this year, over 11ha forest in the nature reserve were destroyed by illegal loggers for commercial purposes.
The city's Agriculture and Rural Development department had suspended the former head and deputy head of the Son Tra-Ngu Hanh Son Forest Protection sub-department, Tran Van Thanh and Le Phuoc Bay, as well as three rangers, pending further investigation.
Two illegal hunting cases were documented in the nature reserve last year and 2,000 traps were dismantled by rangers and volunteers.
Son Tra Nature Reserve is home to 300 Red-Shanked Doucs – a critically endangered species by International Union of Conservation of Nature (IUCN).
In 2015, the city's forest Protection sub-Department prosecuted a criminal case involving the illegal killing of three Red-Shanked Doucs (Pygathryx nemaeus).
Son Tra Peninsula, which covers 4,439ha, is home to 985 varieties of plants and 378 animal species. The Peninsula sees around 10,000 visitors per month. 
VNS