VietNamNet Bridge – Traditional herbal medicines of poor quality dominate the domestic market, a drug control agency top official admitted.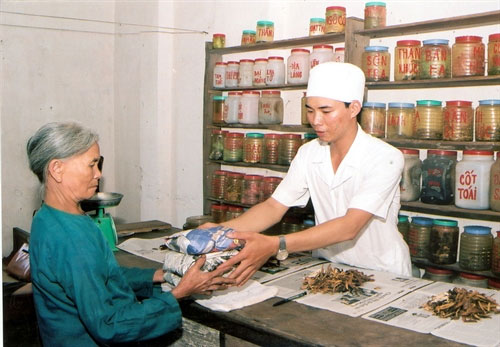 A woman receives traditional medicines at a health centre in Chau Giang Commune, Duy Tien District, northern Ha Nam Province. Health experts and consumers are raising concerns about poor quality imported traditional medicines due to inadequate import control measures. — VNA/VNS Photo Dinh Na
More than 80 per cent of the 60,000 tonnes of herbal medicines consumed in Viet Nam each year are imported, most of them illegally. Head of the Drug Administration of Viet Nam under the Health Ministry, Truong Quoc Cuong, announced this statistic at a conference on drug quality and origin control on Wednesday.
Herbal medicine traders often take advantage of Viet Nam's policy of allowing border-area residents to buy cross-border goods in small volumes without making customs declarations.
In some cases, the raw herbal materials are registered to authorised agencies as farming products or materials for producing cosmetics. This allows them to enter the domestic market. But such products often fail to meet the criteria to be imported as herbal materials, Cuong said.
The administration has only granted permission to 14 companies to import a total of 1,400 tonnes of herbal medicines since March, Pham Vu Khanh, head of the Traditional Medicine Administration, said.
"Just 1,400 of 60,000 tonnes of herbal medicines consumed in Viet Nam yearly are imported with clear orgin," Khanh said.
This implies rampant smuggling of herbal medicines. The result is many poor quality medicines which affect public health and medical treatment.
Vice head of the National Institute of Drug Quality Control Nguyen Dang Lam said the institute usually samples about 7,000 traditional medicines yearly for testing purposes.
Problems related to quality were found in up to 10 per cent of the samples. In about 1 per cent of the samples tested, concentrations of active elements were too low for therapeutic purposes.
The active ingredients of herbal medicinal preparations are often lost during improper harvesting and processing. Such deficiencies often plague low quality imported herbal medicines.
Lam also urges caution when combining traditional medicines and Western allopathic medicines.
"Quacks mix modern drugs into traditional remedies, expecting to make the medicines work more quickly," Lam said.
Such practices are meant to satisfy users who believe traditional medicines are safer, with fewer side-effects, than new medicines. Those who mix traditional and modern medicines this way want to see faster treatment results.
Allopathic medicines such as paracetamol, corticoid, Glibenclamid, meformin and sidenafil – a drug requiring a prescription and continuing observation for side-effects – have also been detected in traditional herbal medicines.
Using corticoids for extended periods could have serious side-effects, including osteomalacia, oedema, high blood pressure, diabetes, mental disorders and kidney failure. This is just one example of potential harmful side-effects from allopathic medicines.
Traditional medicine requires time to take full effect. This increases the chance of negative side-effects from adding allopathic drugs to herbal medicines.
Nguyen Thi Dung, a retired health officer in Ha Noi's Tay Ho District, said Viet Nam had many valuable traditional medicines but her family reluctantly said "no" to them after learning about the risks of poor quality herbal medicines.
"What a pity!" Dung said.
VNS