VietNamNet Bridge – After the Phuoc Hiep waste treatment area – once considered HCM City's key dumping site - was closed and replaced by Da Phuoc, which treats up to 70% of the city's total waste, HCM City has had to pay an additional $3 million per year.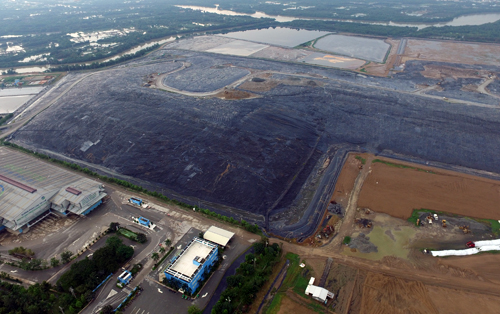 Da Phuoc landfill
At first HCM City had two waste treatment complexes: Da Phuoc in Binh Chanh district and Phuoc Hiep in Cu Chi District. 
In 2002, the city authorities identified Phuoc Hiep as the key waste treatment zone, which would be invested in strongly to receive 3,000 tons of garbage every day.
Da Phuoc waste treatment complex, invested in by the Vietnam Waste Treatment Company Limited (VWS), was a backup landfill, which only treated waste for the southern area of the city.
This was consistent with the Government's plan of giving priority to developing the Phuoc Hiep waste treatment complex. 
This complex was renovated on 690 hectares of land, with a daily capacity of processing 8,000 tons of waste per day, which came not only HCM City but also the neighboring provinces of Tay Ninh and Binh Duong.
The city also invested more than VND976 billion (nearly $40 million) in the waste burial ground No. 3 of Phuoc Hiep waste treatment complex. This landfill could bury about 2,000 tons of waste a day, in nine years.
However, in early 2015 HCM City decided to close the landfill No. 3 for "polluting", when 70% of the workload was completed. Since then Da Phuoc waste treatment complex has become the major one in the city.
HCM City discharges more than 7,000 tons of garbage a day. After the landfill No.3 of Phuoc Hiep complex was closed, the volume of waste that Da Phuoc has had to treat each day has jumped from 3,000 tons to 5,000 tons. It has become the only place for waste burying in the city. 
The remaining waste is processed into compost fertilizer in Phuoc Hiep waste treatment complex. After that, Da Phuoc was licensed to raise its waste treatment capacity to 10,000 tons per day.
As the waste treatment cost at Da Phuoc is $3/ton higher than that of Phuoc Hiep, HCM City had to pay an additional $3 million per year for the same volume of waste.
VWS was selected as the investor of Long An - Ho Chi Minh City waste treatment area in Long An Province, with the capacity of 20,000 tons per day. 
This complex is more than 1,700 hectares in area, with a total investment of $500 million in the first phase and a duration of 75-100 years. 
This project will become operational in 2020 and is expected to serve the need for waste treatment of HCM City and the southern key economic region in the future.
Earlier this year the municipal inspectorate reminded the city government to reconsider the closing of the landfill No.3 of Phuoc Hiep waste treatment complex to avoid budget waste. 
According to this agency, if HCM City is determined to close this landfill, it will lose about VND1,000 billion (nearly $50 million), including VND600 billion (nearly $30 million) already invested in the construction of this site and VND400 billion (nearly $20 million) of compensation for the Korean contractor.
At a press conference in late March, Chief of HCMC People's Committee Vo Van Hoan said that the increase of the capacity of Da Phuoc waste treatment zone and closing of Phuoc Hiep complex had approval from the government and related agencies.
He stressed that the closing of Phuoc Hiep landfill could not cause such huge losses because this site would become the backup landfill and the city would not have to pay compensation to the Korean firm as this firm is only the project contractor, not a partner in the Phuoc Hiep project.
Da Phuoc landfill is one of three "suspects" that have caused a stench over the South Saigon region in recent times. Prime Minister Nguyen Xuan Phuc instructed HCM City to identify the causes of air pollution in this area and come up with a solution to solve the problem.