VietNamNet Bridge – The central Quang Nam Province People's Committee on Monday awarded VND20 million (US$880) to officials who investigated the destruction of the po mu forest in Nam Giang District.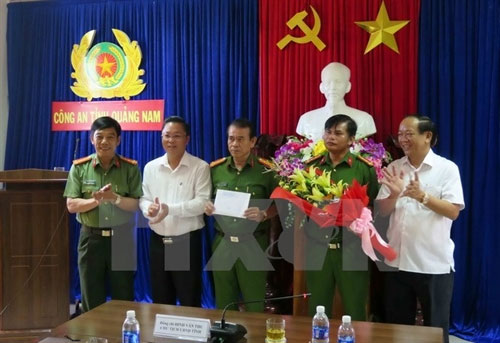 Officials who investigated the destruction of the po mu forest in Nam Giang District, the central province of Quang Nam receive the award. – Photo: VNA/VNS
Dinh Van Thu, Chairman of the provincial People's Committee, praised the investigating team for tracking down those who had destroyed the forest and asked the provincial police to conduct further investigations to see if some officials had been involved.
In July this year, local residents informed the provincial police that several people had destroyed the po mu forest in La Dêê Commune.
Nam Giang District Police, in co-ordination with the Nam Song Bung Protective Forest Management Board, surveyed the area at the Viet Nam-Laos border and confiscated more than 31cu.m. of po mu trees.
The district police also confiscated more than 47cu.m. of timber.
On July 28, Quang Nam Police inspected the area and found 60 po mu trees had been cut down with a total volume of more than 115cu.m. A total of 41 trees were in Vietnamese territory, with the remaining 19 in Laos.
Quang Nam People's Committee then held a joint meeting between leaders of the province and Laos' Sekong Province to co-ordinate an investigation.
Police estimated that the 60 po mu trees were worth more than VND18-24 billion ($800,000 to $1.1million). They said evidence showed that it was a well organised criminal wood smuggling ring.
Police adetained five people in connection with the case - Nguyen Van Thang, 38, Nguyen Van Sanh, 34, Le Trong Duong, 48, Nguyen Van Quang, 34 and Tieu Hong Tu, 49.
Four of their accomplices gave themselves up to the police including Mai Van Cuong, Mai Van Chau, Pham Van Bong and Le Hong Dieu.
Source: VNS