Investigation agencies have arrested five loggers suspected of illegal logging in La Dee Commune in Nam Giang District last month, Colonel Huynh Song Thu, deputy director of the provincial Public Security Department told a press conference yesterday.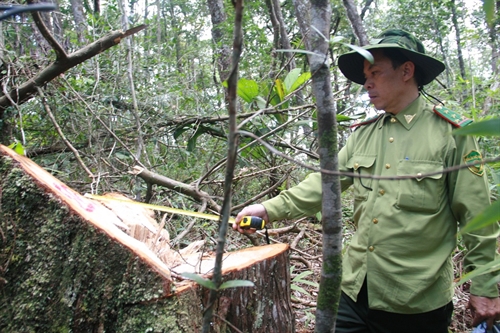 A log is chopped down in a forest of Nam Giang District. Five loggers have been arrested, and 115 cubic metres of log were found at site. 
Thu said the department initiated a lawsuit against nine loggers.
Thu said in an on-site examination on sub-zone 351, belonging to Nam Song Bung protected forest, on July 28, 60 Pơ Mu trees, a total 115.4 cubic metres, had been chopped down, of which 41 trees were sawn in round panels.
Earlier, investigation agencies seized 47 cubic metres of logs in a store in Nam Giang District on July 14.
The provincial public security force arrested loggers Nguyen Van Thang and Nguyen Van Sanh from central Quang Binh Province; Le Trong Duong in southern Dong Nai Province, and Nguyen Van Quang in HCM City between July 26 and August 4.
Tien Hong Tu, who helped Quang flee to HCM City, was arrested on August 19.
Four loggers and transporters, Mai Van Cuong, Mai Van Chau, Pham Van Bong and Le Hong Dien, who handed themselves in, were granted bail.
Thu said 11 more loggers involved in the case have evaded police.
After the illegal forest destruction in the province, Prime Minister Nguyen Xuan Phec ordered an investigation.
Director of Quang Nam's Police Nguyen Viet Loi at a press conference in Quang Nam on August 25
The deforestation occurred in an area bordering Laos's Sekong Province. Customs and border guard staff were also involved in the violations. 
Legal proceedings were launched against nine people involved in this case, heard a press conference in Quang Nam on August 25.
Director of Quang Nam's Police Nguyen Viet Loi said relevant authorities are expanding investigations.
In July, Nam Giang district's police and Quang Nam's rangers detected and seized 297 pomu logs (31 cu.m) near the border areas with Laos. 
On July 17, Nam Giang district's police uncovered a total of 47 cu.m of pomu wood. 
On July 25, Quang Nam police and other forces found 60 pomu trees (115 cu.m) were cut down with 19 trees in Laos's territory. 
Pomu is a genus of cupressaceae, it is known as a valuable wood because of its specific aroma and beautiful grain. 
Pomu has been listed as an endangered species in Vietnam and in the Vietnam Red Book since 1996.
VNS/VNA