The Civil Aviation Authority of Vietnam (CAAV) has proposed the Ministry of Transport apply criminal charges for the act of projecting laser beams on planes during landing or take off.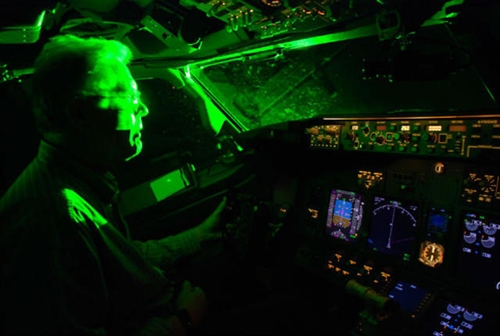 In a message sent to the ministry, Lai Xuan Thanh, head of the CAAV, affirmed that the act could seriously affect safety and health of pilots and passengers on the planes. It asked the ministry to list the lighting of laser beams on planes as a dangerous act to ensure safety in aviation.
The CAAV will also continue working to get it included in the list of acts that are subject to administrative punishment for violating civil aviation safety, he said.
Results of the United States Federal Aviation Administration (FAA)'s studies have showed that the exposure of crew members to laser beams has dangerous consequences as it can make pilots disoriented and hurt their eyes, resulting in them temporarily losing control of the airplane and severely threatening the safety of the flight, especially during landing.
Figures from the CAAV revealed there had been six cases of laser beams being projected on planes in HCM City's Tan Son Nhat International Airport, Hanoi's Noi Bai International Airport and Gia Lai Province's Pleiku Airport between May 28 and June 14.
These cases had violated international and Việt Nam's provisions on civil aviation security, the CAAV said. The relevant authorities had cooperated in the investigations but the perpetrators had not been identified.
VNS