VietNamNet Bridge – Natural disasters in the central region and the Mekong Delta of Vietnam this year have been unprecedented, causing great damage to agriculture and the economy in general.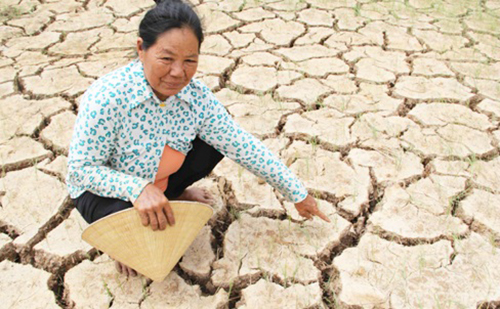 According to the latest report by the Department of Agricultural Economics of the Ministry of Planning and Investment, drought, saltwater intrusion and unusual death of fish and shrimp have severely affected agriculture and fisheries.
The most affected areas are the south central region, the central highlands, the southeastern region and the Mekong Delta.
Specifically, nearly 23,000ha of rice in the south central region were damaged due to water shortages. This figure is forecast to rise to 57,100 hectares. The worst-hit provinces are Binh Dinh, Ninh Thuan, Binh Thuan and Khanh Hoa.
Water shortages and drought have also affected industrial crops in the central highlands and the southeastern region with a total area of 28,000 and 15,823 hectares, respectively.
According to statistics by the Department of Agricultural Economics, by the end of May, the number of households lacking running water was 288,259.
The total agricultural areas damaged by drought is up to 249,944 hectares of rice, 18,960 hectares of other crops, 30,522 hectares of fruit trees, 149,704 hectares of industrial crops, and 6,857 hectares of aquaculture. The total losses are estimated at VND15,183 billion ($$680 million).
Droughts and saltwater intrusion in the central region, central highlands and the Mekong Delta in 2016 were the most severe in history.
This has caused great damage to the property of the people and affected the economic development of Vietnam.
The World Bank lowered GDP growth forecasts for Vietnam in 2016 from 6.5% to 6.2% in mid-April.
Regarding unusual deaths of seafood in the central region, the Department of Agricultural Economics said that this had affected the country's total seafood catch.
Linh Nhat