Though the number of Vietnamese smokers reduced, the country is still one of nations who have high rate of smokers in the world, said the Ministry of Health at a meeting held yesterday in response to the No Tobacco Week and the World No Tobacco Day (on  May31).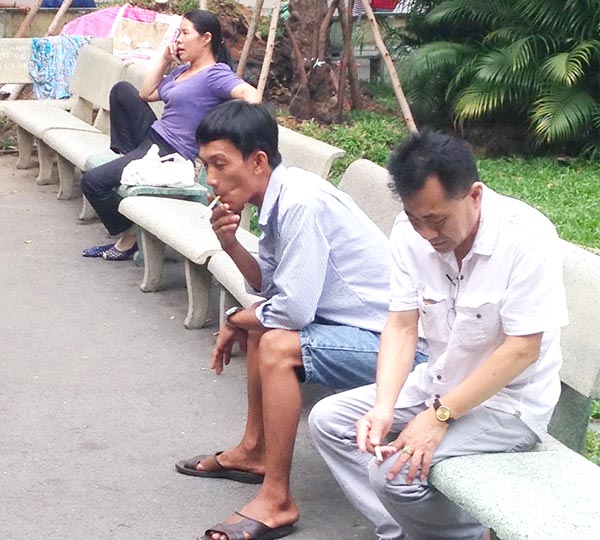 Two smokers puff in People's Gia Dinh Hospital (Photo: SGGP).
As per the Ministry, ten years after the implementation of the World Health Organization (WHO)'s Framework Convention on Tobacco Control and the country's anti-smoking measures the number of smokers and secondhand smokers has decreased.
A study of adult smokers conducted by the US Center for Disease Control and Prevention, WHO, the General Statistics of Vietnam and the Medicine University Hanoi in 2015 in Vietnam showed that compared to 2010, the rate of secondhand smokers at home slumped from 73.1 percent to 59.9 percent; the proportion of secondhand smokers in office is down from 55.9 percent to 42.6 percent; the amount of passive smokers in school dropped from 22.3 percent to 16.1 percent; and passive smokers in public transport declined from 34.4 percent to 19.4 percent.
However Vietnam is still one of 15 nations where people smoke most. Statistics showed around 40 percent of adult male equivalent to 16 million people and 1.4 percent of adult female are smokers.
Obviously, smoking becomes alarming matter that WHO considered as disease or a factor to cause non-communicable diseases in many nations. 40,000 Vietnamese people die of related-smoking disease annually or 100 people die every day. Worse, tobacco is culprit to cause 25 different diseases which lead to fatality or disability for life.
The National Cancer Hospital in Hanoi's figure showed that the rate of lung cancer patients who are smokers accounts for 96.8 percent while non-smoker account for 3.2 percent. Researches also pointed out that smoke produces over 200 dangerous substances and stimulants which caused heart diseases, stroke, breathing problems.
According to other study, people spend VND14 trillion (US$ 625,614,442) a year on smoking. More terribly, annual medical spending for labor disability or deaths caused by smoking is over VND23 trillion (US$1 million).
There are many causes of failure of preventing cigarette smoke. Firstly, tobacco companies still take advantages of law loopholes to put ads of their products and tobacco smuggling through border does not decreased.
Secondly, very few smokers in public places have been fined. Along with this, tobacco tax is low and tobacco prices are still cheap. It is forecast that by 2030, dead people because of smoking in the country will leap to70,000 per year, meaning financial loss will increase.
To prevent people from smoking, experts urged the government to increase tax on tobacco, issue harsh fines on smokers in public places and tighten control over tobacco smuggling.
SGGP