The Sky News recently ran an article by Tom Rayner about the need to address the ongoing health impacts caused by Agent Orange when President Obama visits Vietnam on May 23.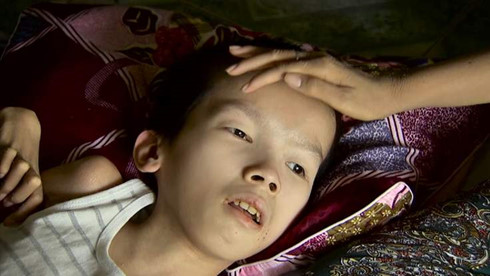 An AO victim
The US military sprayed around 12 million gallons of the toxic herbicide across the country during the war 40 years ago. It contained dioxin, one of the most poisonous chemicals ever known.
In the article, Tom Rayner emphasized that campaigners want the President to visit some of the tens of thousands of people over three generations that Vietnamese authorities say are still living with the effects of exposure to the herbicide.
The US government already pays compensation to American veterans and their families, for numerous health problems linked to Agent Orange exposure.
But US officials have consistently denied a connection between contact with the defoliant and similar health issues experienced by people in Vietnam.
The article said Sky News met one family near the city of Da Nang in which all three children have suffered serious health problems they believe are linked to their father's exposure to dioxin.
The mother, Nguyen Thi Mai, said her youngest son, 18-year-old Truc was the most severely affected. Immobile since birth, he lies on a blanket all day. The muscles in his arms and legs have wasted away entirely.
Tom Rayer also underlined the importance of President Obama's visit to one of the many victim centres around the country to understand the perceived injustice.
The US has, however, been stepping up its assistance to Vietnam in recent years. The first phase of a multi-million dollar US-funded dioxin decontamination project at Da Nang airbase has now been completed, with around 45,000 cubic metres of soil cleaned through heat processing, the article said.
Tom Rayner also highlighted speeches by Vietnam's Deputy Prime Minister Vu Duc Dam and US Ambassador Ted Osius at the ceremony praising the "comprehensive partnership" and "friendship" that now exists between the two countries.
There is an expectation that President Obama may announce funding for an even bigger decontamination project during his visit, likely at the Bien Hoa airbase outside Ho Chi Minh City, where Agent Orange was stored during the war, according to the article.
A similar position has been voiced by US charities, such as Veterans for Peace. The group's vice president Chuck Searcy, who has worked on projects in the Vietnam for more than 20 years, told Sky News Mr Obama had an historic opportunity.
Sky News