VietNamNet Bridge - These days, passing through villages in the Mekong Delta, visitors will see many locked houses of those who have left their hometown to big cities in the south like HCM City, Binh Duong, and Dong Nai to work since their fields and ponds have been attacked by drought and saltwater.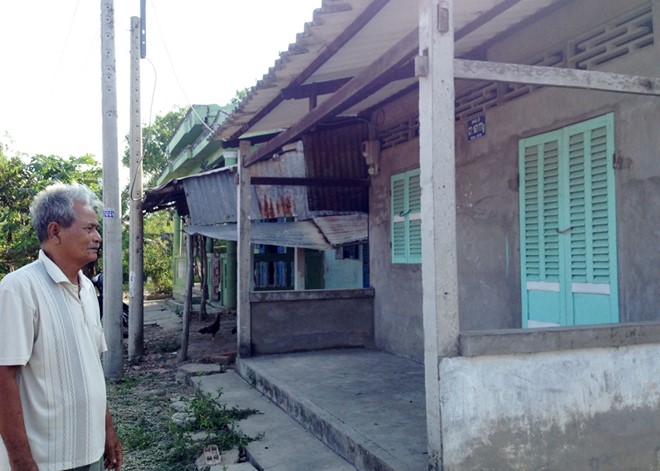 The house of Lieu Den's son has been locked for several months because this family has gone to Binh Duong to work.
At noon of a scorching day in late April, Mr. Lieu Den in Thanh Phu Commune, My Xuyen District, Soc Trang Province went to the field to catch mice as food for his dinner. The 76-year-old man said, not only the fields are chapped but also deep ponds around his house are dried to the bottom.
"Ducks and chickens cannot survive in such serious shortage of water and scorching weather like this. It is very difficult to search for food in this season. I just caught a few rats this week," he said.
Life is so difficult in the village so Lieu Den's two children and their families have left home to work as hired workers in Binh Duong after the lunar New Year (February).
Near Lieu Den's house, a man named Tieu Chot took his family to HCM City to work as builders and textile workers. All three children of a neighbor named Thach Thi Hien also left the village to earn a living in Binh Duong.
"My son and his wife work in Binh Duong. They left their two kids to me. They send me VND1 million ($45) a month so I have to spend economically," Hien said.
Across the Hau River, the family of Ut Quan in Dai An 1 commune, Cu Lao Dung district, Soc Trang province was also in misery because their 0.5 hectare of sugarcane withered because of saltwater intrusion. Tens of hectares of sugarcane fields near Quan's field were also in similar situation. Many families have left the village to cities to work.
"My two sons have been working in HCM City for months because the field at home is unavailable to plant any crop. Water in ponds is too salty. Shrimp and fish cannot survive because the weather is so hot right now," said Quan.
"Many families who are not poor and have a lot of land also have to leave home to work in big cities because their fields are chapped and unsuitable to plant any crop," said Chairman Vo Van Khoa of Lich Hoi Thuong commune, Tran De district, Soc Trang province.
Khoa said not only in his commune but in other communes in Tran De district and other districts in Soc Trang province many families have locked their houses to go to big cities in the south to work because they can do nothing on their fields and ponds.
Near the headquarters of Lich Hoi Thuong People's Committee is Hoi Trung hamlet, where over 70 families have become "refugees" due to drought and salinity.
This situation has become common in many communes of Ca Mau, Soc Trang, and Tra Vinh provinces.
Since drought and salinization occurred in southern Vietnam, up to 208,800 hectares of rice field, 9,400 hectares of fruit trees have been damaged. Currently about 225,800 households are lacking fresh water.
Le Ha