VietNamNet Bridge – Suffering from Osteogenesis Imperfecta (OI) since her birth has not stopped Nguyen Thi Thu Thuong, 33, from becoming a director of a vocational training centre for the handicapped.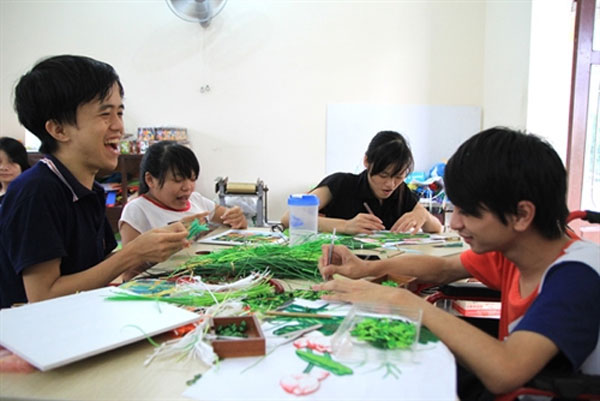 Getting crafty: Thuong teaches her workers how to make a greeting card.
Born with the birth defect and growing to a height of just 80cm and weighing 20kg, Thuong, who lives in Ha Noi, was laid low for more than 20 years until 2004, when she watched a TV programme about a number of outstanding handicapped people who overcame a lot of difficulties and challenges to make a success of their lives.
"I told myself that I would have to give up depending on my parents and had to earn a living by myself because my parents were poor and weak," Thuong said.
She asked her mother to send her to learn paper quilling artworks at a vocational training centre near her house.
"I did not know anything about the art but I looked for information on the Internet and asked friends. I had to familiarise myself with the strange tools.
"Fortunately, when my first picture was being displayed. I received a lot of wishes from people," she said.
"I was greatly encouraged by this success and saw the job as something fit for handicapped people such as me," Thuong confided.
Thuong said she could never forget the first time she sold her first art work. It was a greeting card made of quilling paper that she spent three days working on.
"It was sold for only VND25,000 (more than US$1), but I was very happy," Thuong said.
The same year, she decided to set up the Thuong Thuong Vocational Training Centre for the Handicapped. It is located in Ha Noi's Nam Phong Village of Phu Xuyen District.
Right after it was established, her centre received a lot of registrations but many had to give up after a short while because it was too meticulous and only 15 young adults were left. Thuong trained these people free of charge.
She said she was very busy these days. Apart from training, she has to search for materials for them to work with.
Quilling paper was not difficult but quillers needed passion, creativeness and patience.
"This art requires neatness and a lot of time," Thuong said.
Fortunately, all the learners are interested in the job. They produce beautiful items, including greeting cards, three-dimensional miniatures, paintings and jewellery.
The average monthly income is between VND2 million to 2.5 million ($90-115).
Hoang Minh Hang, 25, from the northern province of Nam Dinh, who lives with innate epilepsy and often suffers epileptic fits, said that since she began work at the centre, having friends and receiving care from them, her stable income has ensured that Hang has her medicines regularly.
As a result, her ailment has reduced a lot, and she does not become unconscious any more.
Bui Huyen Trang, 19, from the northern province of Phu Tho, said before joining the centre, she had to sell toothpicks and the income was uncertain.
"Now I am happy to have a stable job, stable income and very dear friends who help me a lot," Trang said.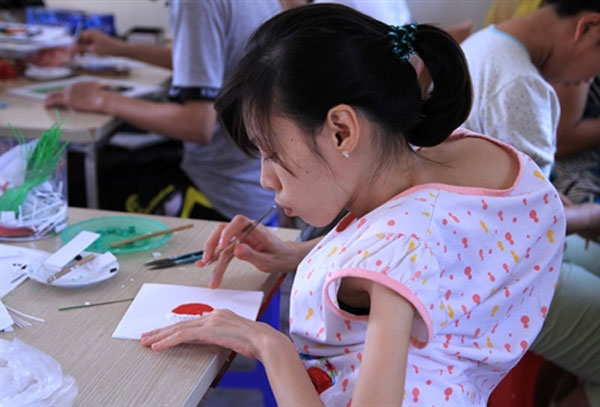 New skill: Nguyen Thi Thu Thuong reviews artwork made by a fellow worker. Photos courtesy of the Thuong Thuong Vocational Training Centre
Nguyen Thi Mien, 33, from the northern province of Bac Giang, is a paraplegic and could not go to school until she knew and was accepted at the centre from 2005.
She recalled, "After being trained and earning my first salary, I experienced that I could still be helpful because I did not have to depend on my parents."
Director Thuong said, "We are trying to improve the quality of our handmade items in an effort to increase the living standards of our workers and other disabled people."
Thuong has been presented with many awards and certificates, for her tireless efforts and contribution to the physically challenged, by the Ha Noi authorities. Last year she was honoured as an outstanding person doing a successful business.
Ha Nguyen
VNS