The impact of saltwater intrusion on rivers and canals in HCMC has risen though the dry season has yet to peak.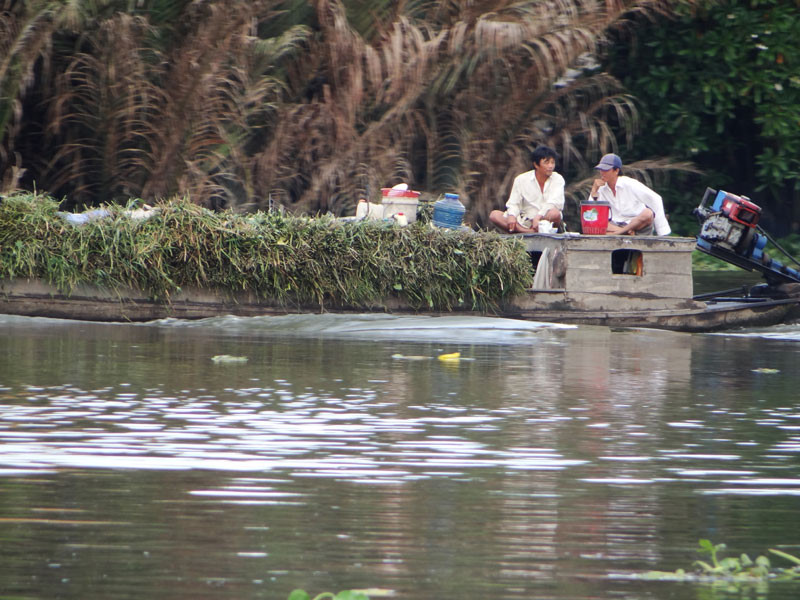 Higher levels of salinity have been recorded in Nha Be and Saigon rivers as well as canals in districts 1, 2, 3, 9 and Binh Chanh this month than the same period of last year, according to the city government's report on the impact of drought and saltwater intrusion on the winter-spring crop and water supply in the city.
To reduce salinity in major rivers where local water plants take raw water for processing, Dau Tieng Reservoir has conducted six water discharges with a combined volume of nearly 73 million cubic meters into the Saigon River in the year to date.
However, the city government said the reservoir had had only 718 million cubic meters left by April 7, well below 1.3 billion cubic meters in late 2015.
The reservoir stopped releasing water into Dong Canal on April 1 and will resume the discharge on April 16 to supply water for the summer-autumn rice crop in the city.
Dau Tieng-Phuoc Hoa Irrigation Exploitation Co Ltd said it will work with the operators of hydropower reservoirs in the Be River upstream including Thac Mo, Can Don and Srok Phu Mieng to release water into Phuoc Hoa Reservoir to flow into Dau Tieng Reservoir with an average volume of 15 cubic meters per second in the 2016 dry season.
This will help ensure sufficient water supply for HCMC and other downstream areas.
The HCMC government said the dry season is forecast to last until end-June. This means salinity in the rivers and canals in the city will increase in the coming months.
The city now has around 21,670 hectares of agricultural land in districts Binh Chanh, Hoc Mon, Cu Chi, Nha Be, Can Gio, 9, 12 and Binh Tan to grow the summer-autumn crop, including 5,300 hectares for rice.
The city is considering a plan to build a large water reservoir with a holding capacity of around 1.35 million cubic meters on 23 hectares in the outlying district of Cu Chi in the 2016-2017 period to supply raw water for Tan Hiep Water Plant to process in one to three days in case of severe salinity and pollution in the Saigon River.
SGT