VietNamNet Bridge - The Prime Minister has approved the planning of transportation in Hanoi to 2030, with a vision to 2050. From now to 2020, bus transport will be the major part of public transport systems in Hanoi.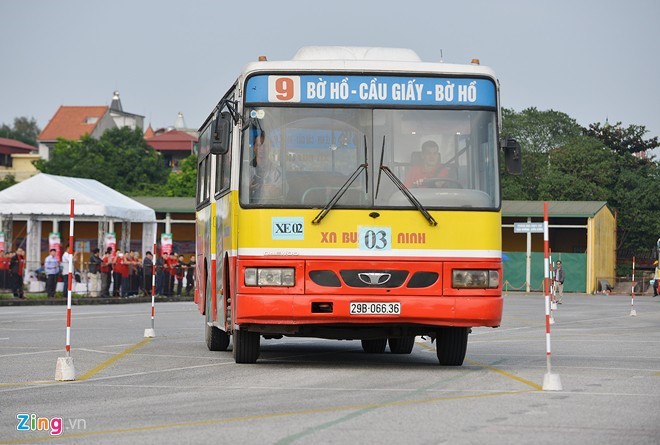 Eight bus rapid transit (BRT) routes will be set up, including: Kim Ma - Le Van Luong - Yen Nghia of 14 km long; Ngoc Hoi - Phu Xuyen of 27 km long; Son Dong – Ba Vi of 20 km long; Phu Dong - Bat Trang - Hung Yen of 15 km; Gia Lam – Me Linh of 30 km; Me Linh – Son Dong - Yen Nghia - Ngoc Hoi - Highway 5 - Lac Dao of 53 km; Ba La - Ung Hoa of 29 km; Ung Hoa - Phu Xuyen of 17 km.
Some projected urban railway routes can be used as BRT routes routes, such as Line 4, Line 8, and Son Tay - Hoa Lac - Xuan Mai route.
Pham Hoang Tuan , Deputy Director of the Hanoi Department of Transportation, said the BRT project has an investment of about VND1,000 billion, using loans from the World Bank, launched in early 2013.
The first route has been evaluated by the Ministry of Construction and approved by the Hanoi People's Committee with a length of 14.7 km from Kim Ma Bus Station in central Hanoi to Yen Nghia Bus Station (Ha Dong district).
As expected, the first BRT route of Vietnam in general and Hanoi in particular was expected to operate in 2015, at a frequency of 3-5 minutes/trip, carrying 90 passengers, at a speed of 20-22 km/h. However, the plan failed.
Hanoi will upgrade the existing bus stations: My Dinh, Nuoc Ngam, Giap Bat, Gia Lam, and Thuong Tin.
Seven new bus stations will be built, including: Yen Nghia (Ha Dong district), Dong Bac (Gia Lam district), Southern Bus Station (Thanh Tri district), Dong Anh, Phung (Dan Phuong district), Western Bus Station (Quoc Oai district), Northern Bus Station (Noi Bai).
In addition, satellite urban areas in Phu Xuyen, Xuan Mai, South Hoa Lac, South - North Soc Son will also have new bus stations.
The BRT route is a two-way route. Each 90-seat express bus will travel at approximately 22kmph so the time between each stop will be between three and five minutes. Up to 35 express buses connected to a Global Positioning System (GPS) will be used for the route.
The system includes four priority elements: modern vehicles with high passenger volume, exclusive running way, attractive stations or stops and off-board fare collection.
Theexpress buses will pick up passengers in designated zones, unlike the current stops located on pavements. Main stations will be allocated near cross-roads or junctions. Magnetic bus cards will also be applied.
Le Ha