The Supreme People's Procuracy (SPP) said on April 5 that it has ratified charges against a former police officer and a former prosecutor involved in a wrongful conviction in a high-profile murder case.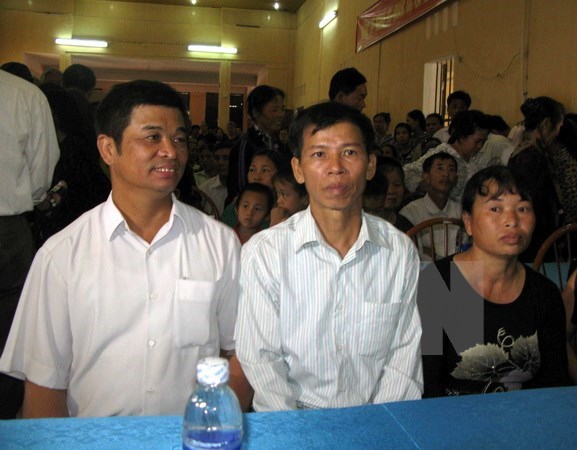 Nguyen Thanh Chan (Middle) who had to serve ten years in prison due to the wrong conviction.
They are 57-year-old Tran Nhat Luat from the Bac Giang province Police Investigation Agency and 52-year-old Dang The Vinh from the Bac Giang province People's Procuracy, who were both charged with "forging documents" pursuant to Clause 3, Article 300 of the Penal Code.
On August 15, 2003, a woman named Nguyen Thi Hoan from Me village in Nghia Trung commune, Viet Yen district, was killed at her home. Nguyen Thanh Chan was the main suspect of the case.
According to the SPP's indictment, Luat was tasked as the key investigator of the murder.
During the investigation, Luat was vocally reported to by the criminal technical office under the provincial Police that Chan's toe prints were not the same as those left at the murder site.
He, however, made no report to his bosses but measured Chan's toe prints and added those measurements into the case's dossier as evidence for his guilt.
Vinh, who was assigned to supervise the investigation, himself excluded two written investigation records that contained Chan's claim of his innocence and revelations that he was forced to admit as the murderer.
Their acts caused Chan, the only child of a martyr, to serve 10 years in prison, fueling public concerns and defaming prosecution agencies.
Chan was arrested by the provincial police for the murder on September 28, 2003.
On March 26, 2004, Chan was sentenced to life in prison by the Bac Giang Provincal People's Court and was forced to pay 35 million VND (1,610 USD) to the victim's family.
After his conviction, Chan maintained his innocence and made an appeal. However, the Supreme Court dismissed his appeal and upheld the initial sentence.
Chan continued to make attempts to prove his innocence, and his family campaigned for his release.
Nguyen Thi Chien, Chan's wife, lodged a petition on July 9, 2013, with evidence showing the real killer was Ly Nguyen Chung, 25, also from the commune.
On November 4, 2013, the Supreme People's Procuracy signed a decision asking for a review of the case, after Chung admitted to police he had committed the crime.
On January 25, 2014, the Ministry of Public Security ordered Chan's release.
The Hanoi Supreme People's Court has issued a formal public apology to Chan, who received 7.2 billion VND compensation for the wrongful conviction.
VNA