VietNamNet Bridge - Minister of Agriculture and Rural Development Cao Duc Phat said nearly 300,000 households (with approximately 1.5 million people) lost their income in recent months or were affected by drought and saltwater intrusion, the worst in the Mekong Delta in the last 100 years.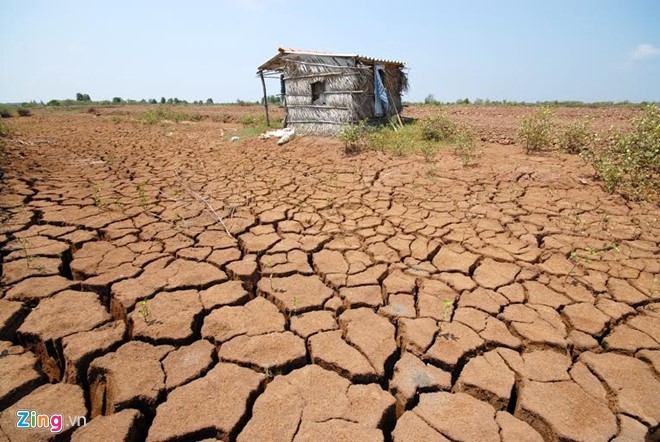 Severe drought has affected the lives of million people in the Mekong Delta.

Speaking at a seminar held on March 15 with foreign donors in response to droughts and saltwater intrusion in the southern part of the central region, the central highlands and the Mekong Delta, Phat said this year rice production in the Mekong Delta would seriously decline, affecting millions of farmers.
In many places, crops and fruits are damaged because of saltwater. Lack of grass, people had to sell their cattle. In many areas, seafood died because of high salinity.
In the central provinces from Binh Thuan to Khanh Hoa, water storage of reservoirs is only about 50-60% of the capacity, even only 30% for those in Ninh Thuan province. The water flow in the rivers in Khanh Hoa Province is only 10%.
The central highlands is also seriously affected by drought, particularly the four provinces of Kon Tum, Gia Lai, Dak Lak, and Dak Nong. Lakes and reservoirs in the region are all dried. Large areas of rice and coffee withered. According to the Ministry of Agriculture and Rural Development, 2,800 hectares of rice in the region were hit and over 17,600 households lack water.
"We have done everything that we can do, but the situation is very serious, we look forward to the support from the international community,"Minister Phat said.
At the workshop, a representative from the World Bank (WB) said Vietnam should have a comprehensive and strategic assessment of the problem.
It should fine-tune plans on using water resources.
While a majority of participants in the workshop suggested modernising irrigation canals to mitigate drought impacts, a representative of the Asian Development Bank said
Vietnam should develop pipe systems to concurrently irrigate crops and provide water for daily use while saving water.
UN Resident Coordinator in Việt Nam Pratibha Mehta asked the Southeast Asian country to raise its people's resilience to disaster risks.
It should comprehensively and swiftly evaluate the scale and seriousness of the issue so as to take appropriate responses.
The nation should also prioritise the settlement of urgent matters to have proper actions, she added. 
Minh Thu