A total of 11 provinces in the Mekong Delta and Central Highland regions have announced an emergency state of drought and saline intrusion, reported Nhan dan newspaper.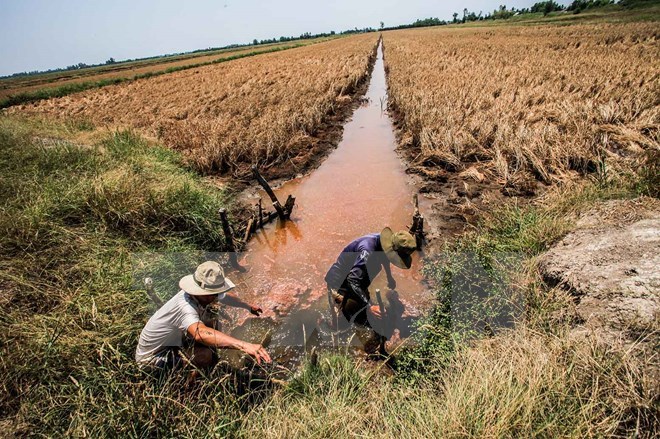 An irrigation canal in Hung Yen commune, An Bien district of Kien Giang province, is affected by saltwater.
These localities are Binh Thuan, Ninh Thuan in the central region, Tien Giang, Ben Tre, Kien Giang, Soc Trang, Long An, Ca Mau, Vinh Long, Tra Vinh in the Mekong Delta and Gia Lai in the Central Highlands.
Other provinces are also struggling with water shortage. In the Central Highland province of Kon Tum, 400 out of the 500 hydropower plant reservoirs have run out of water. As of March 14, Kon Tum has recorded 1,192 hectares of dried out fields.
In a bid to handle the issue of abandoned rice fields, which have been dried out by drought, famers in southern Binh Phuoc province are switching to cultivating short-term crops such as corn and aubergine.
Authorities in the Mekong Delta province of Hau Giang are implementing drastic measures to prevent saltwater from creeping into the Lung Ngoc Hoang natural reserve and a bird habitat in the Mua Xuan agricultural centre.
Building irrigation projects to save 232,900 hectare of crops is among the top priorities in the Mekong Delta province of Dong Thap. Local resources have been mobilised to dredge 105 km of 21 canals and ditches; the work is estimated to cost 80 billion VND (3.6 million USD).
Kon Tum declares drought emergency level 1
Kon Tum declared drought emergency level 1 on March 16, becoming the second Central Highlands province after Gia Lai to make the announcement.
On the same day, the provincial People's Committee ordered its cities and districts to promptly undertake drought preventive measures that involve both local authorities and people to minimise economic losses.
The province has zoned off drought-hit areas and asked its local authorities, without delay, to dredge canals as well as save the water supply for farming at these areas.
Farmers have been supported in pumping water into their farmlands during key stages of the crops while preferential policies have been adopted to help farming production in drought-affected areas return to normal.
As of March 16, drought has affected approximately 1,200 hectares of crops in the province, including more than 700 hectares of winter-autumn rice and 400 hectares of coffee.
Over 3,700 wells used daily by local people, especially in Ia H'Drai, Dak To and Sa Thay districts and Kon Tum city, alongside 400 lakes and dams for irrigation have dried up.
Kon Tum has been provided with 17.6 billion VND in state funding and 2 billion VND from the Central Highlands Steering Committee and the Commercial Bank for Investment and Development of Vietnam (BIDV) to cope with the severe drought.
Vinh Long: Water supply upgrade to help drought-hit households
The Mekong Delta province of Vinh Long has decided to invest over 4.4 billion VND (197,380 USD) in upgrading 10 water supply stations and expanding pipe networks in rural communes, especially those hit by drought and saltwater intrusion.
According to Director of the provincial Centre for Rural Water Supply and Sanitation Vo Anh Duy, as severe saltwater intrusion has affected the operation of the regional-level water supply stations, the province is speeding up the construction of five commune-level ones.
They are located in An Phuoc commune of Long Ho district, Loan My of Tam Binh district, Tra Con and Vinh Xuan of Tra On district, and My Hoa of Binh Minh district which will benefit more than 3,000 local households.
The centre has also equipped five other commune-based water supply stations with salinity meters to keep a close watch on salinity levels and ensure a safe water supply for local.
Some 975 million VND were spent to boost water pressure and upgrade pumps at six communal water stations.
The locality has seven communes situated along the Co Chien River in Vung Liem district, and four others on the banks of the Hau River in Tra On district, with about 26,000 households vulnerable to saltwater intrusion.
VNA