VietNamNet Bridge – Local newspapers have reported the latest case of street robbery in HCM City, aimed at a foreign tourist.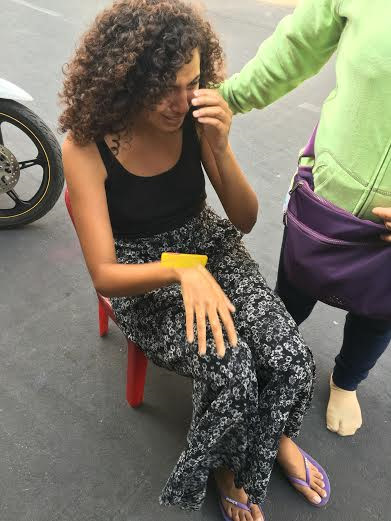 The tourist cried after her handbag was snatched by two robbers.
At around 3.30pm on March 11, two young men on a motorcycle snatched the handbag of a female foreign tourist who was walking with her male friend on the pavement of Luong Huu Khanh Street in Pham Ngu Lao Ward, District 1.
After grabbing the handbag, the two robbers drove the motorcycle slowly. They only sped up when the male tourist called for help.
The female tourist panicked and fainted. She then burst into tears because her personal papers and $200 were in the handbag.
The victim was then identified as an Egyptian citizen, Ms. Ali Aldoh, who rented an apartment on Nguyen Trung Truc Road, District 1.
According to the police, the thieves took $230 and left the handbag with personal papers on the street. The tourist left HCM City."
Apologies must be conveyed to the Egyptian tourist, said Dinh La Thang, HCM City's Party Secretary on March 14 during his visit to Ton Duc Thang University.
Thang said he was shocked to learn of the female vacationer being mugged. He said that the tourist must get an apology from city authorities.
"But who will apologize to her, the tourism sector or police? I want somebody to come to meet her and say sorry, but I am unable to find who is to be held accountable for this," he said.
Thang said it is mechanism that leads to no one being responsible for such an incident.
"Our mechanism aims at giving responsibility to the leader, who in fact has no power or authority, as everything must be agreed upon by the entire group, so in the end nobody is held responsible," he said.
In mid-February, Thang set an objective for relevant agencies in HCM City to reduce crimes and offenses in the next three months.
Street robbery - HCMC's big problem
Earlier, in late October 2015, a foreign tourist named Sebastian Gretz and his girlfriend were robbed and stabbed by a group of young men when they were sitting for fresh air on the bank of Tau Hu Canal in District 1.
Street robbery has become a big problem of HCM City recently. The Deputy director of the HCM City Tourism Department said in 2015, the agency received diplomatic notes from Embassies of Australia, South Korea, Japan ... complaining that their citizens had been robbed, with 83 cases associated with Japanese tourists, 73 with Australians, 80 with Taiwanese, and 10 with Koreans.
Local people and visitors said that HCM City's image in the eye of tourists is getting worse because of street thefts.
However, they are hoping that HCM City's newly-appointed Party Secretary Dinh La Thang will take harsh measures to combat street robbery.
Le Ha