The Vietnam International Cafe Show is debuting this year on May 12-14 at the Saigon Exhibition & Convention Center (SECC) in HCM City, showcasing products related to bakery & confectionery, food & beverage, tea & coffee industries.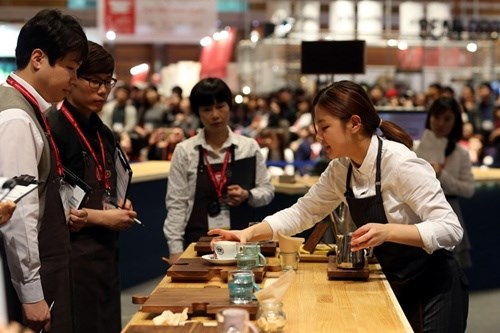 The event will also host the Vietnam National Barista Championship which is debuting as the first professional competition by World Coffee Events (WCE) in the country.
The Vietnam International Cafe Show is a sister brand show of Seoul International Cafe Show, which has been held in Seoul for 14 years, a representative of Exporum Inc., the organiser at a press conference on March 9, said.
The Seoul International Cafe Show has grown to be the largest coffee exhibition in Asia and a global business platform allowing in-depth networking among the international coffee industry.
The Vietnam International Cafe Show is the first coffee-oriented exhibition held to cultivate the trendy cafe culture in Vietnam, a rapidly growing market in Asia with high potential, he added.
"We aim to activate Vietnamese cafe culture and help it adopt more sophisticated technology. For international exhibitors targeting Vietnamese market, Vietnam International Cafe Show will be a must-attend marketing show to secure the Southeast Asian and Vietnamese domestic market and expand its distribution network."
As an authorized WCE's National Body, Exporum Inc., will host the Vietnamese National Barista Championship to select highly skilled local baristas who will compete for the World Barista Championship (WBC).
The competition and judging application begins in Vietnam in March. The application form is available at VNBC's official website www.vnbc.org.vn and is to be submitted via e-mail to info@cafeshow.com.vn.
WCE, an event management organisation registered in Dublin, Ireland and founded by the Speciality Coffee Association of Europe and the Specialty Coffee Association of America, is the premier producer of events for the coffee community worldwide.
VNA