VietNamNet Bridge – Thousands of hectares of rice fields in the southern region of Vietnam have been damaged by saltwater intrusion and the most severe drought in 100 years. Farmers are crying about their huge losses, caused by natural disasters.
After Lunar New Year (Tet holiday), the people in many provinces in the Mekong Delta of Vietnam have been living in distress because their fields are getting drier day by day.
Irrigation canals and lakes are also dried up and the biggest fear of the farmer is saltwater intrusion. If they try to pump water from canals to their fields, their rice will die faster.
 An abandoned field in Bac Lieu Province.
Salt intrusion kills fish.
 A withered field in Soc Trang Province.
On February 22 noon, Mr. Ba Toi, a farmer in Tan Hung Commune, Long Phu District of Soc Trang Province was still on his scorched rice field in Tan Quy A Hamlet.
The 60-year old farmer said he had stayed up all night to think how to save the rice but he could not withstand natural disasters because the field and the canals are all dry while the salty level in the river water is up to 4‰.
Toi said in previous years, he harvested about seven tons of rice per hectare, in the winter-spring crop. With six hectares of land, he had 42 tons or rice. This year all of the six hectares of rice died because of severe drought.
Party Secretary of Hau Giang Province, Mr. Tran Cong Chanh, said: "Drought can be handled but saline intrusion can leave consequences in a decade."
Theo ông Mai Anh Nhịn - Phó Chủ tịch UBND tỉnh Kiên Giang, hiện nay các tuyến kênh trong tỉnh bị xâm nhập mặn lấn sâu vào 34 km nội đồng. Riêng tháng 6 - 7/2015 vừa qua, tại TP Rạch Giá thiếu nước ngọt sinh hoạt nghiêm trọng kéo dài gần 1 tháng. 
In Soc Trang Province, many rice fields were withered by the lack of water. For the fields that are about to be harvest, the productivity fell by 20 percent to 30 percent. In some places where farmers impatiently pumped water from rivers to save their rice, they lost it all because of the saltwater.
In the town of Long Phu, the large-capacity pumping system of Mr. Ba Chien did not work because the canals were all dried up. About 500 meters from the pumping station, Chien's rice field and the fields of other farmers withered due to shortage of water.
"Drought is terrible! Chien pumped water into the field to save the rice but he lost the field because of salt intrusion," Chien's neighbor said.
Mr. Ba Lu and hundreds of households in the town of Lich Hoi Thuong, in Tran De District, Soc Trang Province are luckier than others because they sowed paddy early and their rice fields are about to be harvested. However, Lu said he would not have a profit because about 30 percent of the field was withered.
Saline intrusion takes toll on rice crops in Soc Trang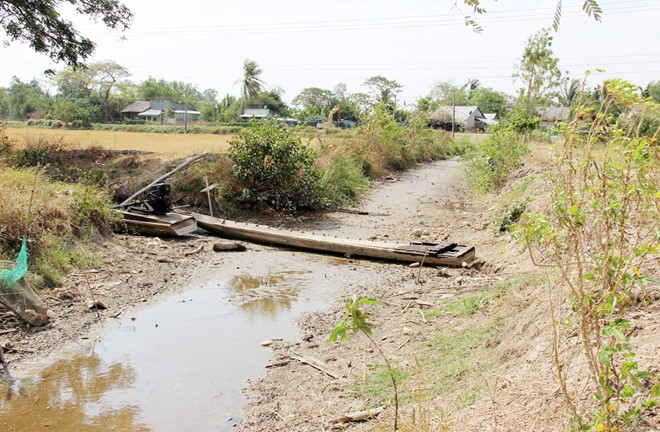 A dried canal in Soc Trang.

More than 11,000 hectares of winter-spring rice crops in the Mekong Delta province of Soc Trang have been seriously damaged by intruding saltwater, prompting the authorities to declare a natural disaster emergency on February 23.
According to the provincial Department of Agricultural and Rural Development, saltwater has thus far crept into six out of 11 local towns and districts. It caused some 900 hectares of completely ruined rice fields, which led to a loss of almost 40 billion VND (1.8 million USD).
Tran De and My Xuyen districts have taken the brunt of the intrusion, with between 400 and 450 hectares of crops totally spoiled in each locality.
Local farmers, whose fields are facing a water shortage, have been warned not to plant spring-summer crops, while the irrigation system is now tightly controlled.
Due to the early saltwater intrusion and lower than expected annual flooding, which usually brings much-needed water to rice fields, farmers in the Mekong Delta are facing major losses.
More than 300,000 hectares of winter-spring rice, or about 35 percent of the delta's winter-spring rice crop, are prone to the intrusion that has crept 60-70 km inland, according to the Plant Cultivation Department under the Ministry of Agriculture and Rural Development.-
Central State budget supports drought-hit localities
A farmer on his dried field.

The Prime Minister has decided to allocate 85.1 billion VND (3.8 million USD), sourced from the central State budget reserve in 2015, to six localities to aid their drought and saltwater intrusion consequence overcoming efforts.
The benefited are Quang Tri (15.7 billion VND), Dak Lak (22.4 billion VND), Dak Nong (17.6 billion VND), Long An (9.3 billion VND), An Giang (10.7 billion VND), and Dong Thap (9.4 billion VND).
The localities' 2015 summer-autumn crop had been severely affected by droughts and salty water.
The PM asked the People's Committees of these localities to proactively use their local budget and other financial sources to actualise the overcoming efforts.
In 2015, El Nino caused large-scale heat waves in Vietnam with their effects badly hitting farming production in many localities.
At a meeting in Mekong Delta Can Tho city on February 17, the Ministry of Agriculture and Rural Development urged ministries, sectors and localities to consider saltwater intrusion prevention as an extremely serious mission, and to drastically devise both short and long-term solutions.
Hau Giang needs nearly $5 million to tackle saline intrusion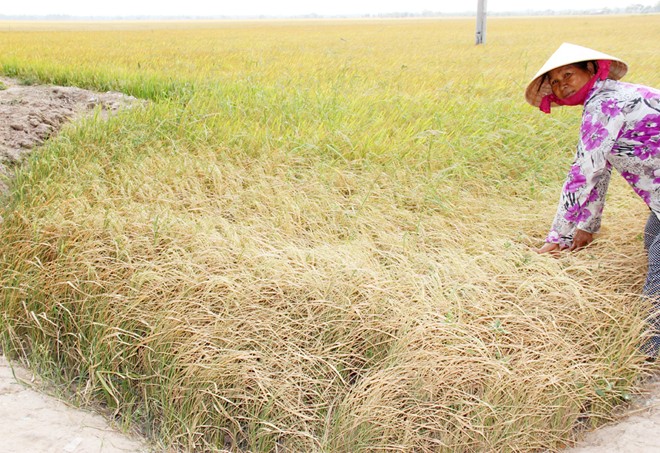 A withered rice field in Soc Trang.
The Mekong Delta province of Hau Giang is in urgent need of about 100 billion VND (4.47 million USD) to cope with severe saltwater intrusion and protect crops during the dry season.
However, this amount seems out of reach for a poor province such as Hau Giang, the provincial Department of Agriculture and Rural Development said.
According to the department, the locality needs the money to construct a network of culverts and embankments to stop saline intrusion into agricultural land, dredge more ditches and canals to supply freshwater for farming, and drill wells for everyday use.
The province will step up communication campaigns to raise public awareness of saltwater intrusion's impacts while making forecasts on salinity and high-risk areas to help farmers have timely response measures.
Saltwater is forecast to intrude upstream 60–70 kilometres into the mainland this year, the department's director Nguyen Van Dong said.
He warned that Hau Giang is only 45 kilometres away from the Rach Gia estuary (Kien Giang province) to the west and 65 kilometres away from the Tran De estuary (Soc Trang province) to the east, making it seriously vulnerable to saline intrusion.
Flood tides raised the salinity in many river sections in early February, damaging more than 1,000 hectares of winter-spring rice in the province, he added.
It is predicted that the upcoming flood tide on March 8 will make saltwater enter even deeper into local agricultural land. Around 60,000 hectares of rice and 15,000 hectares of fruit are likely to suffer during this dry season.
Across the Mekong Delta, more than 200,000 tonnes of rice has been damaged, causing losses of over 1 trillion VND (44.64 million USD).
The 2015-2016 winter-spring rice crop has already been hit by saltwater intrusion, and 104,000 hectares have been severely affected.
The National Centre for Hydro-Meteorological Forecasting said saltwater intrusion has already hit alarming levels in Ca Mau, Kien Giang, Ben Tre and Tra Vinh provinces.
Mekong Delta provinces tackle saltwater intrusion
The Mekong Delta provinces of Hau Giang and Long An are taking measures to cope with severe saltwater encroachment.
Director of the Hau Giang's Department of Agriculture and Rural Development Nguyen Van Dong said the province needs over VND1 trillion (US$45 million) through to 2020 to enact long-term solutions to deal with the issue and protect over 82,000 hectares of rice fields.
With that amount of money, the province will focus on building dyke systems, water reservoirs, and irrigation facilities, he said.
The locality aims to complete the Vi Thanh – Long My dyke system to prevent salinity in 2016 and the second phase of a similar project from O Mon district in Can Tho city to Xa No canal in Hau Giang province.
It is also coordinating with the Mekong Delta Rice Research Institute to study growing a rice variety which is resistant to climate change and saline intrusion.
Meanwhile, Vice Chairman of Long An's People's Committee Nguyen Van Duoc said his locality has directed the agriculture sector to work with relevant ministries, sectors, scientific agencies and other localities to reduce salinity levels across rivers, find new resistant crops, and change to plant and animal structures that are adaptive to climate change.
Around 11,000ha of rice in the province have been damaged, with losses amounting to VND71 billion (US$3.2 million).
Saltwater is likely to intrude as far as 70km in the Tien and Hau Rivers, the two main tributaries of the Mekong River in the Delta, according to the National Centre for Hydro-meteorological Forecasting.
Around 300,000 ha (over 20%) of rice fields in the winter-spring crop of 2015-2016 in the delta will be prone to drought and saltwater intrusion.
Compiled by Linh Nhat