Sand-filled estuary blocks fishing boats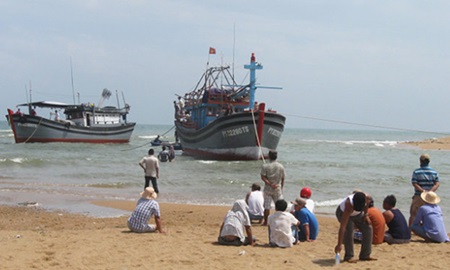 Fishermen in Phu Yen Province have been blocked from going out to sea for their first off-shore fishing trip of the Lunar New Year due to low tides and a high sand bar.
In the months leading up to Tet (Lunar New Year), Tuy Hoa Fishing Port and Da Dien Estuary in Phu Yen's Tuy Hoa City often fill up each year with hundreds of tonnes of sand caused by floods and bad weather.
To prevent them from being stranded, many fishing boats have to anchor at the upper source of Da Rang River and other ports in nearby provinces.
Phan Thuan, chairman of the Fishing Association in Tuy Hoa city's Ward 6, said that more than 200 fishing boats anchored at Tuy Hoa Port were waiting for the sand to be removed, but local authorities had yet to comment on the matter. Fishermen had to wait until 1pm every day when the tide was high enough before they set off.
"It is extremely miserable," he said.
Only a few boats managed to get out of the port for the first off-shore fishing trip of the year, leaving the rest behind, he said.
This burden on fishermen at the start of the year has become heavier due to a scarcity of tuna and falling prices.
Dang Van Doan, a fisherman in the region, said that only a third of nearly 1,000 fishing vessels were continuing their search for tuna, while the rest had given up.
Nguyen Ngoc Tu, chairman of Tuy Hoa City's People's Committee, told the Nong Thon Ngay Nay (Countryside Today) newspaper that local authorities were looking at measures to temporarily remove the sand.
He said action should be taken to make it easier for fishermen to work.
Trade unions play key role in ending protests
Trade unions continue to play a critical role in handling relationships between workers and their employers.
In the latest case, with help from the trade unions, the Inkel Vietnam Company in Ha Noi's Me Linh District agreed to increase minimum wage after workers went on strike demanding for salary rise in line with current regulations.
Upon hearing the decision, the workers agreed to get back to work.
Hundreds of workers at the company went on strike on Tuesday to oppose its unreasonable salary and its decision to slash bonuses for workers, in addition to firing some workers illegally.
The Ha Noi Labour Federation on Wednesday instructed labour unions in industrial and processing and export zones in the city to work with the relevant agencies to meet the company's workers and representatives to resolve the issue.
Representatives from the labour unions listened to the workers' complaints and recommendations and required the company to abide by Viet Nam's related labour regulations.
Later, on Wednesday, the company decided to increase the minimum wage for workers following a new Government decree. In addition, workers will still get their bonus as usual.
The Korean-invested company, which specialises in production of electronic products, also committed to not firing workers unreasonably. All workers were back to work as usual on Wednesday afternoon.
Deputy Head of the Management Board of the Ha Noi Industrial and Processing and Export Zones Ngo Chi Hung told Lao Dong (Labour) newspaper that the strike occurred as a result of the lack of a collective labour agreement that provided a stable foundation for industrial relations.
As a result, workers did not fully understand their rights and responsibilities, he said.
Workers did not send an official petition to the company's labour union or board of managers, leading to misunderstandings between the two sides, he said.
At the meeting with the trade unions, Director of the company Park Yong Seon apologised for the issue and said he would strictly punish the officials working as labour policy consultants of the company for not fulfilling their duties.
Chairman of the trade union of Ha Noi Industrial and Processing and Export Zones, Dinh Quoc Toan, told the newspaper that employers should pay more attention to their human resources management, and should work with labourers to build collective labour agreements.
Ca Mau fishermen given radios
As many as 63 fishing boats in the southernmost province of Ca Mau yesterday were fitted with ICOM radio devices.
The devices, worth nearly VND800 million (US$34,800), were handed over by the Vietnam Red Cross under the programme "East Sea Connectivity".
A Red Cross official, Nguyen Thi Kim Chi, said the devices are to support fishermen in keeping close watch on the weather and enable them to contact the mainland during offshore fishing operations, to ensure their safety. Among 5,000 local fishing vessles, only 2,000 can operate offshore.
Transport department head suspended from work
The Transport Department of central Thanh Hoa today suspended its deputy head Trinh Ngoc Minh for negligence in operating and monitoring works assigned by the department.
The time of the suspension is 15 days.
Previously, Minh was allotted to be in charge of the operation of Dong Tam Weighbridge Station.
However, when head of the department Mai Xuan Liem and several staff were on an inspection tour yesterday, Liem allegedly allowed a heavy truck carrying goods beyond its loading capacity to leave.
Liem ordered the truck to go into the station for checking but the inspectors found the weighbridge was unused for a long time.
Therefore, it took time for the station's staff to start the weighbridge. Then the truck was discovered to carry 13.5 tonnes of goods higher than permitted capacity.
The department said during the suspension time, Minh had to make a report to clarify his responsibility in the case. Minh also was asked to give solutions to fix the problem.
Marine police seized 20,000 litres of illegal diesel
The marine police in the southern Ba Ria-Vung Tau Province's Xuyen Loc District yesterday seized a boat carrying about 20,000 litres of diesel of unknown origin, the police said.
Le Van Chinh, the captain of the boat, told the police that his boat was transporting oil for sale to fishing boats on the sea, but he could not show any legal documents for the cargo.
The marine police are working with local border guards to investigate the case further.
The Anh Dao BV1323 boat had three crew members of Trang Dao Ltd. Co in Binh Chau Commune.
ASEAN people find it increasingly tough to seek employment: survey
Now is not a good time to be looking for a job in Southeast Asia as economic growth cools down across the region, according to FT Confidential Research (FTCR) – a unit of the Financial Times.
The FTCR expects unemployment to rise in the ASEAN region this year after significant job losses in 2015.
An FTCR survey of jobseekers in five of the region's biggest economies shows that more than half of them are finding it either hard or very hard to land a new job.
The survey was conducted in Indonesia, Malaysia, the Philippines, Thailand and Vietnam during the last quarter of 2015, with 1,000 respondents in each country.
Malaysians in particular were pessimistic about their prospects. About two-thirds of the respondents described the job market as tough.
There have been lay-offs across the economy. CIMB, Malaysia's second-largest bank, cut 4,000 jobs last year. Several other banks also downsized as loan growth slacked off.
Malaysia Airlines fired 6,000 employees last year as it cut costs after years in the red and struggled to recover from the loss of two of its aircraft. Malaysia's oil and gas industry is also shedding jobs.
Among those still in work, the survey found that a large minority of ASEAN workers were worried about job security. Malaysians still stood out with 6 percent saying they felt very insecure, followed by Thai workers at 4%.
UK Chef introduces dishes in Vietnam
One of the UK's most celebrated chefs, Gary Rhodes, will present UK cooking techniques and delicious dishes during a food week in Hanoi and HCM City on March 13-18.
Gary Rhodes, born on 22 April 1960 is an English restaurateur and chef, known for his love of Brtish cuisine. He has fronted shows such as MasterChef, MasterChef USA, Hell's Kitchen, and his own series, Rhodes Around Britain. He owns four well-known restaurants and wrote 20-class cookery book.
Coming to Vietnam as a culinary ambassador of the UK, Rhodes hoped that he will have a good chance to introduce UK specialities to Vietnamese people.
This is part of the 'GREAT Food & Drink' campaign launched by the UK Embassy in Hanoi and UK Trade and Investment (UKTI).
During the campaign, a cuisine contest named 'Recipe of Love' will take place from February 14 to March 6 on 'GREAT Britain in Vietnam' facebook. Winners will taste dishes cooked by Gary Rhodes.
PM wants old apartment buildings, public works checked
The Prime Minister has issued a directive ordering checks of the durability and safety of those apartment buildings constructed before 1994 and public works across the nation.
The directive requires provinces and cities to evaluate the durable capacity of the apartment buildings constructed before 1994, villas, office buildings and public works which are over 60 years old, and deteriorating buildings.        
The directive said the Ministry of Construction and local governments should execute the checks and report results to the Prime Minister. The ministry is assigned to work out criteria for assessment of the durable capacity of housing buildings and constructions before May this year.
Provinces and cities must check and categorize homes and public works with signs of deterioration and collapse, and send results to the Prime Minister before December 31.
Many condo buildings and public works nationwide have deteriorated, putting residents at risk. A number of condos have developed cracks and partly collapsed.
These buildings have been used for years but poorly managed, while the prevailing regulations on quality management for condos are inadequate and inconsistent. Relevant agencies have not kept a close watch on maintenance and repair of old apartment buildings.     
Therefore, the Ministry of Construction is told to guide and supervise the inspection and evaluation processes. It has to coordinate with relevant ministries and agencies to improve regulations on quality management, the durable capacity and measures to cope with deteriorating housings, public works and those that are not safe for users.     
After checking the buildings, localities should inform investors and management agencies of crumbing buildings and force households to leave their homes if needed to ensure safety for them. They can use their budgets to get the job done.
VN works to contain animal foot-mouth disease
The Ministry of Agriculture and Rural Development has approved a national programme to prevent foot-and-mouth disease outbreaks among animals between 2016 and 2020.
The ministry plans to zone off areas to contain the disease, particularly at border and Central Highlands provinces, by providing vaccination to 80 percent of cattle, and expanding disease-free regions such as districts and cities in Nam Dinh and Thai Binh provinces.
Annually, it will review and propose appropriate vaccines based on the situation in separate areas. For regions prone to the disease, the ministry will ensure cattle are vaccinated twice per year.
A database system will be set up to trace the origins of the cattle and examine the transport of animals and animal products at localities in accordance with the Veterinary Law.
It is also essential to raise public awareness about the disease.
The central budget will assist border and Central Highland districts in buying vaccines against foot-and-mouth disease.
Domestic businesses and foreign-invested firms must ensure they have funds for the vaccines.
Ca Mau to boost ecological shrimp farming
The Mekong Delta province of Ca Mau is striving to expand its ecological shrimp farming to 45,000 hectares this year, as the model is considered environmentally friendly and promises high productivity.
Ecological shrimp farming is popular in mangrove forests in Nam Can and Ngoc Hien districts.
Ca Mau is home to approximate 80,000 hectares of mangrove forests, which are ideal for raising shrimp.
The farming method, which started in the province in 2000, has helped raise locals' incomes and protect the environment.
Cau Mau is the country's largest seafood exporter, accounting for 16 percent of the total value. The province also makes up 30 percent of the country's total shrimp export value.-
Kien Giang: Endangered species need protecting
As many as 21 animals and one plant in the southern province of Kien Giang have been classified as endangered species that need to be better protected, according to the provincial Department of Agriculture and Rural Development.
The threatened species include the hopea pierrei (Phu Quoc district), flying lemur, white-cheeked douc langur, European otter, sirenia, great hornbill, king cobra, yellow-cheeked gibbon, sun bear, Asian black bear (Hon Dat district), sunda slow loris, pygmy slow loris, hawksbill sea turtle, olive ridley sea turtle (Hon Dat and Phu Quoc districts), hairy-nosed otter, fishing cat, darter and woolly-necked stork (U Minh Thuong district), oriental small-clawed otter, sunda pangolin, lesser adjutant and sarus crane (Hon Dat and Giang Thanh districts).
The province needs to set up scientific research and preservation programmes with the involvement of State and local authorities, aiming to manage and protect endangered species while conserving biodiversity, said Department Vice Director Quang Trong Thao.
The provincial authorities also detected some species belonging to primates, testudines and squamata and recommended them be added to the list of rare animals that need prioritised protection. That list comprises the crab-eating macaque (Hon Dat and Phu Quoc districts), macaca nemestrina, Mekong snail-eating turtle, yellow-headed temple turtle, Bengal monitor (Hon Dat district) and Indochina silver langur (Kien Luong district).
Vietnam's first safari zoo, featuring more than 150 rare and endangered species, opened late last year on Phu Quoc Island.
The zoo's unique natural environment is also home to 200 flamingoes, 100 rhinos and 60 giraffes. It is the only place in Vietnam breeding large numbers of wildlife herds.
The safari zoo will strengthen wildlife preservation and environmental protection through scientific research conducted in the park.-
PM gives nod to dyke planning along Red, Thai Binh Rivers
The Prime Minister has recently approved a planning scheme for flood prevention and dyke systems along the Red and Thai Binh Rivers.
The two rivers encompass 15 cities and provinces – Hanoi, Hoa Binh, Ha Nam, Nam Dinh, Ninh Binh, Hung Yen, Hai Duong, Thai Binh, Hai Phong, Quang Ninh, Phu Tho, Vinh Phuc, Bac Ninh, Bac Giang and Thai Nguyen.
The scheme aims to help the localities take the initiative in preventing floods and storms, contributing to their socio-economic stability as well as national security and defence.
It will help relevant ministries, agencies and localities manage efforts against floods and storms, and outline investment plans for related projects until 2030 with a vision towards 2050.
Apart from forecasting the flood tide in these areas, the scheme also proposes anti-flood solutions, and how to effectively use river shores in line with the Dyke Law and relevant legal documents in service of national socio-economic development.
It defines prioritised items and estimates resources necessary for the realisation of the solutions.
During 2016-2030, efforts will be focused on planting administrative border markers at the dyke corridors, completing operational procedures of large reservoirs located at the upper parts of the rivers, upgrading dykes, afforestation plans, as well as infrastructure and equipment supporting the work.
Inland waterways poised to develop
All activities undertaken by the waterways transport in 2016 were aimed to create a breakthrough for the sector toward cheap prices with safety, said an official.
"One of the most notable breakthroughs that the Transport Department recorded in 2015 was the opening of a new North-South coastal line transport – running from northern Quang Ninh Province to southern Kien Giang Province," Director General of the Transport Department, under the Ministry of Transport, Tran Ngoc Bao, said.
In one year of operation, Bao said, more than six million tones of cargo were transported, of which most of the cargo were oversize and overweight.
He added that in 2016 his department will do its best to bring into full play the comparative advantages in the inland waterways transport sector.
Pham Van Binh, Chairman of the Ha Trung Transport Ldt Company in Nam Dinh Province, said his company had five ocean going ships operating in the Quang Ninh-Kien Giang route. Thanks to the low transportation costs compared with road transportation costs, 2015 was a successful year for his company.
Reviewing activities of the inland waterways transport in 2015, Hoang Hong Giang, director of the Viet Nam Inland Waterways Administration (VIWA), said some 200,000 tones of cargo were transported – an increase of 9 per cent compared with that of the previous year.
"What's more, the cost of the inland waterways transport was only about 30 per cent of that of road transport," Giang said.
In a near future, Giang said, VIWA would open new international waterway routes from Viet Nam to Cambodia and China.
It is projected that in 2016 and the following years, the Viet Nam Inland Waterways Administration will record many more successes following the separation of the State management function with the task of maintenance service.
In the long run, Giang said the maintenance service would be tendered in a hope to maintain the maintenance fund and improve the quality of the transport service.
According to Giang, in 2015, his department organided more than 100 conferences and inspection visits to help transport enterprises solve their difficulties and challenges in order to create a more amicable atmosphere between State management agencies with enterprises and the general public.
"2015 was the first year that the Viet Nam Inland Waterways Administration launched a hotline to receive comments/suggestions from enterprises and people to help them improve their services," said Giang.
"In addition, the VIWA introduced IT in their administration service in hopes of giving its best services to its clients," Giang added.
Accurate forest data to be integrated
Sixty provinces and cities are expected to complete the work of integrating adequate and accurate forest data by the end of 2016, the Viet Nam Administration of Forestry (VNFOREST) said.
Nguyen Ba Ngai, deputy head of VNFOREST, said based on adequate information, the administration would submit the management information system for forestry sector regulations to the ministry in the first quarter of this year.
The administration had received forest data from 15 provinces and will soon collect information from more 25 provinces that completed their data collection in 2015, Ngai said at a recent workshop on term review of the project.
HCM City seeks investors for tourism
The People's Committee of HCM City is calling for investments in a project to build an eco-agricultural tourism area and riverside garden residential area in Cu Chi District.
The construction will be built along Sai Gon River and cover an area of 4,500 hectares.
City authorities will issue new policies and the official development plan of the project to attract more investors.
The city has several riverside housing projects, including the Thu Thiem new urban area in District 2 and Tan Cang Sai Gon residential area in Binh Thanh District, and riverside eco-tourism areas like the Binh My eco-tourism area in Cu Chi District.
New regulation on taxi registration gets opposed
The new regulation on reducing the time for taxi registrations has raised a virtual hornet's nest among taxi association members and businesses.
The regulation requires taxi companies to have their vehicles registered every 18 months for the first time and six months for the second time instead of two years and one year, respectively.
The Circular 70, which was stipulated by the Ministry of Transport and took effect since early this year, has doubled the time of registrations of taxi cabs nationwide. However, the taxi associations and taxi businesses in Ha Noi and HCM City have claimed it is costly, wastes time and could cause a hike in fares.
Do Quoc Binh, chairman of HCM City Taxi Association, said that there were no reasons to reduce the required time of registration as traffic infrastructure, especially roads, have improved and many automobile manufacturers have increased the maintenance time from two years to three years.
The regulation would require taxi businesses to have their vehicle registered twice a year, which would cost money and be a waste of time, he added.
Ta Long Hy, chairman of Ha Noi Taxi Association concurred, saying that the increasing cost for registration would make it difficult to keep fares down.
Ho Quoc Phi, secretariat of Mai Linh Corporation said that the regulation would increase the cost and impact consumers through a fare hike.
Meanwhile, the longevity of taxi cabs in big cities such as Ha Noi and HCM City has been reduced to not more than eight years from the year of manufacture.
Nguyen Huu Tri, deputy director of the Vietnam Registration said that the Circular 70 was established based on the fact that up to 15 per cent of taxi cabs failed to get themselves registered. In his opinion, the reduction in registration time was inevitable.
A survey of some taxi firms in Ha Noi and HCM City showed that a taxi cab ran about 5,000 kilometres a month on an average, which is five to six times higher compared to private cars.
"The management of vehicle quality is based on the number of kilometres a car runs, rather than the duration," he said.
However, he said, the Vietnam Registration would collect opinions and forward them to the ministry, which would take the final decision.
HCM City fines medical units
Fines amounting to more than VND600 million (US$26,800) were imposed on 30 medical units during the first half of this month, the HCM City health department said yesterday.
Tam Duc, a traditional medicine clinic located in District 5, received the stiffest fine of VND185 million (US$8,300) for selling medicines of unclear origin, medicines that did not have proper packaging, as well as employing staff who did not possess professional certificates, and advertising specialised products and services without having the advertisement content verified by the authorities.
Viet Viet Khang Ltd (located in District 7) was fined VND91 million (US$4,100) for not complying with regulations when advertising MaKa supplement products, as well as for selling expired products and destroying products that had been sealed and seized by the authorities.
A fine of VND50 million (US$2,200) was imposed on Song An Health Care Ltd (located in District 3) for employing unqualified staff.
Three individuals were fined VND35 million (US$1,600) each for practising medicine without licences and for treating health problems that were beyond their scope of expertise.
Other medical units were fined for issues such as producing and selling low-quality medicines, not differentiating medicines from other products and low work ethics of unit managers.
List of dilapidated buildings to be finalised
The people's committees of provinces and cities have been asked to finalise their lists of dilapidated buildings and urban public works that need to be repaired or demolished.
The committees are expected to submit the report to the government before December 31.
The task has been ordered by Prime Minister Nguyen Tan Dung to ensure the safety of people living and working in old residential buildings and public works that are in poor condition.
Dung said such residential buildings could be seen in many places in the country.
He asked the construction ministry to quickly promulgate a set of criteria to verify the safety levels of residential buildings and public works before May.
The people's committees of provinces and cities have to co-operate with the ministry in implementing the task, he said.
As scheduled, the verification should be completed by December 31, 2017.
Ministry statistics show that the country has about 1,690 old residential buildings, mainly in Ha Noi and HCM City. Most of the buildings were built before 1990.
Vietnam looks into chemical linked to microcephaly
The Ministry of Health on February 16 said Vietnam has imported more than 9,000 kilograms of pyriproxyfen, a chemical used to kill mosquito larvae and recently linked to microcephaly, a condition wherein babies are born with abnormally small heads.
During a meeting in Hanoi to discuss the spread of the Zika virus, health officials confirmed that the larvicide imported from Brazil is only used treat wastewater, not drinking water.
They said the chemical will be suspended immediately when there is clear scientific basis connecting it to microcephaly.
A report recently released by Argentinian doctors suggested pyriproxyfen, not Zika, may cause a spike in babies born with microcephaly.
"In the area where most sick persons live, a chemical larvicide producing malformations in mosquitoes has been applied for 18 months, and that this poison (pyroproxifen) is applied by the State on drinking water used by the affected population," the group said in its report.
Experts are still debating the validity of this claim.
Much too remains unknown about Zika, including whether the mosquito-transmitted virus actually causes microcephaly. The World Health Organization believes the suspected link could be confirmed within weeks.
Brazil is investigating more than 4,300 suspected cases of microcephaly. Researchers have confirmed more than 460 of these cases as microcephaly and identified evidence of Zika infection in 41 of them.
After the report of the Argentinian doctors, Rio Grande do Sul, a state in southern Brazil, on February 13 suspended the use of pyroproxifen.
However, the federal government dismissed the fears, insisting there had been no scientific study to prove that pyroproxifen is to blame.
The Zika virus has not been detected in Vietnam.
Visitors stranded on Vietnamese island for days due to bad weather
Nearly a thousand tourists have been stranded on a famous island off the central Vietnamese province of Quang Ngai since February 15 due to bad weather and unable to return to work or study after the Lunar New Year holiday.
Visitors traveling to Ly Son Island for their vacation during the Lunar New Year holiday are anxiously waiting for the weather to change and be able to get back to the mainland.
The travelers, who are mainly college students and workers, have expressed their worry as the situation has caused them to miss their trains and flights, with tickets unable to be returned.
Nguyen Thi Thuan Y, a college student in the central city of Danang, said that she was supposed to return to the mainland on February 16 morning to continue her study.
"My friends and I already booked airline tickets to Danang, Ho Chi Minh City and are now unsure of what to do. Several travelers in our hotels are also concerned since they cannot get back to work," Y continued.
Another student, Vo Thi Phuong, stated that she had bought a ticket for the train that headed to the southern province of Dong Nai on February 16 afternoon.
"Many of my friends have had to abandon their tickets booked in advance and are unable to exchange for new ones," Phuong added.
Since February 15 afternoon, authorities have ordered all passenger boats carrying visitors to and from Ly Son Island to cease their activities due to bad weather.
Many fishing ships in Quang Ngai were also forced to postpone their operations as a result of the unfavorable meteorological conditions.
Under the influence of additional cold fronts, wind speeds in the sea region have been recorded at up to 88 kilometers per hour, Nham Xuan Sy, director of the Quang Ngai
"There is a good chance that the wind speed will decrease on the afternoon of Wednesday and that passenger boats can resume their operations," Sy added.
About 2,000 tourists arrived at the island on a daily basis during the previous week, the Lunar New Year holiday, Huynh Cong Tri, director of Ly Son Port, said.
A total of five passenger boats, which were scheduled to carry the visitors back to mainland Quang Ngai on February 15, were delayed due to the inclement weather, he explained.
Nguyen Thanh, chairman of the People's Committee of Ly Son, said that he had requested providers of accommodation and catering services on the island not to take advantage of the situation to overcharge the tourists.
Ngoc Lo palanquin parade kicks off Tran Temple Fest
The Ngoc Lo palanquin parade, one of the most vital rituals of Tran Temple Festival, was held on February 18 to pay tribute to ancestors.
The parade takes places on the 11th day of the first lunar month each year.
Nguyen Van Thu, Director of the Nam Dinh Museum, said the palanquin parade started at Pho Minh Pagoda (another name Thap Pagoda), place of worship of Zen master Emperor Tran Nhan Tong (1258-1308), the third ruler of the Tran Dynasty to Thien Truong Temple at Loc Vuong Ward.
"The children of the Tran Dynasty attend the ritual to show gratitude to their ancestors. It is also a symbol of acceptance and reconcilability of all religions and beliefs into one," said Thu, who is also a provincial culture researcher.
Historically, villages surrounding the northern province of Nam Dinh also participated in the festival at ancient Tran Temple. Today, the festival is organised solely by Tuc Mac Village.
Before the parade, a local man brings a bowl of incense from Tran Temple to the palanquin. The parade consists of flags, imperial equipage, an octet (the eight kinds of musical instruments), as well as a group of village patriarchs in brown long dress marching behind and reading mantra.
The parade was restored in 2015 with sufficient preparation for Tran Temple Festival.
According to national cultural researchers, the festival today was fully equipped with traditional rituals, and can be listed as a national intangible cultural heritage.
"The lasting Tran Temple Festival is for commemorating the origin of emperors of the Tran Dynasty and especially national heroes like Supreme Commander Tran Hung Dao, who led the Vietnam armies to repel three major Yuan-Mongol invasions in the 13th century," added Thu.
Vietnam's SEA Games medal hopes dealt a blow
Vietnam is likely to reduce their gold medal target at the 29th Southeast Asian (SEA) Games to be held in Malaysia next year following the recent decision of the Olympic Council of Malaysia (OCM).
The OCM decided to eliminate five sports from the competition programme of the Games namely judo, canoeing, bodybuilding, fencing and triathlon.
Of these sports, fencing is a "gold" mine for Vietnamese sport. At the 28th Games in Singapore in 2015, Vietnam won eight golds, two silvers and one bronze, leaving behind the runner-up Singapore who won only three golds, three silvers and seven bronzes.
Dak Lak welcomes over 82,000 tourists during Tet
The Central Highlands province of Dak Lak received over 82,000 visitors during the Lunar New Year (Tet) holiday this year, up 55 percent compared with last year, according to the provincial Department of Culture, Sports and Tourism.
The figure included 82,000 domestic holidaymakers and 600 foreigners.
Besides famous tourism destinations such as Don village, Ko Tam, Ako Dhong, Dray Nur waterfall, and Day Sap, the province's localities also organised several art performances, sports and traditional games for visitors.
Several tour packages were introduced to tourists during the festival including a draw bridge adventure, elephant racing and cultural tours.
Dak Lak is one of the most potential provinces of Vietnam in terms of tourism development, due to numerous historical and natural sites, as well as the deeply-rooted traditions and culture of its ethnic minority groups.
The province is also a part of "The Space of Gong Culture in the Central Highlands of Vietnam," which was recognised by UNESCO as a Masterpiece of the Intangible Heritage of Humanity in 2005.
It is also famous for thousands of traditional long stilt houses, inside which every piece of furniture is hand-made from giant wild trees.
The province is also named as the "capital of coffee" in Vietnam as it is now home to more than 200,000 ha of coffee.
VNA/VNS/VOV/SGT/SGGP/TT/TN/Dantri