On the one hand, there are smiles, happy faces, dreams of new cars in the upcoming Lunar New holiday, or Tet, and lavish vacations for those employees having huge Tet bonuses. But on the other hand, Tet is a big worry for those getting meager year-end rewards.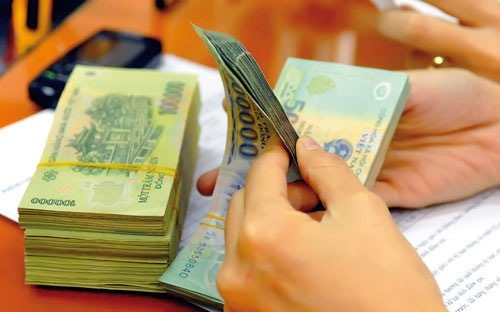 This is the real picture of this year's Tet bonuses at businesses.
According to a report announced by the Ministry of Labor, Invalids and Social Affairs early last week, a HCMC-based enterprise has offered the highest new year bonus of more than VND2 billion.
However, the other side of the coin is a foreign-invested company in Thai Binh Province has given a mere VND24,000 (US$1) per person as a Tet bonus.
Another example is an auto firm in Hai Duong Province has given a staff member a Tet bonus of VND624 million while an employer in Binh Phuoc Province has offered a worker only VND40,000.
Talented employees and those contributing most to their firms deserve handsome bonuses. This is not a big surprise because some workers have been given company shares which can be sold for billions of Vietnam dong.
The concern is whether employers ensure fair treatment for unskilled workers who can be found almost everywhere.
Employers are not legally required to give Tet bonuses to workers but they are encouraged to do so. This is why a lot of enterprises pay what is called the 13th-month wage shortly before Tet. And this is a rule at many companies and clearly stated in the labor contract or the collective labor agreement between the employer and the trade union.
However, many other businesses avoid the 13th-month wage payment practice, leading workers to walk off the job. To maximize profit, certain employers even ignore Tet bonuses for staff and fire those staff protesting against their decisions.
For some companies, giving bonuses is a great way to give back to the community and more importantly encourage their staff to work harder. The director of a food company offers Tet bonuses to his employees every year although this is not prescribed in labor contracts. Every year, after all deductions, he sets aside part of his company's profit to reward employees depending on their positions and performance. "After all Tet bonuses are paid, I still pocket billions of Vietnam dong. Bonus is a great source of encouragement for workers. I feel bad to keep all profit to myself," he said.
Aside from the 13th-month wage, it is time to build a different reward mechanism in the business community. The simplest way is to give bonuses depending on the performance, positions and nature of work of employees.
Employers may consider criteria such as how much a worker, a group or a workshop has met expectations or whether business goals are met. They may also look at things like cost-saving initiatives, customer feedback or company competitiveness. The criteria should be discussed each year based on business performance in the previous year, or in the past three or five years.
To ensure fair and transparent criteria for bonus calculation, a company's management and trade union should hold serious and honest discussions and discussion results should be written in the annual collective labor agreement.
The trade unions at many companies still take sides with the bosses. However, Vietnam will soon sign the Trans-Pacific Partnership (TPP) trade pact which will give workers a stronger voice in negotiations with their employers over their rights.
As the nation's stronger international integration will expose local firms to more competition, including in the attraction of talent. Enterprises will have to treat workers well or else they will lose talent.
SGT