VietNamNet Bridge – After a brief lull because of stringent measures and careful monitoring by authorities, there are again signs of deforestation in the southernmost province of Ca Mau.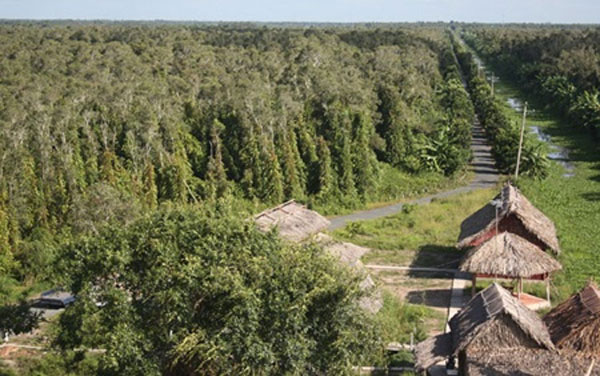 A corner of U Minh Ha Cajeput Forest in Ca Mau Province. Local forests have been reduced recently. — VNA/VNS Photo Huy Hai
The 127ha Dam Doi forest in Dam Doi District is designated as a special use forest. It was handed over to Truong Khanh Limited Company for an eco-tourism park and zoo in 2011.
The company is scheduled to set them up this year.
But the forest is in bad condition and there are no signs of work going on except for a board at the so-called entrance, Sai Gon Giai Phong (Liberated Sai Gon) newspaper reported.
The forest has large green trees at its periphery, but inside many 20-year-old trees have been cut down, with only their stumps remaining.
The province Sub-department of Forest Protection has directed its Dam Doi office to set up a 24-hour ranger station to protect the forest, according to a local official.
The company has illegally signed a contract to sell mangrove wood to another company despite only being licensed for tourism and the fact that all actions impacting the forest must be expressly allowed by appropriate authorities.
Tran Van Thuc, deputy director of the Ca Mau Department of Agriculture and Rural Development, said forest rangers have been instructed to intensify patrolling to prevent further deforestation.
The department has also urged the forest rangers and local police to find out the cause of deforestation, determine the damage and penalise violators, he added.
Low awareness
Deforestation also occurs elsewhere in the province as people illegally appropriate forest lands.
Recently dozens of people took saws and other equipment into a mangrove swamp in Phu Tan District's Nguyen Viet Khai Commune to cut down trees though it is a forest protecting the coasts from tides and erosion.
But they were spotted quickly by forest protection officials and so the destruction was not severe.
Ca Mau Province is a peninsula that is home to important forests like the Mui Ca Mau National Park and protective coastal forests. Every year in the run-up to Tet (Lunal New Year) there is a surge in deforestation as people cut down trees for firewood.
The worst logging occurs in Vien An Commune and So Dua hamlet.
Mui Ca Mau National Park is in the Ramsar List of Wetlands of International Importance, the second in the Cuu Long (Mekong) Delta region and fifth in the country.
VNS