VietNamNet Bridge - Vietnam People's Army Deputy Chief of the General Staff and Lieut. Gen. Vo Van Tuan has said that the strange objects falling from the sky in Tuyen Quang and Yen Bai were manufactured by Russia.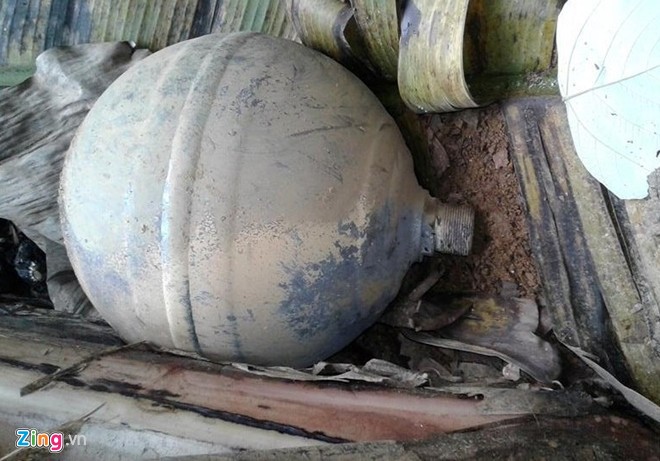 The object that fell from the sky on a house in Yen Bai Province.

Tuan said the Air Defense Arms had seized three spherical objects, include a large object that fell on a maize field in Na Giang hamlet, Tan My commune, Chiem Hoa district, in the northern province of Tuyen Quang and two smaller objects that fell on a house in Hamlet 1 of Tan Dong commune of Tran Yen commune and in Khe Queo hamlet in An Luong commune of Van Chan district in the northern province of Yen Bai.
The objects are made of metal and do not contain radioactive materials and are not dangerous to humans. Their exteriors were burnt.
Initial investigation shows that they are not explosive materials but specialized compressed air tanks of some flying devices, perhaps a launch vehicle.
The objects were produced in Russia. But it is still not known if Russia owns the objects because it is possible that they were manufactured in Russia and then sold to other countries.
The Ministry of Defence will report the case to the Vietnam National Committee of Civil Aviation Security, which will then report it to the International Civil Aviation Organization (ICAO).
Tuan said Vietnam would notify the countries with space research programs and activities to be more cautious in destroying used devices in order to maintain security of civil aviation as well as the safety of residential areas.
The Ministry is continuing to investigate the owner of the spherical objects.
Unidentified objects falling from the sky may be satellite's fuel tank
Linh Nhat